Bring the Easter spirit to your front door with a traditional Easter wreath. These DIY Easter wreaths are made from natural materials such as moss, twigs, and a nest with Easter eggs, perfect for indoor or outdoor display. So, add some touch of spring to your home with these DIY Easter wreath ideas.
Easter wreaths are decorative circular arrangements of flowers, branches, and other natural materials that are traditionally used to decorate homes and churches during the Easter holiday.
They are often made with a base of twigs or branches and adorned with flowers such as daffodils, tulips, and lilies, as well as other materials such as ribbons, Easter eggs, and other Easter-themed decorations.
Wreaths can be hung on doors, walls, or windows to add a festive touch to the home during the Easter season. They can be made by oneself or purchased pre-made.
Types of Easter Wreaths
Traditional Easter wreaths (flowers, branches, Easter eggs)
Modern Easter wreaths (moss, burlap, wooden eggs)
DIY Easter wreaths
Store-bought Easter wreaths
How to Make Your Own Easter Wreath
Gather materials: You will need a base for your wreath, such as a grapevine wreath or wire wreath form, as well as a variety of decorations such as silk or dried flowers, Easter eggs, ribbons, and any other items you would like to include.
Plan your design: Before you start, it's a good idea to plan out your design and decide on the placement of your decorations. You can use a sketch or a picture for reference.
Start attaching decorations: Begin by attaching your larger decorations such as flowers to the wreath form using floral wire. You can use hot glue as an alternative to wire.
Add additional decorations: Once the larger decorations are in place, add additional decorations such as Easter eggs, ribbons, or other small items.
Finish your wreath: Once you are happy with your design, step back and admire your work! If your wreath is too sparse, you can add more decorations as needed.
Add a hanging mechanism: Wreaths can be hung with a simple ribbon or twine, tie a bow or loop and display it.
It's important to remember that this is just a general guide, and you can use any materials that you have at hand, and personalize the wreath to suit your taste, preferences, and the theme you are going for.
Where to Display Easter Wreaths
Front door wreaths
Indoor wreaths
Outdoor wreaths
Create Your Own Easter Wreath: A guide to inspire your creativity
19. DIY Hydrangea Wreath
18. DIY Egg Wreath
17. Embroidery Hoop Bunny Easter Wreath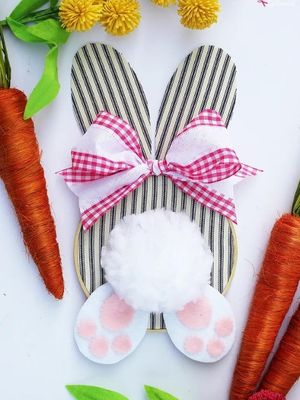 16. Colorful Easter egg Wreath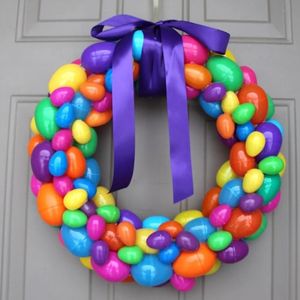 15. Dollar Tree DIY Easter Wreath
14. Embroidery Hoop Bunny Wreath
13. Paper Easter wreath
12. DIY Easter Egg Wreath
11. Easter Egg Wreath
10. Farmhouse-Style Easter Egg Wreath
09. DIY Speckled Egg Dollar Store Easter Wreath
08. Wood Bead Easter Wreath
07. Dollar Tree Easter Wreath
06. DIY Easter Wreath
05. Easter Egg Mesh Wreath
04. Easter Egg Wreath
03. Easter Bunny Wreath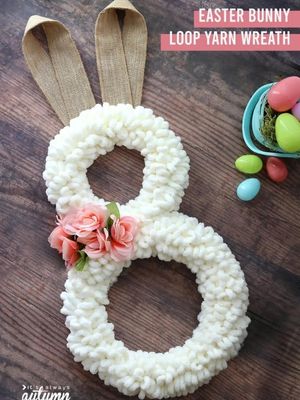 02. DIY Fluffy Easter Bunny Wreath
01. Paper Easter Wreath