Transform your fall porch into a cozy autumn oasis with our fall front porch decor ideas. From DIY fall wreaths to delightful pumpkin decorations, discover creative ways to infuse harvest decorations into your outdoor space. Get inspired by DIY pumpkin crafts and fall porch decor that will add warmth and charm to your porch. Elevate your Thanksgiving decorations with exquisite fall Topiary, DIY fall Lanterns, and fall garlands. You can use these autumn decorations as Thanksgiving decor.
Introduction
As the air turns crisp and the leaves begin to change color, it's time to transform your front porch into a welcoming and festive space for the fall season.
Fall front porch decor allows you to showcase your creativity and embrace the warm and cozy vibes of autumn.
Your front porch is the first thing guests see when they arrive at your home, and it sets the tone for the entire visit.
Decorating your porch for fall allows you to create a warm and inviting atmosphere that reflects the beauty of the season.
In this article, we will explore a variety of fall front porch decor ideas that will inspire you to create a beautiful and inviting entrance to your home.
Embracing the Colors of Fall
Fall is known for its rich and vibrant colors, and incorporating these hues into your front porch decor is a must.
Think about warm shades of orange, red, yellow, and brown. These colors can be showcased through various elements such as pumpkins, flowers, and foliage.
A Welcoming Entrance with Wreaths
A fall-themed wreath on your front door instantly adds charm and character to your porch.
Opt for wreaths made from dried leaves, berries, acorns, or pinecones. You can also mix and match different elements to create a unique and eye-catching wreath.
Pumpkin Displays and Harvest Accents
Pumpkins are synonymous with fall, and they make fantastic decor pieces for your front porch.
Arrange a variety of pumpkins in different sizes and colors on your steps or porch.
You can also pair them with other harvest accents like cornstalks, gourds, or hay bales for an authentic autumn feel.
Cozy Seating Areas for Relaxation
Create a cozy seating area on your front porch where you and your guests can relax and enjoy the crisp fall weather.
Place comfortable chairs or a porch swing adorned with soft cushions and blankets.
This will not only add functionality but also make your porch feel more inviting.
Creative Signage and Chalkboard Art
Add a personal touch to your fall front porch decor with creative signage or chalkboard art.
You can display welcoming messages, inspirational quotes, or even draw seasonal illustrations.
This is a fun and interactive way to engage your visitors and showcase your creativity.
Incorporating Natural Elements
Bringing in natural elements like hay, wheat stalks, or dried corn husks adds an authentic rustic charm to your front porch decor.
Consider using them as accents in your flower arrangements, wreaths, or even as standalone decorative pieces.
Illuminating the Porch with Outdoor Lighting
Enhance the ambiance of your fall front porch by incorporating outdoor lighting.
String fairy lights along your porch railing or wrap them around your pillars. You can also place lanterns or candles on your steps for a warm and inviting glow in the evenings.
Seasonal Doormats and Rugs
A seasonal doormat is a simple yet effective way to spruce up your front porch for fall.
Look for doormats featuring fall-themed designs like leaves, pumpkins, or even cute woodland animals.
Pair your doormat with a coordinating rug to add warmth and texture to the space.
Adding Texture with Blankets and Pillows
Cozy up your front porch with soft blankets and pillows. Choose fabrics in warm, autumnal colors and textures like knit or faux fur.
Place them on your seating areas or drape them over chairs or benches for a touch of comfort and style.
Showcasing Fall Flowers and Plants
Fall offers a stunning array of flowers and plants that can be used to enhance your front porch decor.
Consider incorporating chrysanthemums, marigolds, pansies, or ornamental cabbage in your flowerpots or hanging baskets. These plants will add a burst of color and life to your porch.
Scarecrows and Hay Bales for a Playful Touch
For a playful and whimsical touch, introduce scarecrows or hay bales to your fall front porch decor.
Place a scarecrow near your entrance or incorporate hay bales as seating or display platforms for your pumpkins and decorations. These elements will add a sense of fun and character to your porch.
Festive Garlands and Banners
Drape festive garlands or banners along your porch railing or around your doorway.
Look for options with fall-themed motifs like leaves, acorns, or pumpkins.
These decorative accents will add a festive touch to your front porch and create a warm and inviting atmosphere.
DIY Crafts for a Personalized Touch
Engage your creativity by incorporating DIY crafts into your fall front porch decor.
You can create your own wreaths, paint pumpkins with unique designs, or make seasonal banners using craft paper and string.
DIY crafts allow you to personalize your decor and make it truly one-of-a-kind
Maintenance Tips for Your Fall Front Porch
To ensure your fall front porch decor stays in top condition throughout the season, consider these maintenance tips:
Regularly sweep away fallen leaves and debris.
Water your potted plants and flowers as needed.
Protect delicate decorations from harsh weather conditions.
Keep candles and other open flames away from flammable materials.
Store your decorations properly after the season to extend their lifespan.
The Best Fall Front Porch Decorations for a Cozy Welcome
25. DIY Fall Topiary
24. Different-sized and colored pumpkins on the porch steps
23. Lanterns with candles
22. fall garland made of colorful leaves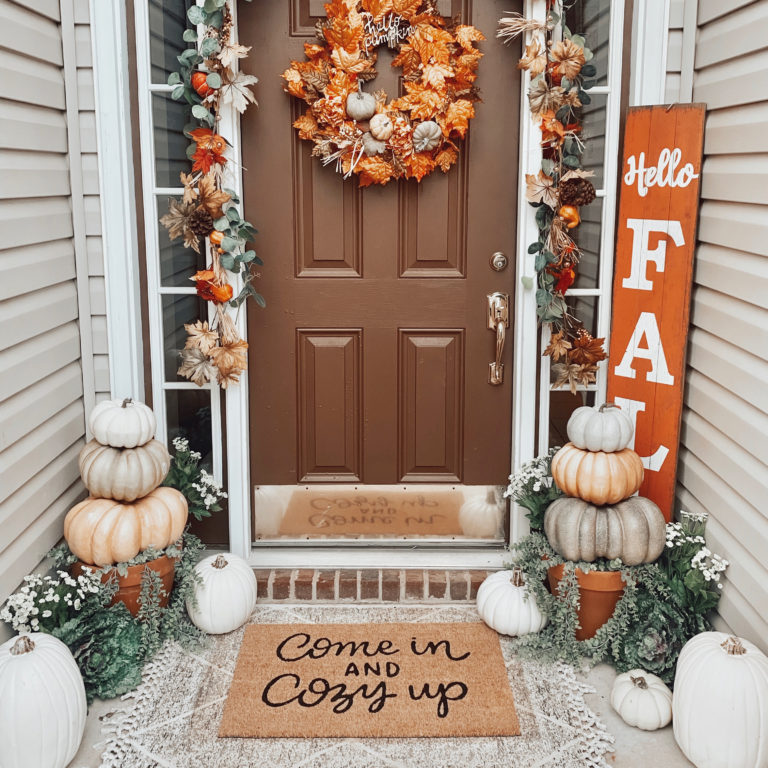 21. Pumpkin Topiary
20. Fall Banner Ladder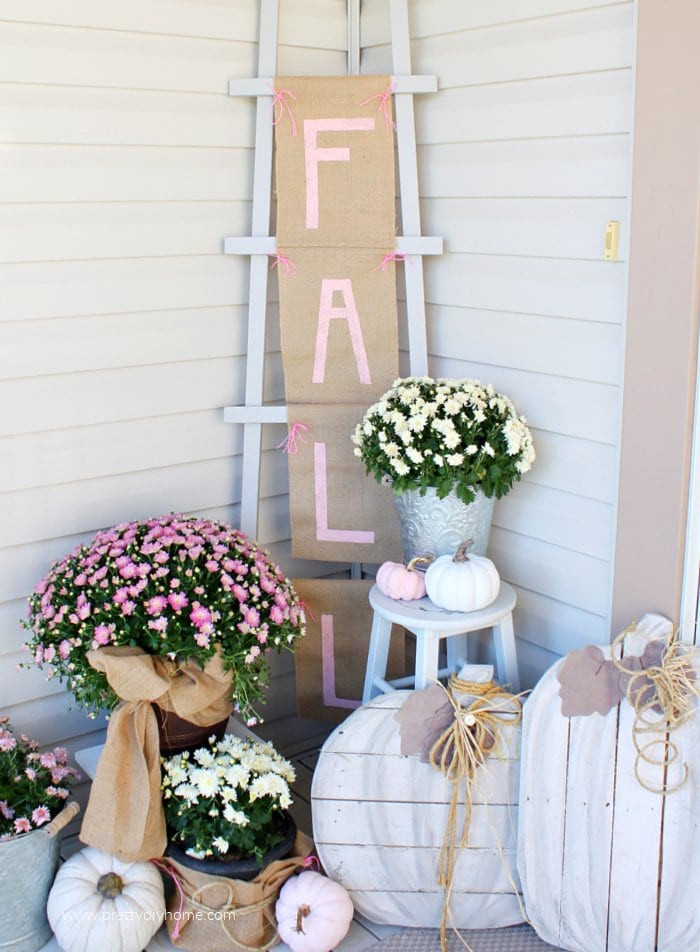 19. Fake Pumpkins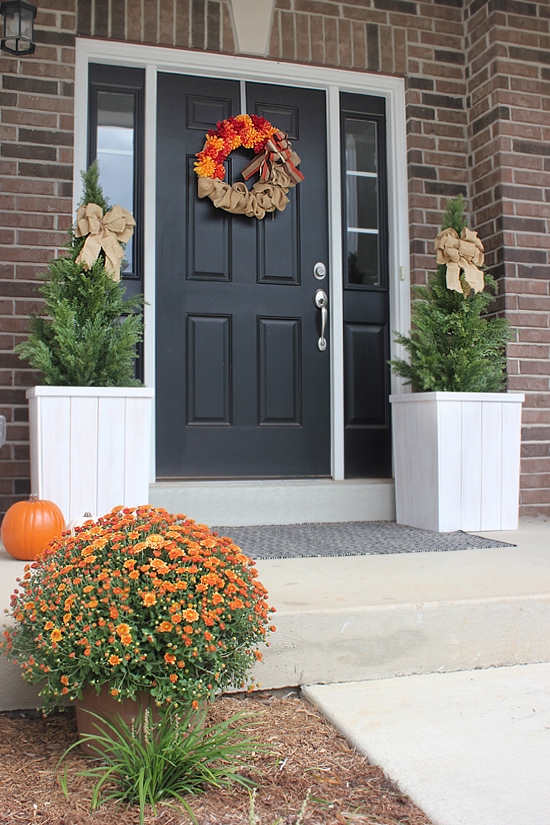 18. Large Wheelbarrow with Pumpkins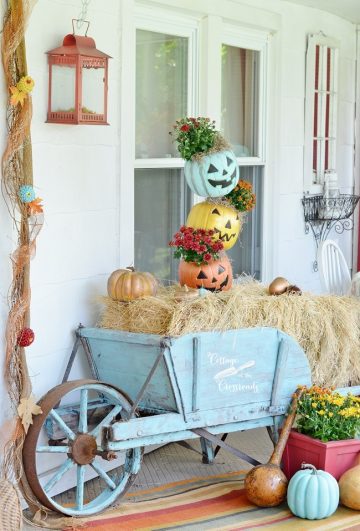 17. Fall-Themed Harvest Banner
16. Planter Boxes for a Rustic Touch
15. Colorful Mums & White Pumpkins
14. Fall Farmhouse Front Porch
13. Halloween Theme Porch Decor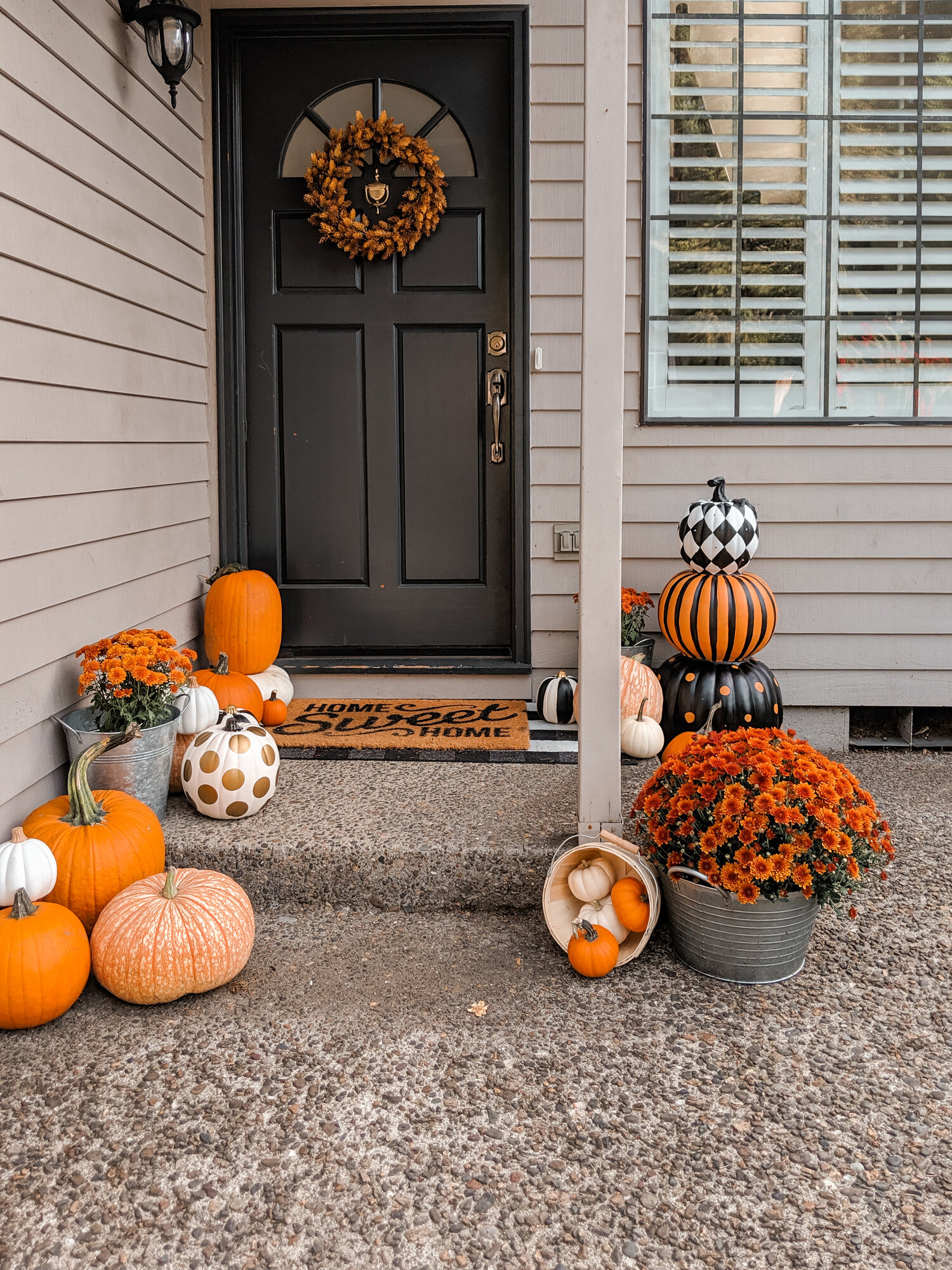 12. Hang a string of autumn-themed Twinkle lights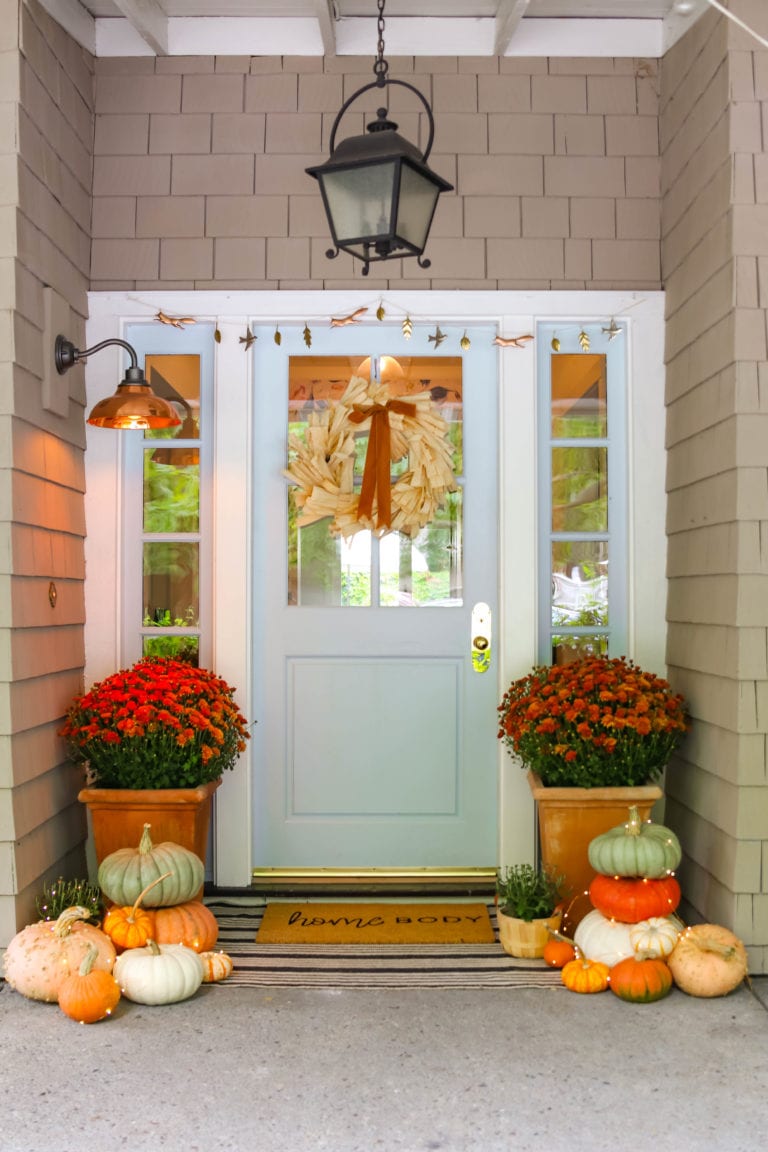 11. Fall-Themed Rug
10. Foliage Planter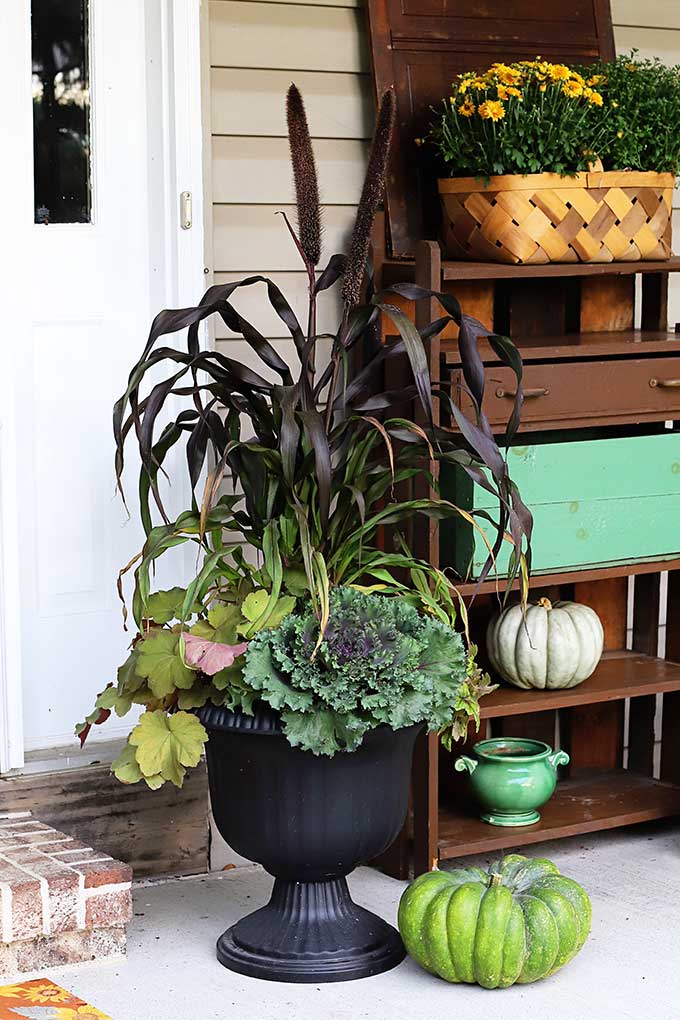 09. Farmhouse Fall Porch
08. Fall Harvest Front Porch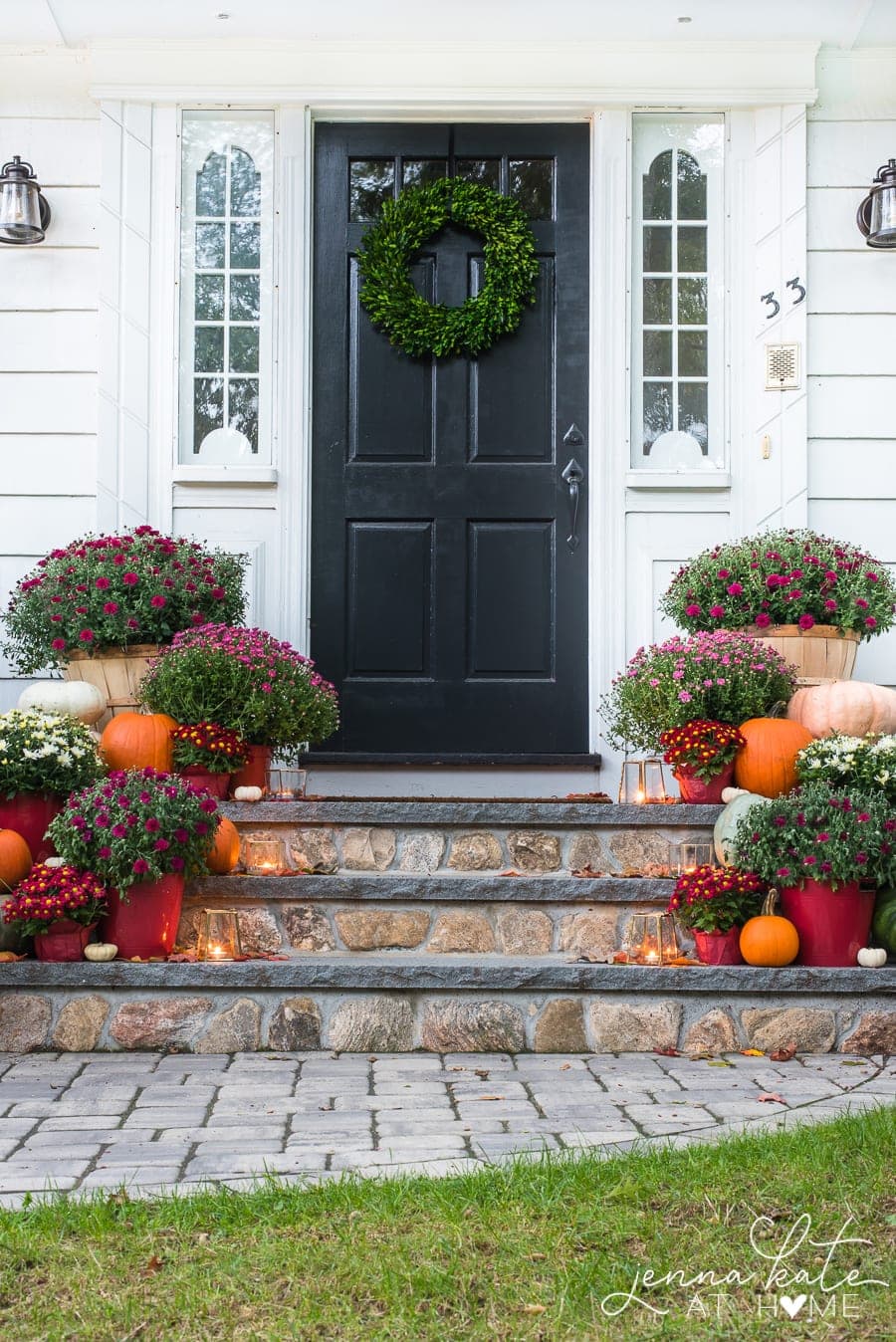 07. White Mums & Heirloom Pumpkins
06. Budget Friendly Simple Fall Porch Decor
05. Shiny Galvanized Planters, and Dried Golden Wheat Wreath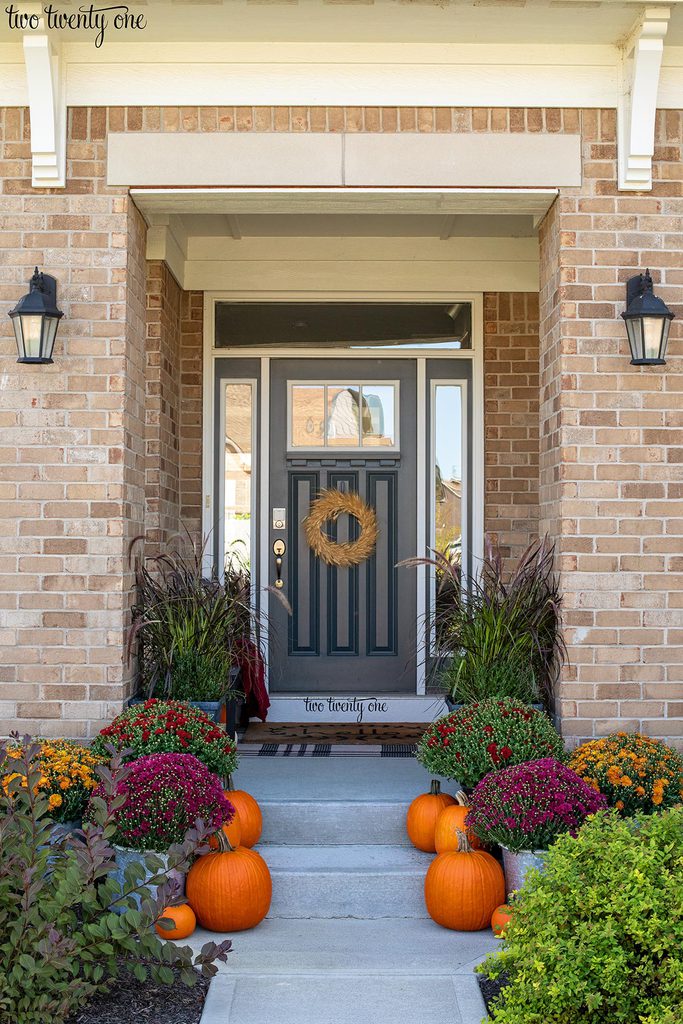 04. Cozy Seating Area with Chairs
03. Large Lantern
02. Place a pair of pumpkins on both sides of the stairs.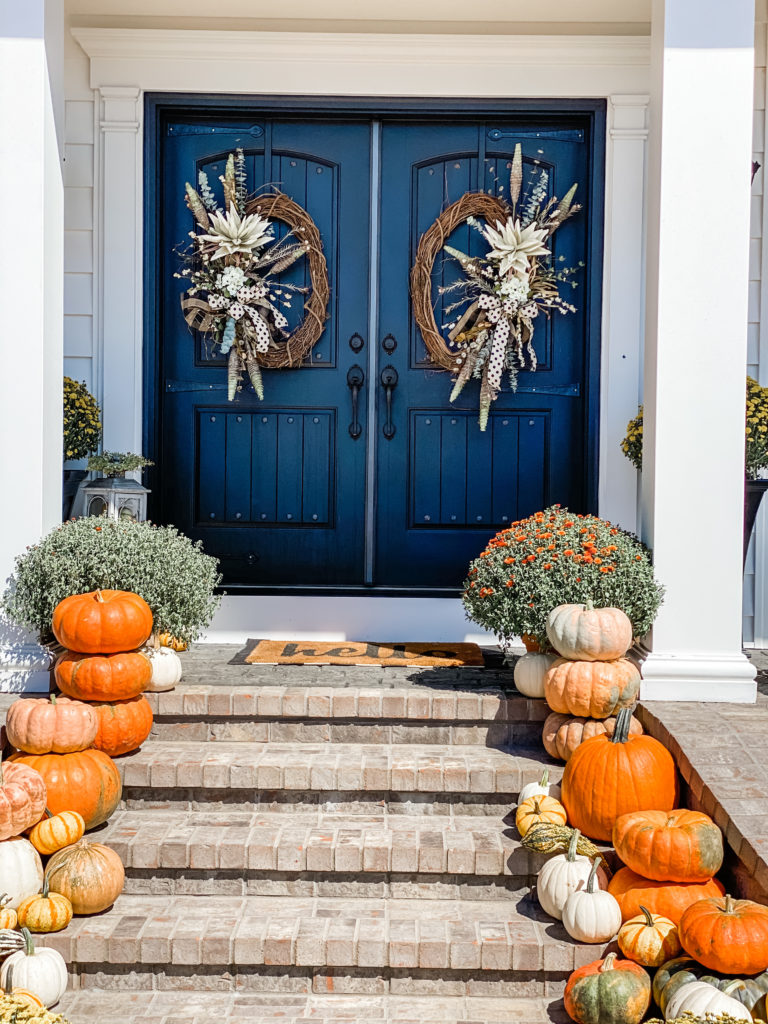 01. Fall Grapevine Wreath
Transforming your front porch into a fall oasis is a delightful way to celebrate the beauty of the season and welcome guests to your home.
By embracing the colors of fall, incorporating festive elements, and adding personal touches, you can create a warm and inviting space that exudes the spirit of autumn.
FAQs
1. How can I make my front porch look cozy for fall?
To make your front porch look cozy for fall, incorporate warm colors, soft textures like blankets and pillows, and outdoor lighting. Adding seasonal elements like pumpkins, wreaths, and fall flowers can also enhance the cozy atmosphere.
2. What are some popular fall front porch decor trends?
Some popular fall front porch decor trends include using neutral color palettes, incorporating natural elements like hay or cornstalks, and creating personalized DIY crafts. Mixing vintage and modern elements is also a trendy approach for fall porch decor.
3. Can I decorate my front porch on a budget?
Absolutely! You can decorate your front porch for fall on a budget by repurposing items you already have, utilizing natural elements from your surroundings, and DIYing decor pieces. Thrift stores and dollar stores can also be great places to find affordable seasonal decor.
4. How can I protect my fall front porch decor from the weather?
To protect your fall front porch decor from the weather, consider using outdoor-friendly materials and finishes. Choose durable items that can withstand rain, wind, and temperature changes. Additionally, storing delicate or fragile decorations indoors during inclement weather is advisable.
5. When is the best time to start decorating my front porch for fall?
The best time to start decorating your front porch for fall is typically in late summer or early autumn. This allows you to enjoy the decor for a longer period and ensures that your front porch is ready to welcome the season's festivities.