Get inspired to create stunning DIY fall wreaths with these easy fall wreath ideas! Explore a variety of autumn wreaths, from rustic farmhouse wreaths, and grapevine wreaths to burlap wreaths, you'll find a variety of fall door decorations. Elevate your fall front door decor with beautiful Thanksgiving wreaths. Whether you prefer harvest wreaths, fall door hangers, or pumpkin wreaths, these DIY fall decorations will add warmth and charm to your home. So try these DIY fall crafts for adults.
As the days grow shorter and the air turns crisp, the autumn season enchants us with its vibrant colors and cozy atmosphere.
DIY fall wreaths provide an opportunity to capture the essence of this enchanting season and bring it into our homes.
These wreaths can be a reflection of your creativity and a warm welcome to anyone who enters your abode.
Choosing the Perfect Base for Your Fall Wreath
When starting your DIY fall wreath project, selecting the right base is crucial.
Consider using a sturdy material such as a grapevine wreath or a wire frame.
These bases provide a solid foundation for attaching various decorations and ensure your wreath will withstand the fall weather.
Choosing the Right Materials
Consider using natural elements that are readily available during the fall season, such as:
Dried leaves in various colors
Pinecones and acorns
Berries and twigs
Faux flowers and foliage
Ribbons and burlap
These materials can be found at local craft stores or even gathered from your own backyard.
By using a combination of these elements, you can create a visually stunning and textured wreath.
Selecting a Color Palette
To achieve a cohesive and harmonious look, it's essential to choose a color palette for your fall wreath.
Traditional fall colors like orange, red, yellow, and brown can evoke a warm and inviting atmosphere.
However, you can also experiment with non-traditional color schemes, such as deep purples, burgundy, and olive green.
Consider the overall color scheme of your home decor to ensure that the wreath complements its surroundings.
Gathering Natural Elements
Before you start assembling your fall wreath, take a nature walk and gather various natural elements.
Look for beautifully colored leaves, interesting twigs, and eye-catching berries.
Make sure to choose elements that are sturdy and can withstand the test of time.
Once you have collected your materials, gently clean them and allow them to dry thoroughly before use.
Preparing the Wreath Base
The wreath base provides a foundation for your design. You can either purchase a pre-made wreath form or create one from scratch using materials like grapevines, wire, or foam.
If using a pre-made form, ensure it is sturdy enough to hold the weight of your chosen elements.
Alternatively, shaping a wreath form using grapevines adds a rustic and organic touch.
Secure the materials tightly, ensuring the wreath has a symmetrical and balanced shape.
Adding Foliage and Flowers
Start by adding foliage to your wreath base. Use hot glue or floral wire to attach dried leaves, faux eucalyptus, and other fall foliage to the form.
Distribute them evenly, creating a lush and full appearance. Next, incorporate flowers that reflect the colors of the season, such as sunflowers, mums, or dahlias.
Secure them strategically, creating focal points and adding depth to your wreath.
Incorporating Seasonal Accents
To make your fall wreath truly captivating, consider incorporating seasonal accents like pinecones, acorns, and berries.
Attach them using hot glue or floral wire, placing them in clusters or along the edges.
These accents add texture and visual interest to your wreath, capturing the essence of fall.
Adding Personal Touches
A DIY fall wreath is an opportunity to showcase your creativity and add personal touches.
Consider incorporating elements that have sentimental value, such as family heirlooms or handcrafted ornaments.
You can also attach a personalized sign or a monogram letter to make the wreath uniquely yours.
Let your imagination run wild and infuse the wreath with elements that reflect your personal style.
Hanging and Displaying Your Fall Wreath
Once your fall wreath is complete, it's time to display it with pride.
Choose a prominent location, such as your front door, above the fireplace, or on a blank wall.
Use a sturdy wreath hanger or ribbon to secure it in place. Ensure the wreath is hung at eye level and is centered to create a visually pleasing focal point.
Maintenance and Longevity of DIY Fall Wreath
To ensure the longevity of your DIY fall wreath, protect it from harsh weather conditions.
Hang it in a covered area or use a clear protective spray to shield it from moisture and fading.
If you notice any loose elements, gently secure them with additional hot glue or floral wire.
With proper care, your wreath can last throughout the fall season and even beyond.
Tips and Tricks for DIY Success
Plan your design: Sketch out your wreath design or create a mood board to visualize the final product before starting.
Layer and vary textures: Combine different materials and textures to add depth and visual interest to your wreath.
Experiment with color: Embrace the warm hues of fall, but don't be afraid to incorporate unexpected pops of color to make your wreath stand out.
Secure attachments properly: Use floral wire or hot glue to ensure your decorations stay firmly in place.
Step back and assess: Take breaks and step back from your wreath to see it from different angles. This helps you identify any adjustments or additions needed.
Fall Wreath Ideas for Different Styles
Fall wreaths can be tailored to various styles and themes. Whether you prefer a minimalist look, a glamorous touch, or a bohemian vibe, there are endless possibilities.
Research different styles and experiment with combinations of colors, materials, and decorative accents to achieve the desired aesthetic.
Budget-Friendly Fall Wreath Options
Creating a DIY fall wreath doesn't have to break the bank. There are plenty of budget-friendly options available. Shop at dollar stores, thrift shops, or use items you already have at home.
Consider repurposing old decorations or utilizing natural materials found in your surroundings.
With a little creativity, you can create a stunning fall wreath on a tight budget.
DIY Fall Wreaths to Welcome the Autumn Season
39. Simple Metallic Wreath
38. Modern Sunflower Wreath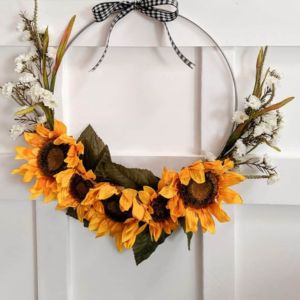 37. Fall Apple Wreath
36. DIY Sunflower Wreath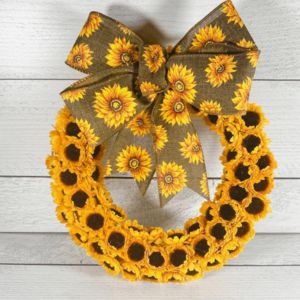 35. Mini Pumpkin Wreath
34. Burlap Pumpkin Wreath
33. Wood Slice Fall Pumpkin Wreath
32. Dollar Tree Pumpkin Wreath
31. Pumpkin Grapevine Wreath
30. Mini Pumpkin & Greenery Fall Wreath
29. Burlap & Pumpkin Wreath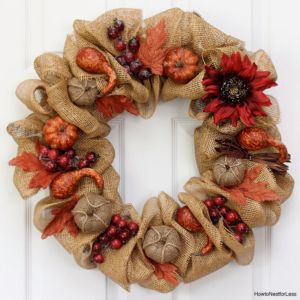 28. Sweater Weather Pumpkin Wreath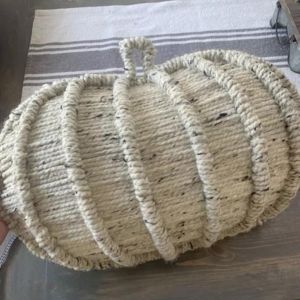 27. Clothespin Pumpkin Wreath
26. Felt Leaf Wreath
25. DIY Pumpkin Front Door Wreath
24. Fall Wreath with Felt Rosettes
23. Fall Flower Wreath
22. Simple Felt Flower Wreath
21. Rustic Fall Wreath with Pumpkins
20. Foraged Fall Wreath with Sweetgum Balls
19. Dollar Store Fall Berry Wreath
18. DIY Fall Wreath
17. Fall Felt Leaf Wreath
16. Orange Sunflower Fall Wreath
15. DIY Indian Corn Wreath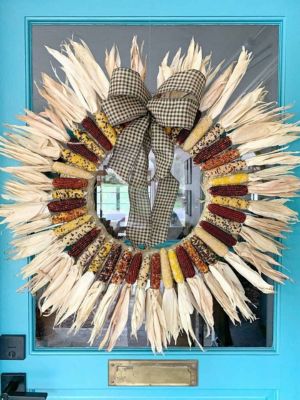 14. Floral Pinecone Wreath Decor
13. DIY Pinecone Wreath
12. Burlap Wreath
11. Fall Farmhouse Wreath
10. Fall Grapevine Wreath
09. Fall Wreath-Pumpkin Wreath
08. Fall Wheel Wreath
07. Fall Ornament Wreath
06. Pumpkin and Floral Fall Wreath
05. DIY Fall Wreath from a Picture Frame
04. Wood Bead Wreath
03. Fall Deco Mesh Wreath
02. Burlap Wreath with Accent Ribbon
01. DIY Fall Wreath in Under 6 Minutes
Creating your own DIY fall wreath is a wonderful way to celebrate the beauty of the season and infuse your home with warmth and creativity.
By following these steps and allowing your imagination to guide you, you can craft a unique and visually stunning wreath that captures the spirit of fall.
Embrace the colors, textures, and natural elements, and let your creativity shine.
1. Can I use fresh flowers in my fall wreath?
While fresh flowers can be beautiful, they may not last as long in a wreath. It is recommended to use dried or faux flowers for a longer-lasting wreath.
2. How do I secure the elements to the wreath base?
You can use hot glue, floral wire, or even small zip ties to secure the elements to the wreath base. Experiment with different attachment methods to find the one that works best for your chosen materials.
3. Can I hang my fall wreath indoors?
Absolutely! Fall wreaths can be a stunning addition to your interior decor. Hang them on walls, above mantels, or in any area where you want to add a touch of fall ambiance.
4. Can I customize the size of my wreath?
Yes, you can adjust the size of your wreath by choosing a larger or smaller wreath base and trimming the elements accordingly. Consider the proportions of your space when deciding on the size of your wreath.
5. How often should I clean and maintain my fall wreath?
It's a good practice to dust off your fall wreath periodically to keep it looking fresh. If needed, you can use a hairdryer on a cool setting to gently remove any accumulated dust. Avoid using water or cleaning solutions, as they can damage the natural elements.