Get inspired with these budget friendly fall wreaths for front door! Whether you're looking for pumpkin wreaths, Thanksgiving wreaths, or autumn wreaths, here you'll find plenty of fall porch decorations. Add a touch of warmth and charm to your home with these stunning fall decor ideas. Explore our collection of fall wreath ideas and upgrade your fall door decorations or create stunning Thanksgiving centerpieces. Let natural fall decor and pumpkin decor bring the essence of fall into your space.
Introduction: Embracing the Beauty of Fall
Fall is a season cherished for its breathtaking colors and cozy ambiance.
As the leaves change from lush greens to fiery reds, oranges, and yellows, it's the perfect time to bring the essence of autumn into your home.
One of the simplest and most effective ways to achieve this is by adorning your front door or interior walls with fall wreaths.
DIY Fall Wreaths: Unleash Your Creativity
Creating your own fall wreath allows you to showcase your creativity while staying within a budget.
Start by selecting a base for your wreath, such as a foam or wire frame.
Then, gather natural elements like leaves, acorns, pinecones, and dried flowers to embellish your wreath.
You can also incorporate ribbons, bows, or small ornaments for added charm.
Let your imagination run wild and experiment with different combinations to create a one-of-a-kind fall wreath.
Natural Elements: Bringing the Outdoors In
For a budget-friendly yet stunning fall wreath, turn to the beauty of nature.
Gather colorful leaves, twigs, and branches from your backyard or local park.
Attach them to a sturdy base using a hot glue gun or floral wire. You can also add small pumpkins, berries, or dried corn husks to enhance the autumnal appeal.
The result will be a nature-inspired wreath that captures the essence of the season.
Rustic Charm: Incorporating Burlap and Twine
If you're looking to infuse your fall decor with rustic charm, consider using burlap and twine in your wreath.
Start with a simple wreath base and wrap it with burlap fabric, securing it with hot glue or pins. Add twine bows or loops for an added rustic touch.
You can also attach artificial sunflowers, wheat stems, or miniature scarecrows to complete the look.
This budget-friendly option exudes a cozy farmhouse vibe that perfectly complements the fall season.
Autumn Harvest: Celebrating Nature's Bounty
Fall is a time of harvest, and incorporating elements like pumpkins, gourds, and dried corn husks into your wreath can create a stunning display.
Arrange these items on a base, securing them with glue or wire. To add depth and texture, incorporate colorful autumn leaves, berries, or wheat stems.
Hang the wreath on your front door or above your fireplace to celebrate the abundance of the season.
Felt and Fabric: Cozy and Whimsical Designs
For a softer and more whimsical approach, consider using felt and fabric to create your fall wreath.
Cut out leaf-shaped pieces from various colors of felt or fabric and attach them to a foam or wire base. Add small felt flowers, acorns, or buttons for a charming touch.
This DIY option allows you to personalize your wreath with different textures and colors, making it a unique and budget-friendly fall decoration.
Recycled Materials: Giving New Life to Old Objects
Embrace sustainability and creativity by repurposing items you already have at home to make your fall wreath.
Look for old sweaters, scarves, or fabric scraps in warm fall colors. Cut them into strips and tie them around a foam or wire frame.
You can also repurpose old picture frames or embroidery hoops as the base for your wreath.
Add embellishments like pinecones, faux flowers, or small ornaments for a customized and eco-friendly fall wreath.
Budget-Friendly Stores: Finding Deals and Discounts
If you prefer convenience or lack the time to create your own wreath, don't worry!
Many stores offer budget-friendly options for fall wreaths. Check out discount stores, craft stores, or online marketplaces for affordable selections.
Keep an eye out for seasonal sales, coupons, or clearance sections where you can find great deals on fall wreaths.
Remember to compare prices and read reviews to ensure you're getting the best value for your money.
Quick Tips for Fall Wreath Shopping
Measure the space where you plan to hang the wreath to ensure the right size.
Consider the color scheme and overall theme of your fall decor for a cohesive look.
Opt for wreaths made with durable materials to ensure longevity.
Check for weather resistance if you plan to display the wreath outdoors.
Don't be afraid to mix and match different wreaths for a layered and dynamic display.
Budget Friendly Fall Wreaths for Front Door
21. Yellow Orange Eucalyptus Leaves Wreath
20. Pumpkins Pinecone Wreath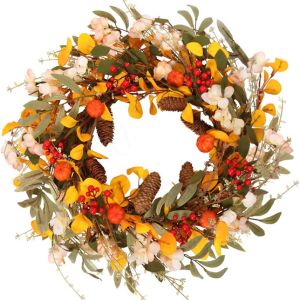 19. Pumpkin and Eucalyptus Leaf Wreath
18. Orange and Rusty Birch Leaves Wreath
17. Oak Leaves Wreath
16. Fall Leaves Wreath
15. Artificial Peonies Autumn Wreaths
14. Gold Wheat Ears Circle Garland Autumn Wreath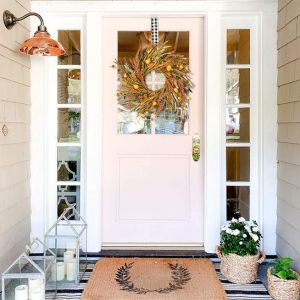 13. Autumn Wreath with Twig Base and Bunny
12. Berries & Leaves Wreath
11. Artificial Leaves, Flowers, Pumpkins and Berries Wreath
10. Wood and Silk Autumn Leaves Wreath
09. Burnt Orange Flowers Wreath
08. Artificial Peony Flower Wreath with Eucalyptus Leaves
07. Eucalyptus Wreaths
06. Artificial Pumpkin Wreath
05. Artificial Autumn Maple Leaf Wreath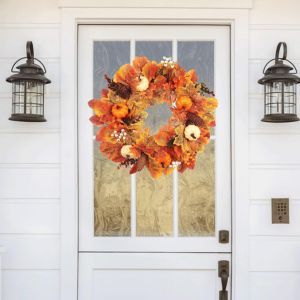 04. Daisies Leaves Red Berries Wreath
03. Pumpkins Pinecone Berries Sunflower Wreath
02. Yellow and Orange Daisies Flowers Wreath
01. Autumn Wreath with Leaves and Berries
Decorating your home with fall wreaths allows you to embrace the spirit of the season without straining your wallet.
Whether you choose to unleash your creativity and make your own wreath or find an affordable option from a store, the possibilities are endless.
By incorporating natural elements, rustic charm, or repurposed materials, you can create a warm and inviting atmosphere that captures the essence of fall.
FAQs
1. Can I use a fall wreath indoors?
Absolutely! Fall wreaths can be used both indoors and outdoors. Hang them on your front door, above the fireplace, or even as a centerpiece on your dining table.
2. How long do fall wreaths last?
The lifespan of a fall wreath depends on the materials used and how it is cared for. Generally, a well-maintained wreath can last for several seasons.
3. Can I customize a store-bought fall wreath?
Certainly! Feel free to add your personal touch to a store-bought wreath by attaching additional elements like ribbons, ornaments, or bows.
4. Are there specific colors that work best for fall wreaths?
Fall is known for its warm and earthy colors. Consider incorporating shades of red, orange, yellow, brown, and deep green for a traditional fall look.
5. Can I reuse my fall wreath for other seasons?
While fall wreaths are designed specifically for autumn, you can repurpose certain elements of the wreath for other seasonal decorations. For example, remove the fall-themed accessories and add winter or spring accents for a fresh look.