Discover the beauty of easy dollar tree DIY fall decorations! From fall wreaths, fall table decor, and fall door decor to fall porch decor and pumpkin crafts, get inspired to create DIY Thanksgiving decorations for your home. Explore fall outdoor decorations, and other fall crafts like DIY Halloween decorations, and Halloween crafts. Create your own personalized and unique fall home decor with these fall DIY projects. Get started on your DIY fall decor journey today!
Embrace the Colors of Fall
Fall is known for its rich and vibrant color palette. Incorporate warm hues like deep reds, oranges, yellows, and browns into your decor.
Think about using these colors in your throw pillows, blankets, curtains, and artwork to instantly create an autumnal ambiance.
Create a Festive Wreath
A fall wreath is a classic decor item that welcomes guests with a burst of seasonal charm.
Gather dried leaves, pinecones, and small branches to construct your own unique wreath.
You can also add faux berries or mini pumpkins for an extra festive touch.
Craft a Rustic Centerpiece
Bring the beauty of nature indoors by designing a rustic centerpiece for your dining table or mantel.
Arrange a collection of colorful fall leaves, pinecones, acorns, and seasonal flowers in a wooden or metal container.
This simple yet eye-catching centerpiece will be a conversation starter during gatherings.
Decorate with Autumnal Candles
Candles create a warm and inviting atmosphere, perfect for the fall season. Choose scents that evoke cozy feelings like cinnamon, pumpkin spice, or apple cider.
Place them in decorative candle holders and arrange them on your coffee table, shelves, or windowsills.
Make Your Own Leaf Garland
Craft a stunning leaf garland to adorn your staircase railing, fireplace mantle, or windows.
Collect leaves of various shapes and sizes, and attach them to a string or twine using mini clothespins or glue.
Hang the garland in a graceful curve to showcase the beauty of nature's artwork.
Personalize Pumpkin Decorations
Pumpkins are synonymous with fall. Get creative by personalizing your pumpkins with paint, glitter, or other embellishments.
Whether you opt for traditional orange pumpkins or explore unique colors like white or teal, they will add a charming touch to your home.
Design a Cozy Front Porch
Transform your front porch into a cozy haven that welcomes the autumn season.
Arrange potted mums, hay bales, and pumpkins near your entrance.
Add a cozy throw blanket and some decorative outdoor pillows to create an inviting seating area.
Incorporate Natural Elements
Celebrate the beauty of nature by incorporating natural elements into your fall decor.
Display branches with colorful leaves in a tall vase, create a centerpiece using dried wheat stalks, or arrange pinecones in a decorative bowl. These elements will infuse your home with organic warmth.
DIY Fall Table Settings
Set a charming fall-themed table for your family and guests. Use rustic table runners, seasonal napkins, and earth-toned dinnerware.
Add small pumpkins or gourds as place card holders to make each setting feel special.
Upcycle Old Items into Fall Décor
Give a new lease of life to old items by upcycling them into fall decorations.
For example, paint empty glass jars in fall colors and place tea lights inside for a cozy glow.
Use an old ladder to display blankets or hang miniature pumpkins.
Craft a Fall-inspired Doormat
Welcome guests with a personalized fall-inspired doormat. Purchase a plain doormat and use stencils or paint to create a design featuring fall motifs such as leaves, acorns, or pumpkins.
This simple DIY project will set the tone for the season right at your doorstep.
Create an Indoor Fall Garden
Bring the beauty of a fall garden indoors by creating a mini indoor garden.
Plant small pots of mums, ferns, or ornamental cabbage and arrange them on a windowsill or side table.
This living decor will add freshness and a touch of nature to any room.
Handmade Fall Wall Art
Design your own fall-inspired wall art to add a personalized touch to your decor.
Get creative with acrylic paints, stencils, or even pressed leaves to create unique artworks. Hang them in your living room or hallway to showcase your artistic skills.
Craft a Burlap Banner
Craft a charming burlap banner with fall-themed messages to hang across your mantel or windows.
Cut out triangular pieces from burlap fabric and paint or stencil letters onto each piece.
String them together using twine, and your banner is ready to spread autumn cheer.
With these DIY fall decor ideas, you can infuse your home with warmth, coziness, and the spirit of the season.
Embrace the colors, textures, and natural elements that autumn brings.
From festive wreaths to personalized pumpkins, let your creativity shine and transform your living space into a cozy retreat this fall.
Stunning DIY Fall Decor ideas for a Beautiful Home
31. Dollar Store Fall Berry Wreath
30. Wood Slice Pumpkins
29. Wood Slice Pumpkin Chalkboard
28. Wooden Crate Pumpkins
27. Autumn Paper Leaf Wreath
26. Corn Husk Wreath
25. Cute Pinecone Owls
24. Rae Dunn Inspired Fall Signs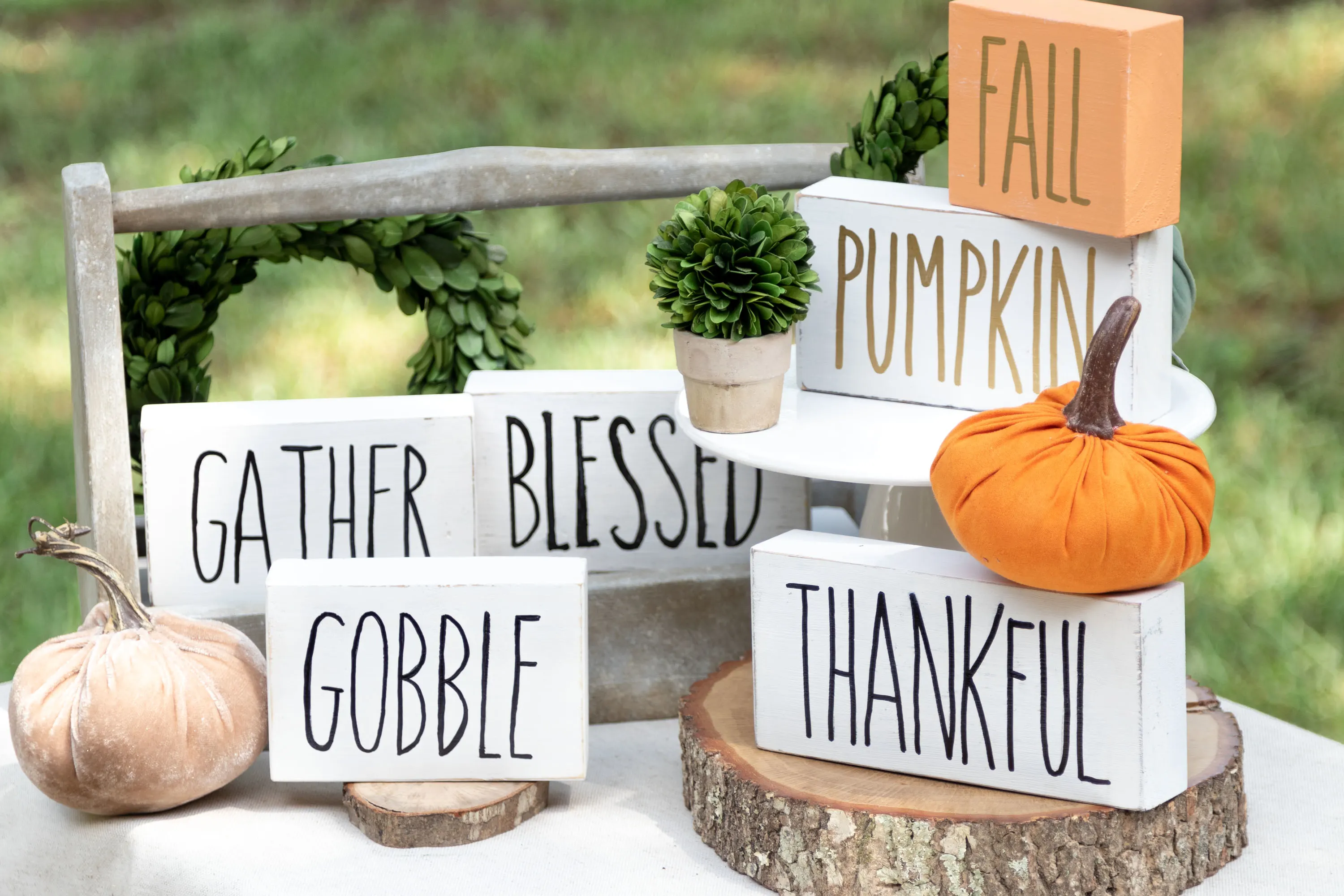 23. Rustic Fall Sign for Porch
22. Fall Acorn Decoration
21. Mason Jar Candle Holder
20. Classic Pumpkin Wreath
19. DIY Fall Paper Leaf Garland
18. Paper Pumpkin Fall Sign
17. Fall Acorn Centerpiece
16. Mason Jar Leaf Lanterns
15. Fall Felt Leaf Garland
14. Metallic Browns and Gold Leaf Wreath
13. Bandana Pumpkins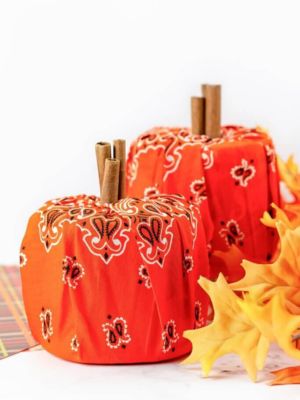 12. Mini Pumpkin Flower Arrangement
11. Pumpkin Vase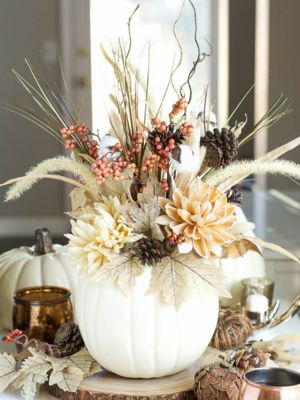 10. Rustic Woven Fall Wreath
09. Pumpkin Mason Jars
08. Pumpkin Fall Door Hanger
07. Mason Jar Lid Lighted Pumpkins
06. Embroidery Hoop Pumpkins
05. Twine Pumpkins
04. Wood Bead Pumpkins
03. Paper Pumpkins
02. Wood Bead Wreath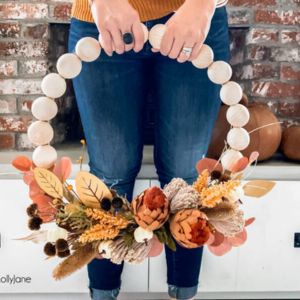 01. DIY Yarn Pumpkins
FAQs
1. How long does it take to make a fall wreath?
The time it takes to make a fall wreath depends on the complexity of the design and the materials used. On average, it can take anywhere from 1 to 3 hours to complete a fall wreath.
2. Can I use artificial leaves for the leaf garland?
Yes, you can use artificial leaves for the leaf garland if you prefer a longer-lasting option. Look for realistic-looking artificial leaves to maintain the natural aesthetic.
3. Are there any safety precautions when using candles for fall decor?
When using candles for fall decor, always ensure they are placed on stable surfaces and away from flammable materials. Never leave candles unattended and extinguish them before leaving the room or going to bed.
4. Can I use fresh flowers for fall centerpieces?
Yes, fresh flowers can be a beautiful addition to fall centerpieces. Opt for blooms that are in season during the fall, such as sunflowers, dahlias, or chrysanthemums, to create vibrant and seasonal arrangements.
5. Can I customize the fall table settings for a specific occasion?
Absolutely! You can customize the fall table settings for any occasion by incorporating themed decorations or adding personalized touches such as name cards or small party favors.
6. How can I make my DIY fall decor last longer?
To make your DIY fall decor last longer, consider using artificial materials or preserving natural elements. For example, you can spray dried leaves with a clear varnish to prevent them from crumbling or choose faux pumpkins and gourds that can be reused year after year.
7. What are some budget-friendly DIY fall decor ideas?
If you're on a budget, there are plenty of affordable DIY fall decor ideas. You can repurpose items you already have at home, such as Mason jars, old books, or twine, and transform them into fall-themed decorations. Additionally, collecting fallen leaves, pinecones, and branches from nature is a cost-effective way to incorporate seasonal elements into your decor.