Check out this DIY farmhouse fall decor ideas. Discover rustic autumn decorations and DIY fall decor projects. Also, try these Thanksgiving table decorations and Thanksgiving decor. Explore outdoor fall decorating ideas like fall porch decor, and fall door decorations. From fall wreaths and garlands, fall mantle decor, fall table decor, fall centerpieces, fall kitchen and other fall indoor decorations. Enhance your space with DIY fall crafts and let the warm cozy fall vibes envelop your home.
Introduction
As the autumn season approaches, it's time to embrace the cozy and warm atmosphere of farmhouse fall decor.
With its rustic charm and timeless appeal, farmhouse style can beautifully complement the colors and textures of the season.
By combining natural elements, rustic textures, and vintage touches, you can create a welcoming and charming atmosphere that celebrates the beauty of autumn.
In this article, we will explore fifteen creative and inspiring ideas to infuse your home with farmhouse flair this fall.
Embracing Nature: Rustic Wreaths and Garlands
One of the simplest ways to add farmhouse fall decor to your home is by incorporating rustic wreaths and garlands.
Use dried twigs, autumn leaves, and small pumpkins to create a stunning focal point for your front door or fireplace mantel.
Warm Textures: Layered Blankets and Throws
Fall is the perfect time to bring out cozy blankets and throws in rich textures and warm colors.
Layer them on sofas, armchairs, or beds to create an inviting and comfortable space for relaxation.
Harvest-Inspired Centerpieces: Pumpkins and Gourds
Create captivating centerpieces by arranging pumpkins and gourds of various sizes and colors on a wooden tray or vintage crate.
Enhance the display with dried cornstalks, burlap, or even a few sprigs of eucalyptus for an elegant touch.
Cozy Pillows: Adding Comfort and Style
Swap out your regular throw pillows for ones with fall-inspired patterns or messages.
Look for pillow covers featuring plaid, buffalo check, or autumn-themed quotes to add a touch of farmhouse charm to your living room or bedroom.
Natural Elements: Burlap and Twine Accents
Incorporate natural materials like burlap and twine into your farmhouse fall decor.
Wrap burlap ribbons around candle holders or vases, and use twine to tie together bundles of cinnamon sticks or dried flowers for a rustic yet elegant touch.
Illuminating Ambiance: Candle Lanterns
Create a warm and inviting atmosphere by placing candle lanterns throughout your home.
Opt for lanterns with distressed finishes or mason jar-inspired designs to enhance the farmhouse aesthetic.
Vintage Touches: Antique Finds and Flea Market Treasures
Scour antique stores and flea markets for unique vintage items that can add character to your fall decor.
Look for weathered signs, old milk jugs, or vintage scales to create charming vignettes that evoke a sense of nostalgia.
Fall-Inspired Color Palette: Earth Tones and Neutrals
When selecting colors for your farmhouse fall decor, embrace earthy tones and neutrals. Shades of brown, beige, olive green, and mustard yellow can create a warm and cozy ambiance that perfectly captures the essence of the season.
Charming Signs and Wall Art
Hang farmhouse-style signs and wall art with fall-themed messages or quotes.
Whether it's a wooden sign that says "Thankful" or a vintage-inspired botanical print, these pieces can add a touch of personality and whimsy to your home.
Harvesting Memories: Photo Displays
Create a personalized farmhouse fall decor by displaying cherished autumn memories.
Arrange framed photos of pumpkin picking, apple orchard visits, or cozy family gatherings on a side table or mantel for a sentimental touch.
Festive Table Settings: Farmhouse Style
Elevate your fall dining experience by setting a farmhouse-inspired table.
Use wooden chargers, neutral table linens, and vintage dinnerware to create a rustic and elegant ambiance for your Thanksgiving or harvest feast.
Autumnal Scents: Candles and Potpourri
Infuse your home with the inviting scents of fall by using candles and potpourri.
Opt for fragrances like pumpkin spice, cinnamon, or apple cider to create an atmosphere that engages all the senses.
Cozy Reading Nooks: Plush Chairs and Knit Throws
Create a cozy reading nook in your home where you can curl up with a good book and a cup of warm apple cider.
Place a plush chair or armchair near a window and drape it with a knit throw for added comfort and style.
Outdoor Delights: Farmhouse Fall Porch Decor
Extend your farmhouse fall decor to your porch or patio by adding seasonal touches.
Place hay bales, potted mums, and colorful pumpkins on your porch steps or hang a fall-themed wreath on your front door to welcome guests with rustic charm.
Rustic Charm: Farmhouse Fall Decor Ideas for a Cozy Home
27. Blue and Orange DIY Fall Centerpiece
26. DIY Fall Farmhouse sign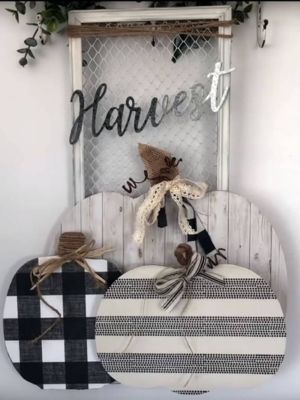 25. Front Porch Lanterns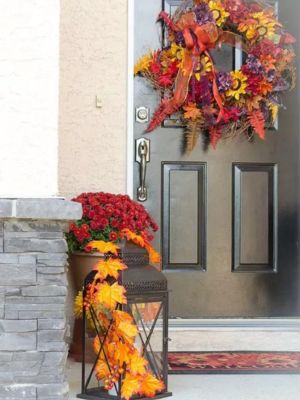 24. DIY Yarn Pumpkin Garland
23. Farmhouse Front Porch Decor
22. Farmhouse Pumpkin Topiaries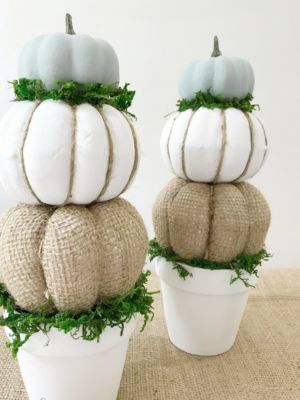 21. Pumpkin Bucket
20. Painted Jack o Lanterns
19. DIY Decorative Fall Lantern
18. Wooden Bead Garland with Tassels
17. Buffalo Check Wooden Pumpkin
16. Beaded Wreath
15. Modern Farmhouse Fall Wreath
14. Wood Bead Wreath
13. DIY Farmhouse Fall Sign
12. Wood Slice Pumpkin Chalkboard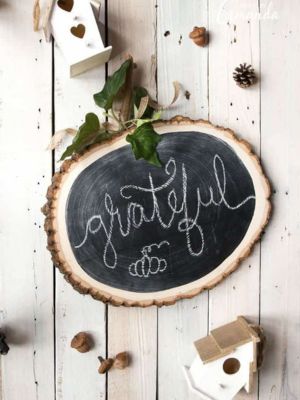 11. Watercolor Pumpkin Patch Sign
10. DIY Tiered Tray Decor
09. Farmhouse Fall Wood Sign
08. Dollar Spot Pumpkin Wreath
07. DIY Wooden Pumpkins
06. Sunflower Mason Jars
05. Pumpkin Mason Jars
04. No Sew Table Runner
03. Pumpkin and Floral Wreath
02. Painted Wood Pumpkin
01. Fall Pumpkin Planters with Olive Buckets
Embracing farmhouse fall decor allows you to bring the warmth and beauty of autumn into your home.
By incorporating natural elements, warm textures, and vintage touches, you can create a cozy and inviting atmosphere that celebrates the season.
Let your creativity and personal style shine through as you explore these farmhouse-inspired ideas for fall.
FAQs
1. What does farmhouse fall decor?
Farmhouse fall decor combines rustic elements, vintage touches, and warm textures to create a cozy and inviting atmosphere that celebrates the autumn season.
2. Where can I find farmhouse fall decor items?
You can find farmhouse fall decor items at home decor stores, antique shops, flea markets, and online retailers specializing in farmhouse-style products.
3. How can I incorporate farmhouse fall decor on a budget?
Consider DIY projects using natural materials like twigs, dried flowers, and burlap. Shop for vintage items at thrift stores or repurpose existing decor pieces to give them a farmhouse-inspired makeover.
4. Can farmhouse fall decor work in small spaces?
Absolutely! Farmhouse fall decor can be adapted to any space, regardless of size. Opt for smaller-scale decor items and focus on creating cozy vignettes to infuse your space with farmhouse charm.
5. Are there any specific color schemes for farmhouse fall decor?
While earthy tones and neutrals are popular choices, there are no strict color rules. Feel free to incorporate your favorite fall colors or experiment with different palettes to reflect your personal style and preferences.