Discover easy DIY fall mason jar crafts ideas. Create stunning fall centerpieces, lanterns, and vases using pumpkins, leaves, and burlap. Explore Halloween and Thanksgiving crafts, as well as Thanksgiving candle holders adorned with acorns and pinecones. From rustic centerpieces to charming lanterns, these DIY fall craft ideas will add a cozy touch to your home. Let the warm hues and seasonal charm of fall fill your space with these creative fall mason jar decorations.
Embrace the Autumn Spirit with Fall Mason Jar Crafts
Fall is a season that brings vibrant colors, cozy vibes, and a sense of warmth.
Mason jars, with their rustic charm, provide a perfect canvas for creating fall-inspired crafts.
These crafts can serve as beautiful decorations for your home or even thoughtful gifts for friends and family.
Let's explore some amazing fall mason jar craft ideas that will help you embrace the beauty of autumn.
The Allure of Mason Jars
Mason jars have long been cherished for their rustic charm and versatility in various crafts.
With their clear glass structure and timeless appeal, they serve as perfect canvases for fall-inspired creations.
Whether you're a seasoned crafter or a novice enthusiast, Fall Mason Jar Crafts offer endless possibilities for expressing your creativity and capturing the essence of autumn.
Essential Materials and Tools
Before diving into your Fall Mason Jar Crafts, ensure you have the following materials and tools on hand:
Tips for Successful Fall Mason Jar Crafts
Follow these expert tips to make your Fall Mason Jar Crafts a resounding success:
Embrace Fall Colors
Choose acrylic paints in warm and inviting fall colors to evoke the spirit of the season. Experiment with various shades of red, orange, yellow, and brown to create rich and captivating designs.
Layer and Blend Colors
When painting your Mason jars, consider layering and blending colors to add depth and dimension to your artwork.
Gradually build up layers, allowing each coat to dry before applying the next. Use a dry brush technique to blend colors together for a seamless transition.
Incorporate Texture
Add texture and visual interest to your Fall Mason Jar Crafts by incorporating different techniques.
Consider using sponges, stencils, or even natural materials like burlap or twine to create unique patterns and textures on the surface of the jars.
Explore Themes and Motifs
Capture the essence of fall by exploring themes and motifs that resonate with the season. Some popular choices include leaves, pumpkins, acorns, harvest corn, or woodland creatures.
Incorporate these elements into your designs to evoke the cozy and nostalgic atmosphere of autumn.
Illuminate with Warmth
For a magical touch, incorporate candles or LED lights into your Fall Mason Jar Crafts.
The soft glow will create a warm and inviting ambiance, perfect for cozy evenings or seasonal gatherings. Ensure the candles or lights are safely positioned and never left unattended.
Personalize and Embellish
Add a personal touch to your Fall Mason Jar Crafts by incorporating fall-themed embellishments. Faux leaves, ribbons, twine, or acorns can be attached using craft glue or a hot glue gun.
Let your imagination run wild and adorn your creations with elements that reflect your unique style.
Seal and Protect
To preserve your Fall Mason Jar Crafts and ensure their longevity, consider applying a spray sealant.
This will protect the painted surface and keep it looking fresh and vibrant for seasons to come. Follow the instructions on the sealant for proper application and drying times.
Inspiring Fall Mason Jar Craft Ideas
Painted Pumpkin Mason Jar
One delightful craft idea for fall is the painted pumpkin mason jar. Start by painting the mason jar with a base coat of orange acrylic paint.
Once dry, use black paint to draw the outline of a pumpkin on the jar.
You can add details such as a cute face or even glitter to make it more festive.
Place a tea light inside the jar, and it will cast a warm and cozy glow, perfect for chilly autumn evenings.
Leaf Candle Holder
For a natural and earthy touch, create a leaf candle holder using mason jars.
Begin by collecting some colorful autumn leaves and press them flat.
Apply a thin layer of Mod Podge on the outside of the mason jar and carefully arrange the leaves, pressing them onto the jar's surface.
Once dry, place a small candle inside, and the light will shine through the leaves, creating a beautiful ambiance.
Harvest Mason Jar Vases
Bring the beauty of the harvest season into your home with harvest mason jar vases.
Start by painting the mason jars in warm and earthy tones, such as gold, brown, or deep red.
Fill them with dried wheat, corn husks, or fall flowers like sunflowers and daisies.
These vases will add a rustic and charming touch to your dining table or mantel.
Fall Mason Jar Luminary
Create a magical and enchanting atmosphere with fall mason jar luminaries.
Take a mason jar and apply a layer of glue around the outside. Wrap twine or raffia around the jar, securing it with the glue.
Add some dried autumn leaves or small acorns to the twine for an extra touch.
Place a battery-operated candle or fairy lights inside the jar, and it will emit a warm and inviting glow, perfect for cozy evenings.
Acorn Mason Jar Centerpiece
Gather some acorns and turn them into a stunning centerpiece for your fall-themed table.
Fill a mason jar with acorns and tie a burlap ribbon around the rim. You can also add some artificial fall leaves or a small pumpkin to enhance the rustic charm.
This centerpiece will bring a touch of nature and elegance to your dining experience.
Burlap-Wrapped Mason Jar
For a simple yet charming fall mason jar craft, wrap a mason jar with burlap fabric.
Secure the fabric with twine or glue. You can embellish it further by attaching a small bow or a wooden tag with a fall-inspired message.
This burlap-wrapped mason jar can serve as a rustic vase or a utensil holder, adding a cozy and welcoming feel to your home.
Apple Cinnamon Mason Jar Candle
Create a delightful scent of autumn with an apple cinnamon mason jar candle.
Fill a mason jar with soy wax flakes and add a few drops of apple and cinnamon essential oils.
Insert a candle wick in the center and let the wax harden. Once the candle is ready, light it up, and the aroma will fill your space with the comforting scent of fall.
Scarecrow Mason Jar
Let your creativity shine with a scarecrow mason jar craft. Paint a mason jar in a straw color, then add a face using markers or paint.
Use raffia or burlap to create the scarecrow's hair, and attach a small straw hat to complete the look.
This adorable scarecrow jar can be filled with candies or small trinkets and placed as a decoration or gift for Halloween or Thanksgiving.
Candy Corn Mason Jar
Capture the essence of the season's most iconic treat with a candy corn mason jar.
Paint a mason jar in three sections: yellow at the bottom, orange in the middle, and white at the top. Once dry, fill each section with corresponding colored candies.
This cheerful jar will not only add a pop of color to your decor but also serve as a delightful treat for guests.
Pine Cone Mason Jar
Embrace the beauty of nature by creating a pine cone mason jar.
Collect some pine cones and attach them to the outside of the jar using a hot glue gun.
You can leave them natural or spray paint them in metallic tones for an elegant touch.
Place a candle or a battery-operated light inside the jar, and it will illuminate the pine cones, creating a cozy and rustic ambiance.
Fall Mason Jar Utensil Holder
Organize your kitchen utensils in style with a fall-themed mason jar utensil holder.
Paint a mason jar in warm autumn colors, such as burnt orange or deep red.
Tie a burlap ribbon around the rim and add a small tag with the word "Utensils" or a fall-related message.
This practical yet decorative holder will add a touch of seasonal charm to your kitchen countertop.
Autumn Leaf Mason Jar Lanterns
Craft beautiful autumn leaf mason jar lanterns to illuminate your outdoor spaces.
Collect some colorful fall leaves and attach them to the inside of the mason jar using Mod Podge. Once dry, place a small LED tea light inside and seal the lid.
Hang these lanterns on trees or place them along pathways to create a warm and inviting atmosphere during those crisp fall evenings.
DIY Fall Mason Jar Crafts for a Charming Home
25. Fall Painted Mason Jar with Crow Topper
24. Pumpkin Mason Jar
23. Thanksgiving Mason Jars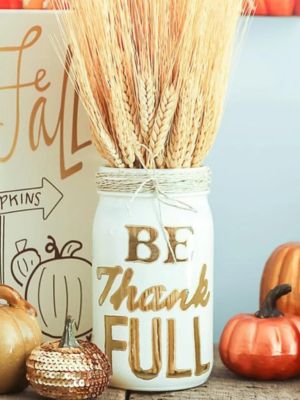 22. Fall Mason Jar Flower Arrangement
21. DIY Pumpkin Mason Jar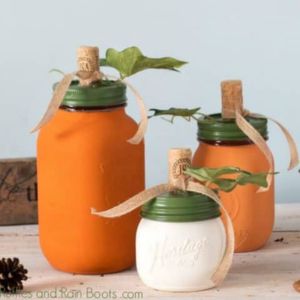 20. DIY Scarecrow Painted Mason Jars
19. Painted Acorn Mason Jar
18. Buffalo Plaid Mason Jar
17. Mason Jar Fall Luminary
16. Painted Jars for Thanksgiving
15. Scarecrow, Pumpkin and Ghost Mason Jar Craft
14. Buffalo Check Mason Jar
13. Mason Jar Lid Pumpkin Decoration
12. Mason Jar Candle Holder
11. DIY Fall Chalk Painted Mason Jar
10. Rustic Buffalo Plaid Mason Jar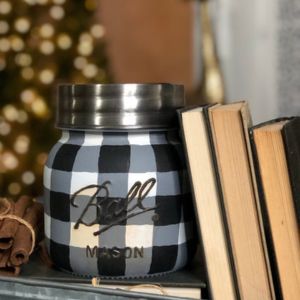 09. Fall Mason Jar Centerpiece
08. Fall Leaf Mason Jar Luminary
07. Mason Jar Vase
06. Burlap Wrapped Mason Jars
05. Wheat Stems Mason Jar Centerpiece
04. Mason Jar Centerpiece
03. Mason Jar Leaf Lanterns
02. Fall Mason Jar Crafts
01. Maple Leaf Mason Jar Crafts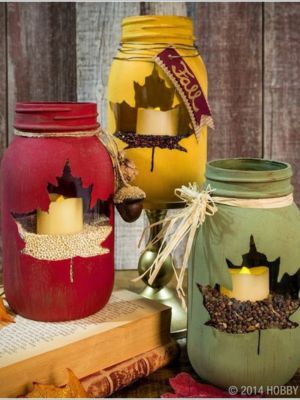 Fall mason jar crafts offer a wonderful opportunity to infuse your home with the enchanting spirit of autumn.
Whether it's painted pumpkins, leaf candle holders, or harvest-themed vases, these crafts allow you to embrace the colors and textures of the season.
Get creative, explore the possibilities, and let your home reflect the beauty of fall.
FAQs
1. Can I use regular glass jars instead of mason jars for these crafts?
Certainly! While mason jars have a distinct charm, you can use any glass jars of similar size and shape for these crafts.
2. Where can I find the materials needed for these projects?
You can find mason jars, paints, ribbons, and other craft supplies at your local craft stores or online retailers. They are widely available and often come in different sizes and designs.
3. Are these crafts suitable for kids to participate in?
Yes, many of these crafts are suitable for children with adult supervision. Adjust the complexity of the project based on their age and abilities.
4. How long do these mason jar crafts typically last?
With proper care, these crafts can last for a long time. However, it's advisable to keep them away from direct sunlight or excessive moisture to maintain their quality.
5. Can I personalize these crafts as gifts for special occasions?
Absolutely! Adding personalized touches such as names, dates, or special messages can transform these mason jar crafts into heartfelt gifts for birthdays, weddings, or other memorable events.