Transform your outdoor space with DIY fall outdoor decorations! Discover a list of fall decorations that will enhance the beauty of your garden or porch. From fall wreaths and garlands, pumpkin decorations, and DIY dollar store crafts to foliage, create a cozy and inviting Thanksgiving outdoor decor. Get ready to welcome fall in style with our handpicked selection of Autumn decorations. Explore our fall front door decor ideas now!
Introduction
As the leaves change color and the air turns crisp, it's time to embrace the beauty of the fall season and transform your outdoor space into a cozy and inviting haven.
Fall outdoor decor allows you to celebrate the enchanting autumnal ambiance and create a warm atmosphere for gatherings with family and friends.
In this article, we will explore a variety of creative and inspiring ideas to help you adorn your outdoor space with fall-themed decorations.
Embracing Nature's Palette
Fall is a season renowned for its vibrant colors, and incorporating nature's palette into your outdoor decor is a wonderful way to celebrate its beauty.
Use an assortment of warm tones like deep oranges, rich yellows, and rustic browns to infuse your space with a cozy and inviting ambiance.
Consider utilizing natural materials such as pumpkins, gourds, cornstalks, and dried leaves to create stunning displays that reflect the essence of autumn.
Welcoming Wreaths
Adorn your front door with a fall-themed wreath to give a warm welcome to your guests.
Choose wreaths made from dried flowers, autumn leaves, berries, or pinecones.
Incorporate elements like burlap ribbons or miniature scarecrows to add a touch of whimsy.
Hang the wreath at eye level to make a bold statement and set the tone for the rest of your outdoor decor.
Festive Front Porch Decor
Transform your front porch into a festive retreat that exudes fall charm.
Place a cozy bench or rocking chair adorned with plush cushions and warm blankets to create a comfortable seating area.
Add a rustic wooden side table to hold cups of hot apple cider or pumpkin-spiced lattes.
Decorate the porch with potted mums, colorful fall foliage, and seasonal signs or banners to enhance the inviting atmosphere.
Cozy Seating Nooks
Create intimate seating nooks throughout your outdoor space where you and your loved ones can gather and enjoy the beauty of the season.
Arrange comfortable chairs around a fire pit or invest in a cozy outdoor sofa with soft cushions and blankets.
Add oversized pillows in fall-inspired patterns and colors for a touch of coziness.
Complete the look with a rustic coffee table where you can display candles or fall-themed decor.
Illuminating Lighting
As the days grow shorter, lighting becomes an essential element of outdoor decor.
Incorporate various lighting options to create a magical ambiance during the evenings.
Hang string lights across trees or along fences to add a warm glow.
Place lanterns or candles on tables and pathways to provide both illumination and a cozy atmosphere.
Consider using flameless LED candles to ensure safety and longevity.
Harvest-inspired Accents
Celebrate the bountiful harvest season by incorporating agricultural-inspired elements into your outdoor decor.
Utilize galvanized metal buckets or wooden crates to display an assortment of colorful pumpkins, gourds, and cornstalks.
Intersperse the display with seasonal fruits like apples, pears, or grapes to add a touch of freshness.
This rustic and abundant arrangement will evoke a sense of fall's natural abundance.
Hay Bales and Pumpkins
Stack hay bales near your entrance or arrange them in a creative manner to form seating or display areas.
Place pumpkins of various sizes and colors on top of the hay bales or scatter them around for added visual interest.
Consider carving or painting the pumpkins with unique designs or messages to personalize your decor.
This classic fall combination adds texture and a touch of country charm.
Charming Doorway Displays
Enhance your doorway with charming fall-themed displays that make a lasting impression.
Hang a fall-inspired garland across the top of your doorframe, entwined with colorful leaves, pinecones, and berries.
Add a rustic or vintage-inspired welcome sign to greet your guests. Place decorative planters on either side of the entrance, filled with fall flowers or ornamental grasses for a touch of natural beauty.
Rustic Signs and Banners
Incorporate rustic signs and banners into your outdoor decor to infuse a cozy and inviting vibe.
Choose wooden signs with warm autumn phrases or quotes that evoke the spirit of the season.
Hang banners with fall motifs such as pumpkins, acorns, or leaves.
These decorative elements add a personalized touch and contribute to the overall charm of your outdoor space.
Fall-inspired Centerpieces
Create eye-catching centerpieces for your outdoor dining or gathering areas using fall-inspired elements.
Fill glass vases with branches of colorful leaves, berries, or dried flowers.
Arrange them on tables, along with rustic candle holders or lanterns, to create a visually stunning focal point.
Incorporate small pumpkins, gourds, or pinecones for added texture and depth.
Quaint Garden Decorations
Extend your fall decor to your garden by incorporating charming decorations that blend seamlessly with the natural surroundings.
Hang birdhouses painted in fall colors from tree branches. Add whimsical garden stakes shaped like scarecrows, owls, or squirrels.
Place decorative planters filled with fall flowers or grasses strategically throughout the garden. These subtle accents will add a touch of whimsy to your outdoor space.
Creative Scarecrows
Scarecrows are iconic symbols of fall and can be a delightful addition to your outdoor decor.
Create your own scarecrows using old clothes and straw. Dress them in flannel shirts, jeans, and straw hats. Position them in different poses around your garden or front yard, leaning against fences or sitting on benches.
These playful and whimsical scarecrows will add character and a touch of nostalgia to your outdoor space.
Whimsical Fairy Gardens
If you want to infuse a touch of enchantment into your fall outdoor decor, consider creating whimsical fairy gardens.
Use small containers or planters to create miniature landscapes with tiny houses, fairy figurines, and whimsical decorations.
Add fall elements such as mini pumpkins, colorful leaves, or acorns to embrace the season. These charming fairy gardens will captivate both children and adults alike.
Coordinated Color Schemes
When decorating your outdoor space for fall, consider choosing a coordinated color scheme to create a harmonious and visually appealing look.
Opt for warm and earthy tones such as burnt orange, deep red, mustard yellow, and rustic brown. Use these colors consistently across your decor elements, including cushions, blankets, floral arrangements, and signage.
This cohesive color scheme will tie everything together and create a cohesive and inviting atmosphere.
Maintaining Outdoor Decor
To ensure your fall outdoor decor stays in top condition throughout the season, take some maintenance steps. Regularly sweep away fallen leaves and debris to keep the area clean and tidy.
Protect your decorations from inclement weather by bringing delicate items indoors during heavy rain or windstorms.
Additionally, check outdoor lighting fixtures to ensure they are functioning properly and replace any burnt-out bulbs promptly.
DIY Fall Outdoor Decor Ideas for Your Outdoor Oasis
31. Outdoor sitting area
30. DIY Windowpane Check Welcome Mat
29. Orange mums
28. Fill Planters, urns or baskets
27. Buffalo check runner
26. Wooden bushel baskets
25. Colorful Farmhouse porch steps decor
24. Mini pumpkins and gourds
23. Rustic wood ladder
22. Pumpkins, and cornstalks
21. DIY Fall frame wreath
20. Faux leaf garland garlands
19. Vintage wheelbarrow
18. Pumpkin baskets
17. Soft Furnishings (Pillows & Throws)
16. Fall porch with dried hydrangeas and grass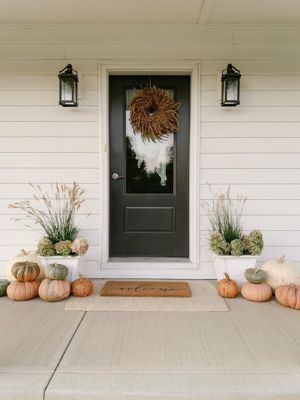 15. Decorative lanterns with seasonal items like leaves, berries, pinecones and a sweet bow
14. Hang string lights or lanterns to create a warm and inviting atmosphere
13. DIY paper flower embroidery hoop wreath
12. Cozy Firepit Area
11. Create a warm and inviting atmosphere
10. Vintage Fall porch decor
09. Corn stalk wreath
08. Place potted mums and other autumn flowers
07. Square planter wrapped with buffalo check ribbon
06. Neutral Fall porch decor with pumpkins and cornstalk
05. Mums, pumpkins, and lanterns
04. Pumpkins and gourds
03. Fall decor with hay bales, and pumpkins
02. Fall-themed wreath for your front door
01. Create a cozy seating area on your porch
Fall outdoor decor provides a wonderful opportunity to embrace the beauty of the season and create a warm and inviting atmosphere in your outdoor space.
By incorporating nature-inspired elements, coordinating color schemes, and adding whimsical touches, you can transform your outdoor area into a cozy retreat that celebrates the enchantment of autumn.
FAQs
1. What are some easy DIY fall outdoor decor ideas?
There are plenty of simple and creative DIY fall outdoor decor ideas. You can paint pumpkins in vibrant colors, create wreaths using fall foliage and pinecones, or make garlands out of colorful leaves. Other ideas include crafting scarecrows, arranging hay bales with pumpkins, and incorporating seasonal flowers and plants into your decor.
2. How can I incorporate pumpkins into my outdoor decor?
Pumpkins are versatile and can be used in various ways for outdoor decor. You can place them on stairs or at the entrance, stack them near doorways, or arrange them on hay bales for a rustic touch. Carve or paint them with unique designs to add a personalized touch. You can also use different sizes and colors of pumpkins to create visually appealing displays.
3. What types of plants and flowers work well for fall outdoor decor?
There are several plants and flowers that thrive in the fall and make great additions to your outdoor decor. Some popular choices include mums, asters, pansies, ornamental grasses, and autumn sedum. These plants offer vibrant colors and textures that complement the fall season and can be placed in planters, flower beds, or hanging baskets.
4. What are some creative ways to decorate pumpkins for fall?
Some creative ways to decorate pumpkins for fall include painting them with unique designs, using ribbons and fabric to create patterns, adding glitter or sequins for a touch of sparkle, or carving intricate patterns and shapes.
5. How can I protect my outdoor decorations from harsh weather conditions?
To protect your outdoor decorations, consider bringing delicate items indoors during heavy rain, windstorms, or snowfall. If that's not possible, ensure they are securely fastened or covered with waterproof materials. Select decor items made from durable materials that can withstand outdoor elements. Regularly inspect and maintain your decorations to address any damage or wear and tear promptly.