Create stunning DIY fall table decorations for Autumn and Thanksgiving. Get inspired by these beautiful fall decorations featuring nature-inspired fall centerpieces, and farmhouse fall decor. From rustic chic to elegant harvest themes, discover the perfect blend of fall foliage, pumpkins, and seasonal accents to elevate your fall table settings. Elevate your fall tablescapes with harvest wreaths or use fall wreaths as centerpieces. So try these amazing autumn decor ideas for Thanksgiving.
Fall is a season that captivates us with its vibrant colors and crisp air.
It's a time when nature undergoes a beautiful transformation, and we can bring that beauty into our homes through table decor.
By incorporating fall-themed elements, we can create a warm and inviting atmosphere for our family and friends.
Warm and Cozy Centerpieces
The centerpiece is the focal point of any table decor. For a fall-inspired centerpiece, consider using a combination of seasonal flowers, such as sunflowers, dahlias, or chrysanthemums. Pair them with branches, berries, or pinecones to add texture and depth.
Place the arrangement in a rustic vase or a wooden crate for a touch of warmth and coziness.
Harvest-Inspired Table Runners
Table runners provide a wonderful opportunity to infuse the essence of fall into your table decor. Opt for table runners in warm hues like deep oranges, burgundy, or mustard yellow.
Consider patterns that reflect the harvest season, such as plaid or gingham. These table runners will add a cozy and inviting touch to your fall table.
Rustic Charm with Wood and Burlap
Bring the rustic charm of fall into your table decor by incorporating wood and burlap elements.
Use wooden chargers or coasters as a base for your dinnerware.
Wrap burlap ribbons around napkins or utensils for a rustic touch.
These natural elements will add warmth and authenticity to your fall table setting.
Elegant Pumpkins as Table Decor
Pumpkins are iconic symbols of fall, and they can be elegantly incorporated into your table decor.
Choose pumpkins of varying sizes, colors, and textures. Paint them in metallic shades like gold, copper, or silver for a touch of elegance.
Arrange them in clusters or use them as individual statement pieces on your table.
Embracing Nature: Leafy Accents
Incorporate the beauty of fall foliage into your table decor by using leafy accents.
Collect colorful leaves from your backyard or local parks and use them as decorative elements.
Arrange them along the center of the table or tuck them into napkin rings for a natural and organic look. This simple addition will evoke the essence of fall.
Utilizing Fall Foliage and Branches
Take advantage of the beautiful fall foliage and branches to add height and drama to your table decor.
Create stunning arrangements using branches with colorful leaves, berries, or dried flowers.
Place them in tall vases or incorporate them into your centerpiece for an organic and visually striking element.
Candlelit Ambiance for Fall Evenings
Candles create a warm and inviting ambiance, perfect for cozy fall evenings.
Place pillar candles of varying heights in candle holders or lanterns as a centerpiece.
Consider scented candles with fragrances like cinnamon, pumpkin spice, or apple cider to further enhance the fall atmosphere.
The soft glow of candlelight will add a touch of magic to your table.
Farmhouse Chic: Mixing Metals and Neutrals
Create a farmhouse chic look for your fall table by mixing metals and neutrals.
Combine copper or bronze utensils with white or cream-colored dinnerware.
Add metallic accents, such as brass candle holders or gold-trimmed glassware.
This blend of rustic and elegant elements will give your table decor a stylish and contemporary twist.
Floral Arrangements with Fall Blooms
Fall brings forth an array of beautiful blooms that can be incorporated into your table decor.
Consider using flowers like marigolds, daisies, or asters in rich autumnal colors.
Arrange them in mason jars or vintage vases for a charming and nostalgic feel.
These floral arrangements will bring vibrancy and freshness to your fall table.
Seasonal Fruits and Vegetables as Decorative Elements
Utilize the bounty of the fall harvest by incorporating seasonal fruits and vegetables as decorative elements on your table. Display apples, pears, or gourds in a wooden bowl as a centerpiece.
Use mini pumpkins or squash as place card holders. These natural accents will infuse your table with the colors and textures of the season.
Incorporating Textures: Linens and Plaids
Textures play a vital role in creating a visually appealing table decor. Use tablecloths or placemats in cozy fabrics like linen or burlap.
Layer them with napkins in autumnal shades and patterns like plaids or checks. These textured elements will add depth and interest to your fall table setting.
Nature-Inspired Place Settings
Enhance your fall table decor with nature-inspired place settings. Use wooden or leaf-shaped chargers as a base for your plates. Tie twine or raffia around napkins and add small sprigs of berries or herbs as garnishes.
These thoughtful details will bring a touch of nature to each place setting, creating a cohesive and inviting table arrangement.
DIY Crafts for a Personalized Touch
Get creative and add a personal touch to your fall table decor with DIY crafts.
Create custom place cards using dried leaves and calligraphy. Craft your own napkin rings using ribbons, twigs, or acorns.
These handmade elements will showcase your creativity and make your fall table decor truly unique.
Adding Twinkling Lights
Add a touch of enchantment to your fall table by incorporating twinkling lights.
Use string lights or fairy lights and intertwine them with branches or place them in glass jars filled with acorns or pinecones.
The gentle sparkle will create a magical atmosphere for your guests to enjoy.
Unexpected Elements: Antiques and Vintage Finds
Add a touch of nostalgia to your fall table by incorporating antiques or vintage finds.
Look for antique candle holders, silverware, or teacups at flea markets or thrift stores.
Mix them with modern elements for a blend of old and new. These unexpected additions will add character and charm to your table decor.
Simplistic Elegance: Minimalist Fall Decor
If you prefer a more understated approach to fall table decor, embrace simplistic elegance. Opt for a neutral color palette with muted tones like beige, ivory, or taupe.
Use minimalist ceramic or glass vases with a few stems of dried flowers as a centerpiece. The simplicity of this design will create a serene and sophisticated atmosphere.
Creating a Halloween-themed Table Decor
If you're hosting a Halloween gathering, consider creating a spooky-themed table decor.
Use black and orange as the primary colors and incorporate elements like spiderweb table runners, miniature cauldrons, and witch hats as whimsical accents.
Don't forget to add fun and festive Halloween-themed tableware.
Hosting a Thanksgiving Feast
Fall culminates with the much-anticipated Thanksgiving feast. Create a warm and inviting table that celebrates gratitude and togetherness.
Use a centerpiece with a cornucopia overflowing with seasonal fruits and vegetables.
Incorporate Thanksgiving-themed linens, such as napkins with embroidered turkeys or table runners with autumnal motifs.
Creating a Cozy Outdoor Fall Table
Take advantage of the crisp fall weather and host an outdoor gathering.
Create a cozy and inviting table setting by using warm blankets, cushions, and outdoor heaters.
Decorate the table with natural elements like pinecones, fall flowers, and lanterns.
Let the beauty of nature surround your guests as they enjoy their meals.
Whether you're hosting a casual gathering or a special occasion, these fall table decor ideas will inspire you to create memorable moments and celebrate the spirit of autumn.
Fall Table Decor Ideas for a Festive Feast
21. Pampas Grass
20. Fall Candle Rings Wreaths
19. Tabletop Signs
18. Fall Gnome, Mini Foam Pumpkins & Leaves
17. Vintage Ribbed Amber Glass Tealight & Votive Candle Holders
16. Artificial Fall Lighted Maple Tree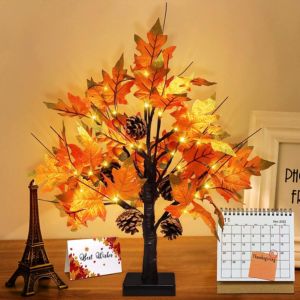 15. Faux Sunflowers Bouquets
14. Rustic Wooden Candle Holders
13. Artificial Pumpkins Maple Leaves
12. White Farm Truck with Artificial Pumpkin
11. Artificial Berry, with Pinecone and Maple Leaves Branches
10. Artificial Flowers with Vase
09. Coffee Table Tray
08. Fall Harvest Wood Blocks, Wooden Sign, maple Leaf, Tabletop Signs
07. Wooden Candle Holder
06. Harvest Fall Table Runner
05. Dough Bowl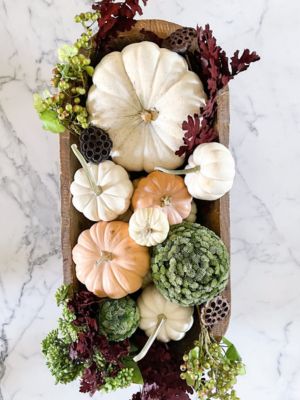 04. Floral Centerpiece
03. DIY Fall Farmhouse Tablescape
02. Place Setting with Dried Orange Slices
01. Copper Lantern
Fall table decor provides an opportunity to embrace the beauty of the season and create a warm and inviting atmosphere for your dining experiences.
By incorporating elements such as warm centerpieces, rustic charm, elegant pumpkins, and natural accents, you can transform your table into a stunning reflection of fall.
Get creative, experiment with textures and colors, and let your personal style shine through in every detail.
1. How can I make my fall table decor unique?
To make your fall table decor unique, consider incorporating personalized elements such as DIY crafts, antique finds, or unexpected items that reflect your individual style.
2. Can I use artificial flowers for my fall table decor?
Yes, artificial flowers can be used for your fall table decor. Look for high-quality silk or realistic faux flowers that resemble seasonal blooms.
3. Are there any specific color palettes for fall table decor?
While warm and earthy tones are commonly associated with fall, you can explore various color palettes that suit your preferences. Experiment with rich jewel tones, muted neutrals, or even monochromatic schemes.
4. How can I create a cozy atmosphere with fall table decor?
To create a cozy atmosphere, incorporate elements such as warm lighting, soft textures, and fragrances that evoke the essence of fall, like cinnamon or pumpkin spice.
5. Where can I find unique fall-themed table decor items?
You can find unique fall-themed table decor items at local home decor stores, online marketplaces, or even by repurposing items from nature or your own collection. Be creative and explore different sources to find one-of-a-kind pieces.