Transform your outdoor space into an oasis with these stunning outdoor patio ideas. From cozy seating arrangements to beautiful lighting, these summer outdoor decor ideas will make your summer backyard the envy of the neighborhood. Whether you prefer a modern or traditional aesthetic, our collection of outdoor patio inspiration has something for everyone. Get inspired to spruce up your summer outdoor living area with these must-see patio ideas.
Benefits of Outdoor Patios
Before diving into the design details, it's important to understand the benefits of having an outdoor patio. Outdoor patios offer several advantages, including:
Extension of Living Space: Patios provide an additional area for relaxation, recreation, and entertainment, expanding your usable living space.
Connection with Nature: Being outdoors surrounded by plants, fresh air, and natural elements enhances well-being and creates a peaceful atmosphere.
Versatility: Outdoor patios can be designed to serve various purposes, such as dining, lounging, or even as a private retreat.
Increased Property Value: Well-designed patios add value to your home and make it more appealing to potential buyers.
Customizability: Patios can be personalized to reflect your unique style and preferences, allowing you to create a space that truly feels like your own.
Budget-Friendly Outdoor Patio Ideas to Enhance Your Outdoor Living
When it comes to patio design, there are endless possibilities to explore. Here are some inspiring ideas to get you started:
51. Beautiful Outdoor Patio Decor from @luxury_interior__design_
50. Patio Decoration from @arq.gold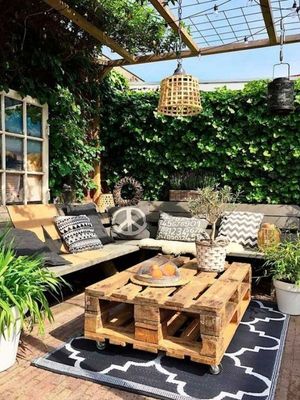 49. Beautiful Patio Decor from @homeservices360
48. Little Jungle Patio Decor from @smallspacegardens
47. Boho Garden Patio Decor from @kylamagrathinteriors
46. Summer Patio Decor from @kateandherhome
45. Summer Patio Decor from @jedynytakidomek
44. Patio String Lights from @decor_therapy
43. Summer Patio Decor from @squaredrealty
42. Cozy Patio Decor from @nasze.poddasze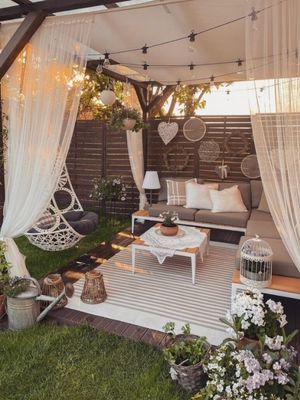 41. Patio Chairs from @pearsondesigngroup
40. Black & White Theme Patio Decor from @thekiwihome
39. Gorgeous Patio Decor from @roomsbyrachelnalum
38. Amazing Patio Decor from @kylamagrathinteriors
37. Boho Patio Decor from @jordanlanehomes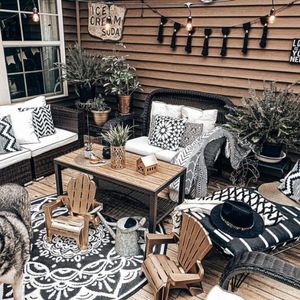 36. Colorful Patio Garden Decor from @bedbathandbeyond
35. Simple Patio Decor from @bedbathandbeyond
34. Patio Furniture from @bedbathandbeyond
33. Coastal Patio Decor from @serenaandlily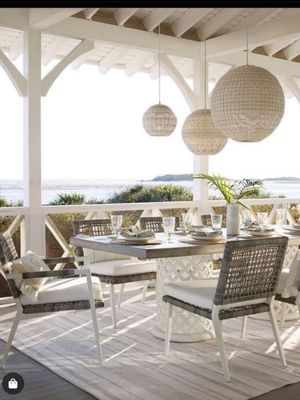 32. Balcony Patio Decor from @mlmliving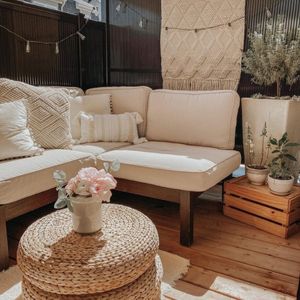 31. Boho Patio Decor from @domnamazowszu
31. Bright Patio Decor from @westwingfr
30. Patio Garden from @dielenliebe
29. Patio Furniture from @heyhannahlynn
28. Beach Style Patio Decor from @isleoficons
27. DIY Patio Decor from @updatemycape
26. Vintage Patio Decor from @marieshomeandgarden
25. Amazing Patio Decor from @norwegianwoodonline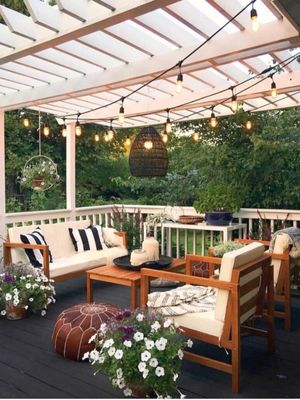 24. Summer Patio Decor from @sonja_ols
23. Simple Patio Decor from @orlando_is_your_city
22. Rustic Patio Decor from @home_design_place
21. Beautiful Patio Decor from @meganzietz
20. Farmhouse Patio Decor from @whidbeyislandfarmhouse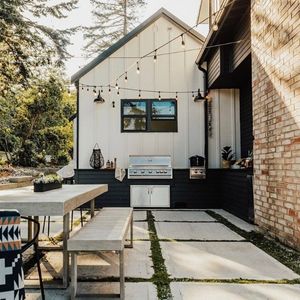 19. Patio Furniture from @dollargeneral
18. Farmhouse Patio Decor from @farmhousefourwinds
17. Small Spaces Patio Decor from @michellemoreno.realtor
16. Beautiful Patio Decor from @designersbrew
15. Simple Patio Decor from @abba_patio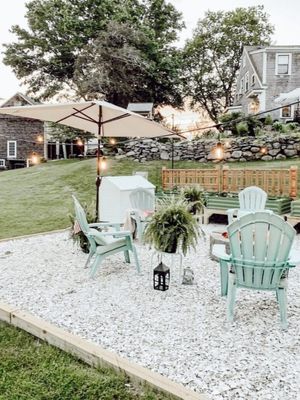 14. Patio Furniture Decor from @donice.designs
13. Natural Patio Decor from @dennis7dees_landscaping
12. Patio Garden from @at_angies_place
11. Summer Patio Decor from @blessednesting
10. Build a Patio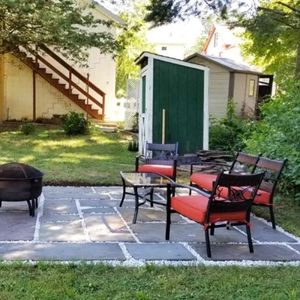 09. Patio Design Ideas
08. String Lights Outside for Your Patio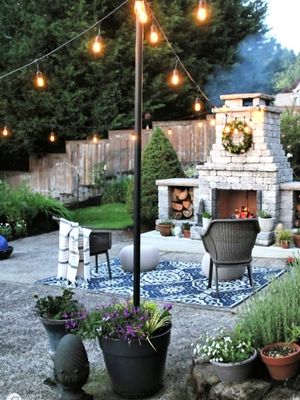 07. Backyard Covered Patio
06. Cozy Outdoor Patio
05. Small Townhouse Patio
04. DIY Paver Patio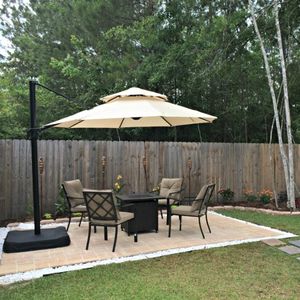 03. Patio Lighting & Curtains
02. Small Patio Ideas on a Budget
01. Patio string lights
Choosing the Right Furniture
Selecting the appropriate furniture is crucial for creating a comfortable and functional patio. Consider the following factors when choosing your patio furniture:
Durability: Opt for weather-resistant materials like teak, wrought iron, or outdoor-rated wicker that can withstand outdoor conditions.
Comfort: Look for cushions and seating with ergonomic designs to ensure maximum comfort during extended periods of use.
Size and Scale: Take measurements of your patio area and choose furniture that fits well without overcrowding the space.
Versatility: Opt for modular furniture or multi-functional pieces that can be rearranged to accommodate different activities and group sizes.
Enhancing the Ambiance
Creating the right ambiance is essential to set the mood and make your outdoor patio a welcoming space. Here are a few ideas to enhance the ambiance:
Color Palette: Choose a color scheme that complements your outdoor surroundings and evokes the desired atmosphere. Consider using vibrant hues for a lively ambiance or muted tones for a calming retreat.
Textures and Patterns: Incorporate various textures and patterns through cushions, rugs, and decorative elements to add visual interest and depth to your patio.
Accessories and Decor: Personalize your patio with accessories like throw pillows, outdoor rugs, lanterns, and artwork to reflect your style and create a cozy atmosphere.
Lighting Options
Proper lighting is essential for both functional and aesthetic purposes. Here are some lighting ideas to illuminate your outdoor patio:
String Lights: Create a warm and magical atmosphere with string lights hung across your patio or wrapped around trees and posts.
Pathway Lighting: Install low-voltage pathway lights along walkways and garden edges for safety and ambiance.
Lanterns and Candles: Use lanterns and candles to add a soft, flickering glow to your patio, creating a romantic and intimate ambiance.
Spotlights and Uplights: Highlight focal points such as architectural features, plants, or sculptures using spotlights and uplights for a dramatic effect.
Landscaping and Greenery
Incorporating landscaping and greenery around your patio can enhance its beauty and create a seamless connection with nature. Consider the following ideas:
Container Gardens: Use decorative pots and planters to create a vibrant display of flowers, herbs, and foliage plants.
Vertical Gardens: Install vertical garden structures or trellises to grow climbing plants, adding a lush and vertical element to your patio.
Living Walls: Create a stunning green backdrop by installing living walls covered in plants, herbs, or even moss.
Privacy Screens: Use tall plants, hedges, or strategically placed screens to add privacy to your patio and create a sense of seclusion.
Privacy and Shade Solutions
Creating a private and shaded area on your patio ensures comfort and tranquility. Explore these ideas for privacy and shade:
Pergolas and Arbors: Install pergolas or arbors with lattices to provide shade and create a sense of enclosure while allowing airflow.
Outdoor Curtains: Hang outdoor curtains or drapes to add privacy and create a soft, elegant ambiance.
Retractable Awnings: Install retractable awnings to control the amount of sunlight and provide shade as needed.
Foliage Screens: Use fast-growing plants or bamboo screens to create a natural barrier and enhance privacy.
Outdoor Cooking and Dining
An outdoor patio is an excellent space for cooking and dining alfresco. Consider these ideas to create a delightful outdoor culinary experience:
Outdoor Kitchen: Design a fully functional outdoor kitchen equipped with a grill, sink, refrigerator, and countertop space for meal preparation.
Dining Sets: Choose a dining set that suits your style and accommodates the number of guests you typically entertain.
Bar Counter: Install a bar counter with stools for casual gatherings and a convenient spot for serving drinks and appetizers.
Entertaining and Socializing
Make your outdoor patio the go-to spot for entertaining family and friends with these ideas:
Seating Areas: Create multiple seating areas with comfortable chairs, sofas, and coffee tables to encourage conversation and relaxation.
Fire Pit: Install a fire pit or a fireplace as a focal point, providing warmth, ambiance, and a cozy gathering spot during cooler evenings.
Outdoor Games: Set up outdoor games like cornhole, bocce ball, or horseshoes to keep guests entertained and encourage friendly competition.
Outdoor Sound System: Install outdoor speakers to enjoy music or create a surround sound experience for outdoor movie nights or parties.
Maintenance Tips
To ensure your outdoor patio remains in top condition, follow these maintenance tips:
Regular Cleaning: Sweep away debris, remove leaves, and rinse off any dirt or stains regularly.
Sealing Surfaces: Depending on the materials used, consider applying sealant to protect and prolong the lifespan of your patio.
Inspect and Repair: Regularly inspect for any damages, loose boards, or cracks and repair them promptly to prevent further issues.
Seasonal Protection: During harsh weather conditions or winter months, cover or store outdoor furniture and protect vulnerable plants.
Cost Considerations
The cost of creating an outdoor patio can vary depending on factors such as size, materials, and additional features. Here are some cost considerations to keep in mind:
Budgeting: Determine your budget early on and prioritize the elements that are most important to you.
DIY vs. Professional Help: Decide whether you'll take on the project yourself or hire professionals for design and construction.
Material Selection: Research different materials and their associated costs to find options that fit your budget without compromising quality.
Long-Term Investment: Keep in mind that a well-designed and well-maintained outdoor patio adds value to your property and can be seen as a long-term investment.
Conclusion
Creating an outdoor patio allows you to extend your living space, enjoy the beauty of nature, and create a welcoming retreat in your backyard.
By incorporating the right design elements, furniture, lighting, and landscaping, you can transform your outdoor area into a functional and captivating space for relaxation, entertainment, and socializing.
With careful planning, consideration of your personal style, and attention to maintenance, your outdoor patio can become a cherished haven that brings joy and enhances your overall lifestyle.
FAQs
Can I build an outdoor patio myself?
Absolutely! Building an outdoor patio can be a rewarding DIY project. However, ensure you have the necessary skills and knowledge or consider hiring professionals for complex tasks.
How much space do I need for an outdoor patio?
The space needed for an outdoor patio depends on your requirements. Measure your available area and consider how you intend to use the space to determine the size and layout.
Can I use my outdoor patio during all seasons?
Yes, with the right design elements and appropriate accessories, you can use your outdoor patio throughout the year. Consider adding shade structures, outdoor heaters, or fire pits for comfort during colder seasons.
What type of plants are suitable for outdoor patios?
When selecting plants for your outdoor patio, consider the amount of sunlight the area receives and choose plants that thrive in those conditions. Popular options include succulents, flowering plants like petunias or geraniums, and herbs like basil or rosemary.
How can I protect my outdoor patio furniture from weather damage?
To protect your outdoor patio furniture from weather damage, consider using furniture covers when not in use, storing cushions indoors during rainy periods, and opting for weather-resistant materials that can withstand exposure to the elements.