Get ready for spring with these delicious and healthy spring recipes! From colorful spring salads and grilled asparagus to juicy lemon chicken, we've got all the inspiration you need for your spring meals. These easy-to-make spring recipes are perfect for Easter brunch, picnics, and barbecues, so you can enjoy the season to its fullest. Try these mouth-watering spring recipes today!
In this article, we will explore some of the best spring recipes that are sure to please your taste buds and provide you with a burst of energy and vitality.
One of the most popular spring vegetables is asparagus, which is in season from March to May.
This versatile vegetable can be used in a variety of dishes, from soups and salads to stir-fries and pastas.
One delicious recipe is roasted asparagus with garlic and parmesan.
Simply toss fresh asparagus spears with minced garlic, olive oil, salt, and pepper, then roast in the oven until tender and lightly browned.
Top with freshly grated parmesan cheese and serve as a side dish or appetizer.
Another great spring vegetable is the humble pea, which can be used in many ways, including in soups, stews, and salads.
One recipe that showcases the delicate sweetness of peas is a pea and mint risotto.
This creamy and satisfying dish combines the tender grains of arborio rice with fresh peas, chopped mint, parmesan cheese, and chicken or vegetable broth.
The result is a dish that is light and refreshing, yet still hearty enough to be a meal on its own.
For those who prefer lighter fare in the spring, salads are the perfect choice.
A classic spring salad is a simple mix of greens, strawberries, and almonds.
Toss baby spinach or mixed greens with sliced strawberries, toasted almonds, and a simple vinaigrette of olive oil, balsamic vinegar, and honey.
This salad is both refreshing and satisfying and is a perfect accompaniment to any spring meal.
Spring is also the perfect time for light and refreshing drinks. One popular drink is a strawberry lemonade, which combines the sweet and tart flavors of fresh strawberries and lemon.
Simply blend fresh strawberries with lemon juice, sugar, and water, then strain and serve over ice.
For an adult version, add a splash of vodka or rum for a fruity and refreshing cocktail.
In addition to fruits and vegetables, spring is also a great time to enjoy fresh seafood.
One delicious recipe is pan-seared salmon with a lemon dill sauce.
Simply season fresh salmon fillets with salt and pepper, then sear in a hot skillet until crispy on the outside and tender on the inside.
Serve with a simple sauce made of lemon juice, fresh dill, and butter for a light and flavorful meal.
Finally, no spring meal is complete without a light and refreshing dessert.
One classic spring dessert is a strawberry shortcake, which combines fresh strawberries, whipped cream, and a light and fluffy cake.
So go ahead and embrace the flavors of spring and enjoy all the delicious and healthy dishes that this season has to offer.
Fresh and Flavorful: 21 Spring Recipes to Try Now
21. Lobster Tail Recipe
The Best Lobster Tail Recipe Ever is a decadent dinner made with large lobster tails smothered with a buttery garlic herb sauce then broiled under high heat making these lobster tails tender and juicy. The ultimate indulgence!
20. Lemon Pasta with Parmesan and Peas
This easy weeknight recipe is sure to be a hit! Fresh spring pea shoots, spaghetti noodles, and a simple lemon sauce with pepper and parmesan cheese pack this pasta recipe with a ton of flavor. Ready in 30 minutes.
19. Herbed Ricotta & Asparagus Tart
Make a delicious appetizer with this recipe for Herbed Ricotta & Asparagus Tart. Perfect for a springtime treat and ready in 30 minutes!
18. Strawberry Salad with Arugula and Salted Caramel Walnuts
Strawberry Arugula Salad with Salted Caramel Walnuts and a spicy honey vinaigrette is a beautifully curated summer berry salad with a little something for all your tastebuds.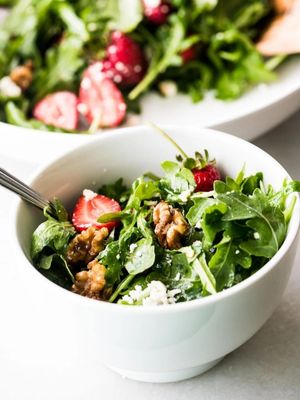 17. Roasted Radishes
Roasted radishes are a simple and delicious way to enjoy this often-overlooked vegetable.
With a crispy exterior and tender interior, they make a perfect side dish or snack.
Plus, roasting brings out their natural sweetness and mellow flavor.
16. Basil Grilled Chicken with Peach Salsa
This juicy grilled chicken is marinated in the most flavorful basil sauce and a fresh peach salsa piled on top brings out all the best summer flavors!
15. Spring Pea Soup with Mint
Spring pea soup with mint is a light and refreshing dish that perfectly captures the flavors of the season.
This creamy soup is packed with nutrients and has a delicate sweetness that is balanced by the fresh mint.
It's a perfect starter or a light lunch on a warm spring day.
14. Spring Quinoa Bowl
This simple and healthy quinoa bowl is the perfect meal for spring!
13. Roasted Asparagus with Lemon, Butter, and Parmesan
The perfect side dish – Roasted Asparagus with lemon, butter, and parmesan. An easy, baked asparagus recipe that pairs well with everything.
12. Garlic Butter Salmon with Lemon Asparagus Skillet
This seared salmon recipe with asparagus makes a delicious and nutritious dinner. Healthy salmon is quick to cook and ready in under 15 minutes!
11. Carrot Ginger Soup
This healthy vegan carrot ginger soup recipe is absolutely bursting with flavor! The best Comfort Food for all soup fans!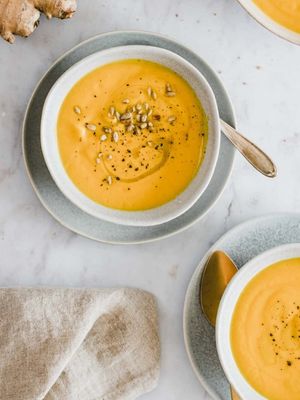 10. Strawberry Rhubarb Sauce
The bright flavor of this simple, versatile strawberry rhubarb sauce is deepened by a bit of brown sugar.
You can use more intense, brooding Muscovado sugar to lean into that side of things if you like. It's fabulous either way.
09. Vietnamese Spring Roll Salad
This Vietnamese Spring Roll Salad is everything you love about spring roll, chopped up into a fresh and zesty pasta salad.
Feel free to make yours with shrimp, chicken, pork or tofu, or keep it simple with just veggies!
08. Spring Minestrone Soup
Spring Minestrone! A springtime version of the classic Italian minestrone, with peas, new potatoes, artichoke hearts, asparagus and spring greens.
07. Lemon Garlic Shrimp
This Lemon Garlic Shrimp Recipe is so easy and flavorful. It can be baked, grilled, or pan fried in a matter of minutes! Serve it with rice, pasta, or a healthy salad!
06. Tuna Pasta with Mushrooms and Peas
This Tuna Pasta with Mushrooms and Peas is a Lenten favorite.
It's a tasty combination of canned tuna, fresh mushrooms and frozen peas all in a rich and creamy sauce with a hint of Dijon.
It's a super tasty pasta dish that's a Fish Friday winner!
05. Spring Vegetable Frittata
Spring vegetable frittata is a delicious breakfast or served at any time of the day.
It's a one-pan meal that starts on the stove and moves to the oven.
04. Sweet Pea Risotto with Basil & Pancetta
Bursting with the fresh flavor of spring, this luxuriously creamy risotto will wow your taste buds!
03. Greek Lemon Chicken
This Grilled Greek Lemon Chicken is bursting with fresh lemon flavor and is so easy to make!
Chicken breasts are soaked in a bright, garlicky herb marinade and grilled to perfection. A recipe the whole family will love!
02. Radish, Feta and Cucumber Salad
There is a range of delicious, contrasting flavours and textures in this lovely salad.
Cool cucumbers perfectly complement spicy radishes whilst sliced pear adds sweetness.
The roasted walnuts add crunch and creamy feta brings all the ingredients together.
This light, refreshing salad is easy to make and is ideal as a side dish or light, nutritious lunch.
01. Asparagus Soup Recipe
30-minute Asparagus Soup that's absolutely delicious and so easy to make!