People are always looking for new, healthy recipes to try, and low carb recipes are especially popular right now. Low carb diets have been shown to be effective for weight loss, and they are also a good way to reduce your risk of heart disease and other health problems.
Living a low carb lifestyle doesn't have to be difficult. In fact, following a few simple recipes can make the transition a lot easier.
There are a lot of benefits to following a low carb diet. Not only can you lose weight, but you may also see improvements in your blood sugar levels, blood pressure, and cholesterol levels.
Low carb recipes are a great way to stick to your diet while still enjoying your food.
There are tons of recipes in my 350 Low Carb Recipes Cookbook, that is both delicious and healthy.
These low carb recipes will help you stick to your low carb goals without feeling deprived. From breakfast to dessert, there's something for everyone here. So give them a try—you may just find yourself a new favorite dish.
Here are five of my favorite recipes from my 350 Low Carb Recipes Cookbook that are both delicious and nutritious.
BUY THIS COOK BOOK AT 50% OFF
350 Low Carb Recipes is the perfect solution for anyone looking to follow a low-carb diet.
Price: $ 16.99
Mediterranean Grilled Vegetable Soup
Cumin-Crusted Sea Bass
Steamed Asparagus with Tomato-Basil Dip
Savory Steak Rub
Salmon-Stuffed Zucchini
Delicious Low Carb Recipes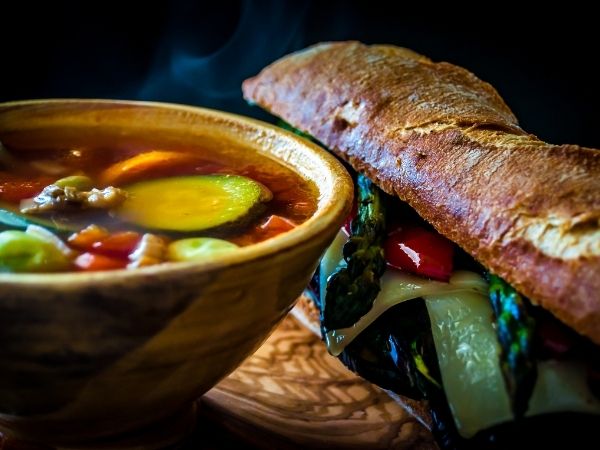 1. Mediterranean Grilled Vegetable Soup
Servings: Makes about 5 cups (serves 6)
Ingredients:
2 red bell peppers, cored, seeded and quartered lengthwise
1 yellow bell pepper, cored, seeded and quartered lengthwise 2 small
zucchini (1/2 lb. total), trimmed and quartered lengthwise
1 red onion, peeled and cut into 1/2-inch-thick slices
1 tsp. olive oil
3 large vine-ripened tomatoes (1 1/4 lbs.), cored and chopped
1 clove garlic, peeled
1/2 tsp. dried oregano
1/4 cup shredded basil leaves
1 Tbsp. red-wine vinegar
salt & freshly ground black pepper to taste.
Instructions:
Prepare a grill or preheat the broiler. Grill or broil bell peppers, skin-side toward the flame, until the skin is blackened, 5 to 10 minutes. Place in a paper bag and set aside for 15 minutes.
Meanwhile, brush zucchini and onion slices with oil and grill or broil until well browned and tender, about 5 minutes. Chop coarsely and set aside.
Peel the peppers. Coarsely chop the yellow pepper and set aside with the reserved zucchini and onions.
Place the red peppers in a food processor or blender, along with tomatoes, garlic and oregano; puree until smooth.
Transfer to a bowl and stir in 1 cup water, basil, vinegar and the reserved chopped vegetables. Season with salt and pepper. Cover and refrigerate until cool, about 30 minutes.
NOTE: The soup can be stored, covered, in the refrigerator for up to 2 days.
Nutritional Information: (56 calories)
1 g fat mono, 0 mg cholesterol, 11 g carbohydrate, 2 g protein, 12 mg sodium.
2. Cumin-Crusted Sea Bass
Servings: 4 servings
Ingredients:
1 Tbsp. cumin seeds
1/2 tsp. kosher salt
1/4 tsp. freshly ground black pepper
1 lb. sea bass fillets, skinned and cut into 4 pieces
1/2 Tbsp. olive oil
1-1/2 Tbsp. chopped fresh parsley
Lemon or lime wedges
Instructions:
Preheat oven to 375 degrees F.
In a dry skillet, toast cumin seeds over medium heat, stirring, until fragrant, 2 to 4 minutes. Transfer to a bowl to cool.
With a spice grinder or mortar and pestle, grind cumin seeds, salt and pepper into a fine powder. Rub spice mixture on both sides of bass.
In a large ovenproof skillet, heat oil over medium-high heat. Add bass and cook until browned, 2 to 3 minutes per side.
Transfer skillet to oven and bake until fish is opaque in the center, 3 to 7 minutes. Sprinkle with parsley and serve immediately, with lemon or lime wedges.
Nutritional Information: (130 calories)
4 total fat (1 g sat), 47 mg cholesterol, 1 g carbohydrate, 21 g protein, 0 g fiber, 345 mg sodium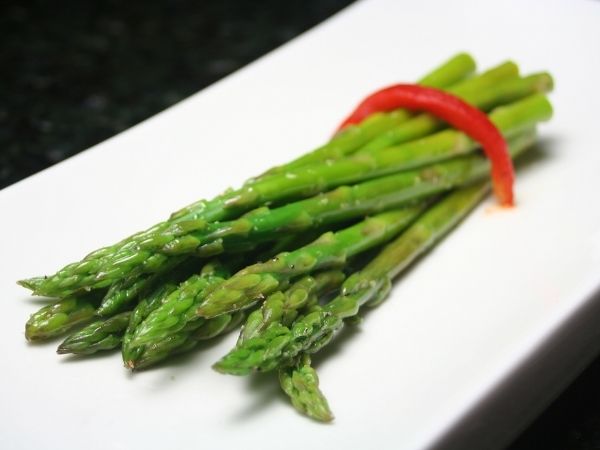 3. Steamed Asparagus with Tomato-Basil Dip
Ingredients:
1 cup mayonnaise
1/2 cup fat-free sour cream
1/2 cup chopped fresh basil
1 TB tomato paste
1 TB grated lemon rind
4 lbs. fresh asparagus
Instructions:
For Dip
Whisk together first 5 ingredients until blended. cover and chill (up to 2 days).
For Asparagus
Snap off tough ends of asparagus. Cook in boiling water to cover for 3 minutes or until crisp tender; and then drain.
Plunge asparagus into ice water to stop the cooking process; drain. cover and chill until ready to serve with dip.
4. Savory Steak Rub
Ingredients:
1 Tbl dried marjoram
1 Tbl dried basil
2 tsp garlic powder
2 tsp dried thyme
1 tsp dried rosemary, crushed
3/4 tsp dried oregano
Instructions:
Combine all ingredients; store in a container. Rub over steaks before grilling or broiling. Will season four to five steaks.
5. Salmon-Stuffed Zucchini
Prep time: 20 minutes
Servings: 8
Ingredients:
2 medium or 3 small zucchini, scrubbed
1 can (6 ounces) salmon, drained and flaked
2 tablespoons mayonnaise
1 teaspoon Dijon mustard
1 teaspoon chopped dill
Dash Worcestershire sauce
1 tablespoon finely chopped red bell pepper
Instructions:
With a vegetable peeler, peel stripes down length of zucchini (to create a pattern of dark and light green).
Cut zucchini into 3/4″ slices; remove seeds and hollow slightly with a spoon. Arrange in rows on a serving plate.
Mix salmon, mayonnaise, mustard, dill and Worcestershire. Fill zucchini hollows with salmon mixture. Sprinkle red pepper on top of salmon.
Nutritional information: (60 Calories)
1.5 grams carbs, 0.5 grams fiber, 4.5 grams protein, 4 grams fat.