If you're looking for delicious breakfast ideas, these breakfast recipes are quick and easy to make, and perfect for the holidays! Simplify your meal planning with these easy & quick breakfast ideas! This is the easiest way to make everyone happy. You can also check out the best make-ahead healthy breakfast recipes, that are easy and quick to make.
Delicious Breakfast
#30. Chia Cups
Grab-and-go oatmeal and chia cups breakfast! Top them with yogurt, fresh fruit, and nuts to make a satisfying meal. Easy to make vegan or gluten-free.
#29. Chia Pot
these chia pot pudding parfaits hit the spot! The layers of chocolate and vanilla chia puddings are perfectly complemented with vanilla coconut yogurt, and you can top them with Cacao Sweet Nibs and fresh fruit for even more delicious flavor and texture.
#28. Air Fryer Sausage Patties
Make this easy Air Fryer Sausage Patties in just 8 minutes!
#27. Air Frying Eggs
These air frying eggs are easy to do! We will show you 3 different ways to get the perfect yolks for you. A great snack or protein-packed breakfast.
#26. McMuffin
Grab and go breakfasts can be the saving grace of any weekday morning. The eggs in this homemade Egg McMuffin sandwich recipe can be batch cooked in the oven, on the stovetop, or in the microwave, and make eating a healthy breakfast your easiest decision of the day.
#25. Spinach Artichoke Cheese Sandwich
This Spinach Artichoke Grilled Cheese Sandwich is like your favorite restaurant appetizer turned into a meal. Rich, creamy, cheesy, and totally veg.
#24. Keto Eggnog Chaffles
These eggnog chaffless are delicious and very easy to make, and they are topped with an eggnog cream sauce too!
#23. Chocolate Zucchini Bread
This ultra chocolaty gluten-free zucchini bread is AMAZING. The perfect way to use up extra zucchini in the summer!
#22. Keto Cloud Bread
Cloud Bread is a fluffy and airy bread made with egg whites, cream cheese, and egg.
#21. Breakfast Enchiladas
Breakfast Enchiladas are a terrific way to kick-start your day. For this version, tortillas are overstuffed with sausage, peppers, potatoes, soft scrambled eggs, and plenty of shredded cheese.
#20. Healthy Chocolate Lava Cake
This recipe is super simple and quick to make. You can bake this cake in the oven or cook it in a microwave. The recipe is gluten-free and refined sugar-free. I have also created a vegan version of this and I´ll share the recipe for that soon!
#19. Healthy Breakfast Burrito
This is a recipe for a healthy breakfast burrito that is filled with eggs, avocado, cheese, vegetables and is delicious and easy to make whenever you're in the mood for a healthy savory breakfast.
#18. Pancake Donuts
These Pancake Donuts couldn't be more simple. Made from a pancake mix, you'll be loving breakfast time bright and early with this kid-friendly genius breakfast idea!
#17. Make-Ahead Croissant Breakfast Sandwiches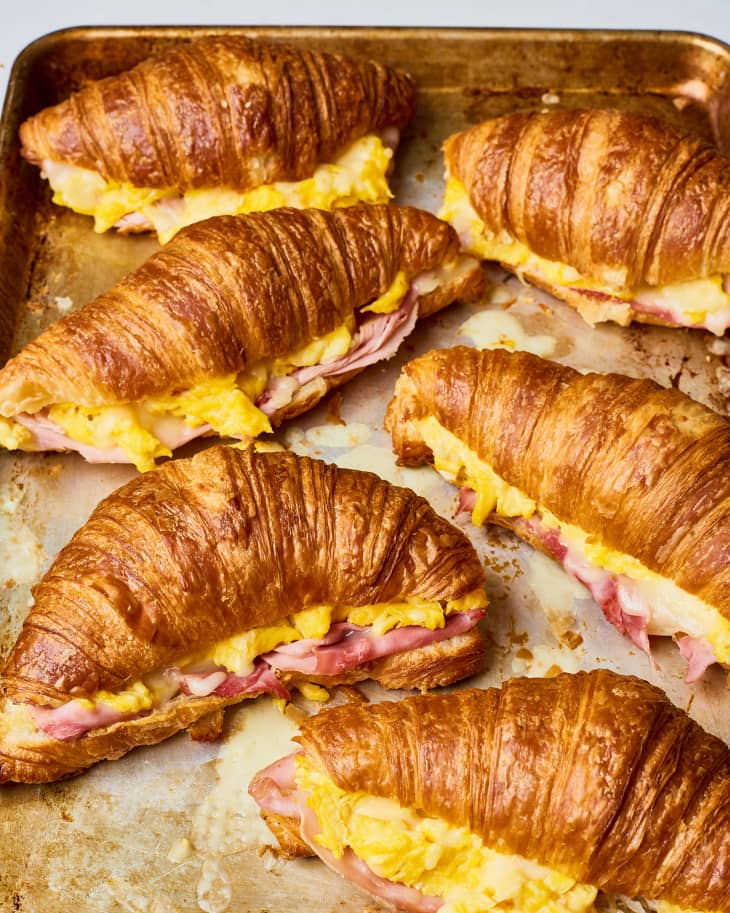 Add these warm and cheesy breakfast sandwiches to your meal prep, and you'll thank yourself many times over in the days to come.
#16. Easy Strawberry Banana Baked Oatmeal
This strawberry banana-baked oatmeal recipe is the perfect make-ahead breakfast. Strawberry, banana, and chocolate… what could be better?
#15. Egg and Sausage Muffins Recipe
Egg Muffins are an easy breakfast idea that you can make ahead for when you are on the go. Eggs, sausage, veggies, and cheese are cooked in a muffin tray to create delicious and convenient egg cups.
#14. Bacon Guacamole Grilled Cheese Sandwich
There is just something about this combination of ingredients…it is incredible the way the flavors mix in this sandwich, it is definitely unlike ANY grilled cheese you have had in the past!
#13. Baked Sausage, Spinach And Egg Breakfast Taquitos
Baked taquitos are my FAVORITE. There is no reason to fry a taquito ever again, okay!! They get plenty crispy by baking them and they are so much healthier that way. These breakfast taquitos were fantastic.
#12. French Toast Muffin Cups
French Toast Muffin Cups make the perfect breakfast on the go. They are soft and fluffy on the inside with a crunchy streusel topping!
#11. Keto Breakfast Roll Ups
These Keto breakfast roll-ups make the greatest on-the-go low-carb breakfast! Scroll down for this easy 4 ingredient keto recipe that will be your new go-to breakfast!
#10. Sheet Pan Pancakes
These do tend to turn out quite a bit thicker and fluffier than traditional pancakes, so you really only need one or two pancakes per serving.
#09. Easy Skillet Breakfast Potatoes
Homemade diner-style skillet breakfast potatoes are perfect to whip up for breakfast. You can prep these from the night before, so they take less time to serve up in the morning.
#08. Crunchy French Toast
Crunchy French Toast is a cereal-crusted french toast recipe that's a delicious twist on an old classic. Thick slices of bread are dipped in a cinnamon batter and then coated in crushed cereal. This is sure to become your family's new favorite breakfast!
#07. Healthy Banana Oatmeal Pancakes
If you're on the hunt for simple clean-eating breakfast recipes, you're going to love these healthy banana oatmeal pancakes! They are made with just a few ingredients plus the optional vanilla, cinnamon, and mix-ins of your choice.
#06. Brunch Quesadillas
The wonderful thing about quesadillas is it is a terrific way to relive leftovers. This would be a great way to use a leftover holiday ham, trust me your family would love you.
#05. Sheet Pan Egg-In-A-Hole
A quick classic that comes together right on a sheet pan!!! Less mess, less fuss, and just way easier than the stovetop version!
#04. 15 Minute Breakfast Pizza Bagel
This 15-minute breakfast pizza bagel recipe is my absolute favorite "comfort" breakfast. It tastes like I spent hours making it but can be prepped in just a few minutes.
#03. The Easiest Homemade Pop Tarts
These delicious and simple pop tarts are made your way and in no time! Have it your way and enjoy this easy breakfast recipe!
#02. Peanut Butter Banana Smoothie Bowl
This peanut butter banana smoothie bowl is creamy, nutty, and tastes like soft-serve ice cream! It's a healthy recipe perfect for breakfast, an afternoon snack, or even a nutritious dessert. Make this bowl with just 5 ingredients in 5 minutes!
#01. Blueberry Pancake Bites
These blueberry pancake bites are great to make ahead for early mornings. Back to school means back to early mornings. When we've got to fly out of the house for school, these make ahead blueberry pancake recipe are the best quick breakfast idea for the kids!