Welcome, today I'll be showing you some of the Best St Patrick's day food ideas, which will make your day special. I think everyone should try these traditional St Patrick's day food specials and I mean everyone. check out St Patrick Day Dessert Recipes
ST PATRICK'S DAY FOOD IDEAS
1. Kahlua Mudslide Cheesecake
This rich, boozy cheesecake is the perfect ending to any St. Patrick's Day Celebration. Don't forget the chocolate sauce on top!
2. Beer Cheese Soup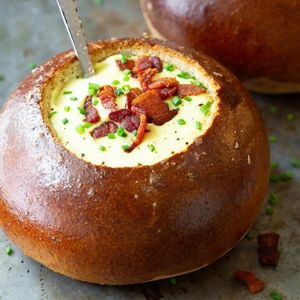 creamy irresistible Irish Beer Cheese Soup Recipe is perfect to serve on Saint Patrick's Day with a tall frothy pint! Or serve Beer Cheese Soup any night of the week.
3. Stout & Honey Beef Roast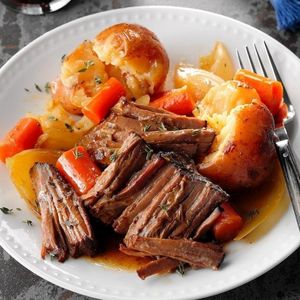 A heartwarming meal that's ideal for chilly days and hectic nights. Honey, beer and seasonings make the sauce different and oh-so-good.
4. Smothered Bangers & Mash Recipe
Bangers and mash is a delicious traditional Irish dish — and the Guinness gravy takes it way over the top.
5. Irish Cheddar Whiskey Fondue
Do you want Whiskey in your fondue? Duh you do.
6. Fudgy Layered Irish Mocha Brownies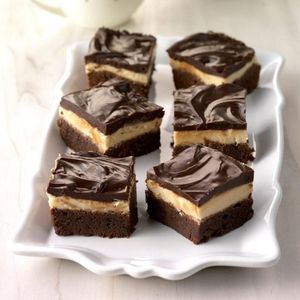 If you are big fans of Irish cream then start making this recipe.
7. Beef and Guinness Pot Pies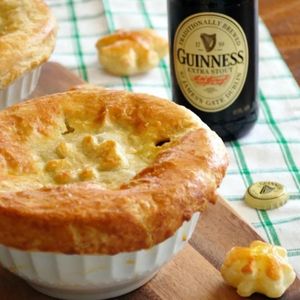 Beef and Guinness Pot Pies! A celebration in a bowl with puff pastry shamrocks for St. Patrick's Day!
8. IRISH POTATO LEEK SOUP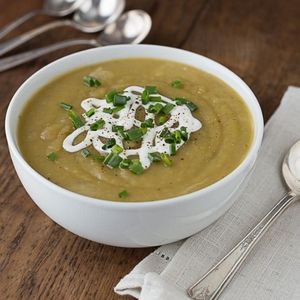 Potato Leek Soup is an Irish favorite. Making this soup is so easy. You only need about 30 minutes. The ingredients are simple: butter, leeks, potatoes, salt, pepper and stock (vegetable or chicken).
9. Pistachio Mallow Salad
This fluffy pistachio salad is a real treat since it's creamy but not overly sweet. It's easy to mix up, and the flavor gets better the longer it stands. It's perfect for St. Patrick's Day, served in a green bowl.
10. Shepherd's Pie Potato Skins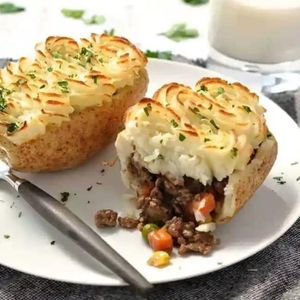 Shepherd's Pie Potato Skins! It takes just 15 minutes to prepare to pop into the oven to get those gorgeous brown crunchy bits on the mashed potato!
11. Homemade Chicken Pot Pie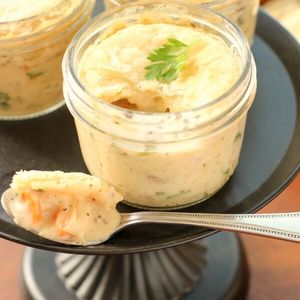 This scratch made Irish classic will is going to be a family hit! It is creamy and decadent with plenty of delicious chicken.
12. Shamrock Cutout Pound Cake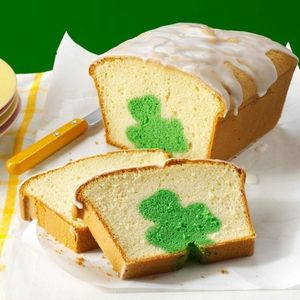 This cakes like seeing a shamrock when this cake is sliced. 
13. Veg Cottage Pie
this vegetarian Cottage Pie is packed with lentils, mushrooms, veggies and herbs. It feeds a small crowd and is a festive way to celebrate the holiday season or anytime a cozy meal is needed. This recipe is vegetarian, easily vegan and gluten free!
14. Bangers and Colcannon with Guinness Onion Gravy
Bangers served on Irish colcannon and smothered in a sweet, savoury and malty Guinness onion gravy.
15. Rainbow Fruit Salad
The salad goes well with barbecued meats or cold sandwiches.
16. St. Patrick's day puppy chow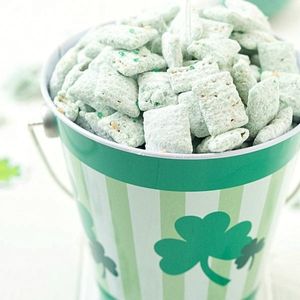 St. Patrick's Day Puppy Chow Recipe – The perfect green and minty snack! Beware, it's highly addictive and you will not be able to stop!
17. Corned Beef Burgers with Irish Cheddar Cheese
What I love about these burgers, besides the touch of Guinness to the beef patties is the gooey, melting Irish cheddar cheese on top. Beer and cheese? You can't ever go wrong.
18. Chocolate Stout Waffle Sundae with Chocolate Stout Fudge Sauce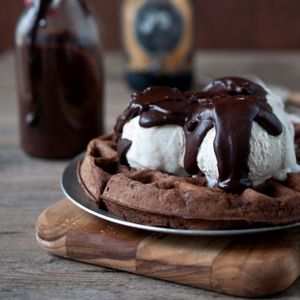 Dark beer and waffles go together like St. Patrick's Day and hangovers. Chocolate is the third wheel, obviously.
19. Corned Beef Poutine with Guinness Gravy
Crispy french fries topped with melting cheese curds, corned beef and a tasty Guinness gravy!
20. SLOW COOKER CORNED BEEF AND CABBAGE SOUP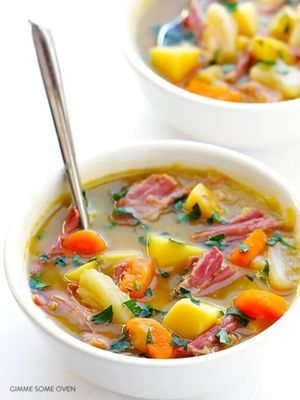 Total comfort food. Totally easy. And totally, magically delicious.
21. Lazy Cabbage Rolls Recipe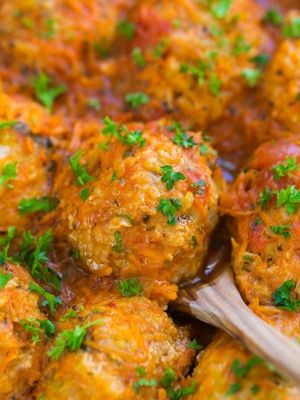 This lazy cabbage rolls recipe gives you the same great flavors of stuffed cabbage with very little effort.
22. Corned Beef and Cabbage
A boiled or baked version of this Irish classic, slathered with the most delicious honey mustard known to man.
23. Vegan Shepherd's Pie
There is something very wintry, very comforting about Shepherd's Pie. Hearty vegetables in a brothy sauce topped with fluffy mashed potatoes, all baked to bubbly perfectly
24. Sausage Biscuit Skillet
Sausage Biscuit Skillet with Guinness is a flavor packed and easy-to-make one pot dinner that will please everyone at the table.
25. Paleo Irish Stew
All the goodness, none of the guilt.
26. Dark Chocolate Guinness Cake with Bailey's Irish Cream Frosting
How can anything go wrong when there's chocolate, Guinness, Bailey's and cream cheese frosting involved?
27. Savory Cabbage Pancakes
what do you have in your fridge that you could put in or on a savory cabbage pancake?
28. Homemade Irish Soda Bread Grilled Cheese with Pesto
It doesn't get much more Irish than homemade soda bread. Toss in a few slices of creamy white cheddar and a dollop of bright green basil pesto and you've just thrown a St. Patrick's Day party in your mouth.
29. Bacon and Cheese Corned Beef Burgers with Guinness Caramelized Onions and a Fried Egg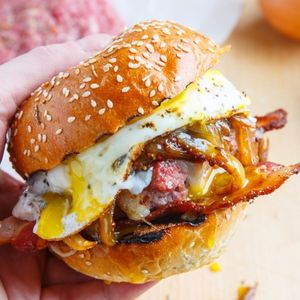 Tasty corned beef burgers topped with Guinness caramelized onions and melted cheese along with bacon and a fried egg!
30. Beef and Guinness Hand Pies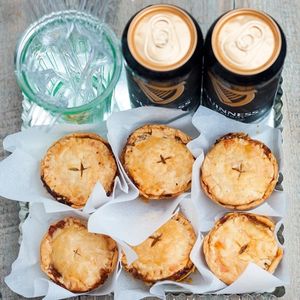 So these hand pies are kind of the best thing I've had in a while, and you need to make them tomorrow for St. Patrick's Day. Don't worry, they're actually really simple to make, and you can make them a bunch of different ways
31. Wine-Braised Beef Shepherd's Pie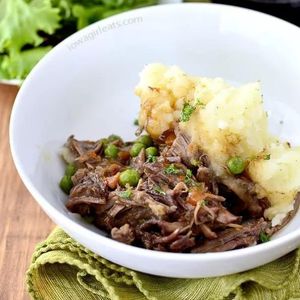 Gluten-free Wine-Braised Beef Shepherd's Pie is hearty and comforting. Fill your belly and soul with this easy, cozy dish.
32. Slow Cooker Corned Beef and Cabbage Stew
Corned Beef and Cabbage slow cook all day with hearty vegetables making one delicious stew! The McCormick spices also add such amazing and unique flavors!
33. Guinness Pulled Pork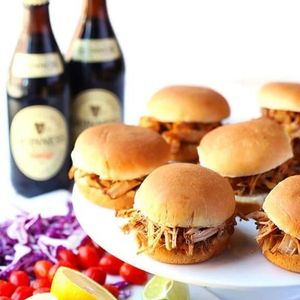 Let your slow cooker and a bottle of Guinness do the work to create the tastiest fall-apart-on-your-fork pulled pork ever.
34. Irish Colcannon Mac and Cheese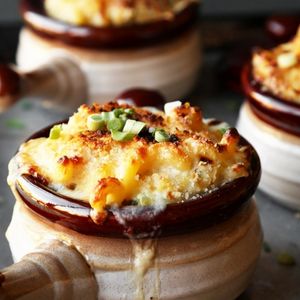 The most important thing though is that my Irish Colcannon Mac and Cheese recipe is on it, so there's definitely something to search for.
35. Irish Seafood Chowder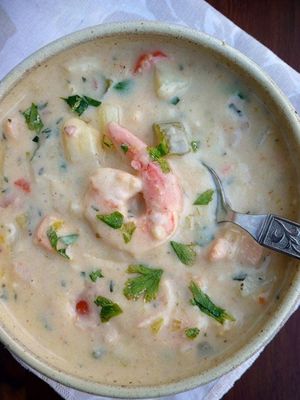 This chowder is hearty and rich, thick and creamy.
36. Irish Cream Macarons
these Irish Cream macarons in honor of the upcoming St Patrick's day celebrations which are in full swing in my city already.
37. Reuben Fritters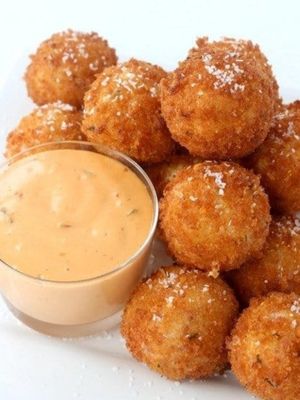 These Reuben Fritters are a fun way to turn leftover corned beef into tasty appetizers! Crispy fried on the outside with a creamy, cheesy center!
38. Shepherd's Pie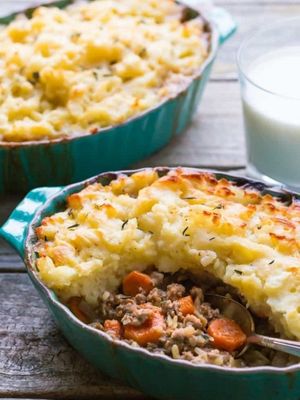 easy Gluten Free Shepherd's Pie is a classic British recipe that's a firm favorite in our house and perfect comfort food any time of the year!
39. Guinness French Onion Soup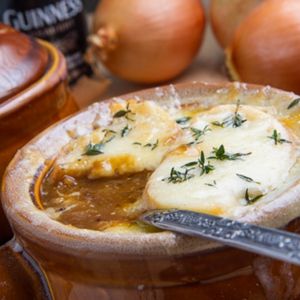 A St Patrick's Day take on French onion soup using a Guinness based broth with plenty of caramelized onions topped with melted cheddar cheese.
40. Guinness and Irish Chedddar Macaroni & Cheese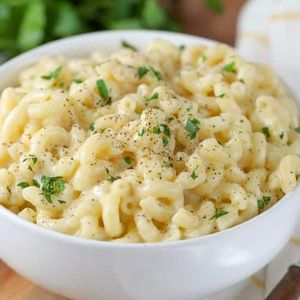 Guinness and Irish Cheddar Macaroni & Cheese – Flavorful stovetop mac and cheese made with Guinness stout, sharp Irish cheddar, and a touch of dijon mustard. Creamy and cheesy with an optional crunchy breadcrumb topping
41. Beef and Guinness Pies with Puff Pastry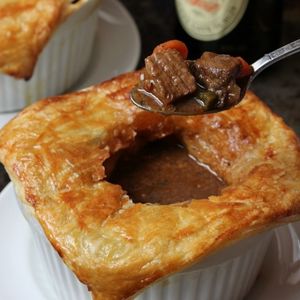 Tender guinness braised beef and vegetable topped off with flaky puff pastry creates flavorful personal pot pies.
42. Green Ombre Cake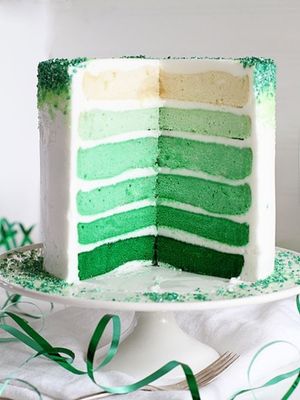 Honestly, is there anything more Instagram worthy than this festive layer cake? The answer is no.
43. Slow Cooker Maple Mustard Corned Beef
Maple and Mustard flavor this easy Slow Cooker Corned Beef which is perfect for a change of pace on St. Patricks Day.
44. Beer and Rye Irish Soda Bread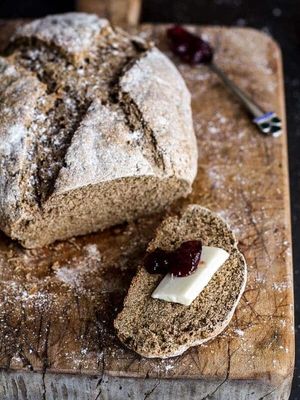 The combo of both beer and buttermilk works awesome and the rye flour gives the bread an almost cracker like taste that is addicting.
45. Steak and Guinness Stew with Irish White Cheddar Cauliflower Mash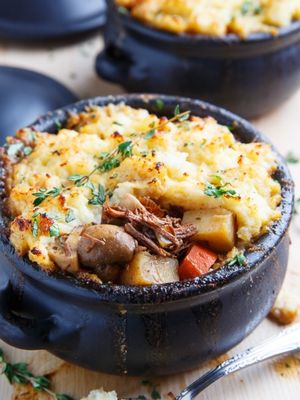 A tasty steak and Guinness stew topped with Irish white cheddar mashed cauliflower!
46. Corned Beef & Cabbage Egg Rolls
The DELICIOUSNESS of corned beef! You'll want to dunk these in the cheese sauce and enjoy!
47. Dublin Coddle Recipe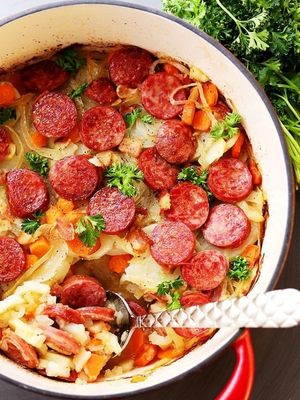 cDublin Coddle is a hearty traditional Irish winter stew made with potatoes, sausages, and bacon. It's an easy dinner idea that's comforting, filling and perfect for cold winter nights
48. Irish Beer and Cheese Bread
A cheesy bread with a touch of Irish Beer
49. Steak and Guinness Pie
Pie crust is good no matter what the filling.
50. Pretzel Beer Cheese Dip
These cheesy, doughy snack is the best thing to ever happen to your skillet. And it might also be the best way to soak up all the alcohol you're drinking on March 17.
51. Guinness Beef Stew with Cheddar Herb Dumplings
Rich and hearty Guinness Beef Stew is a classic that you'll find at pubs and family dinner tables all across Ireland. This version features ultra-tender meat, deep flavors, and Cheddar Herb Dumplings that will make you swoon. It's the ultimate comfort food.