Valentine's day put your feelings into food and show your special person how deep is your love. celebrate Valentine's day with these amazing and cute valentines day cupcakes.
22. Strawberry Cupcakes with Cream Cheese Frosting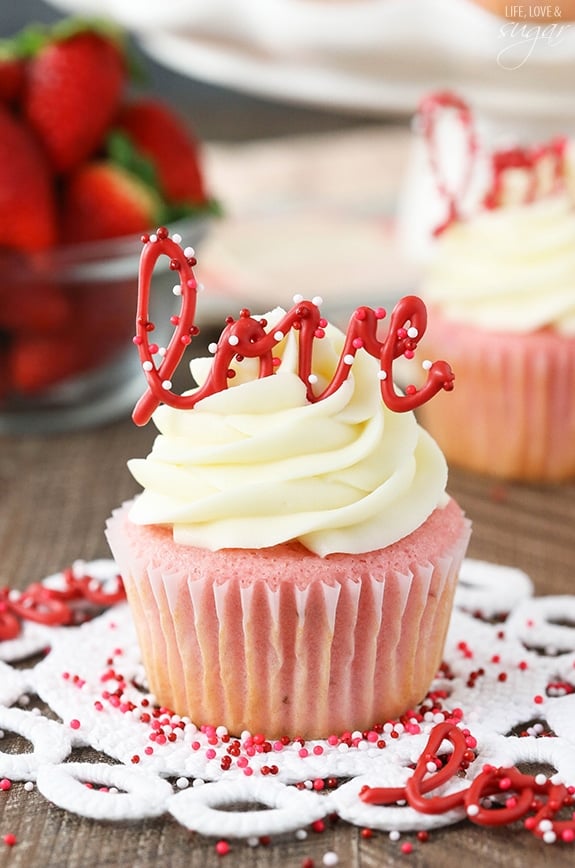 These Strawberry Cupcakes with Cream Cheese Frosting are perfect! So moist and fluffy! And they are an amazing copy of one of my favorite cupcakes!
21. Chocolate Covered Strawberry Cupcakes
These Chocolate Covered Strawberry Cupcakes are made with a moist chocolate cupcake recipe, fresh strawberry frosting, and delicious chocolate-covered strawberries.
20. Chocolate Cupcakes with fresh Strawberry Frosting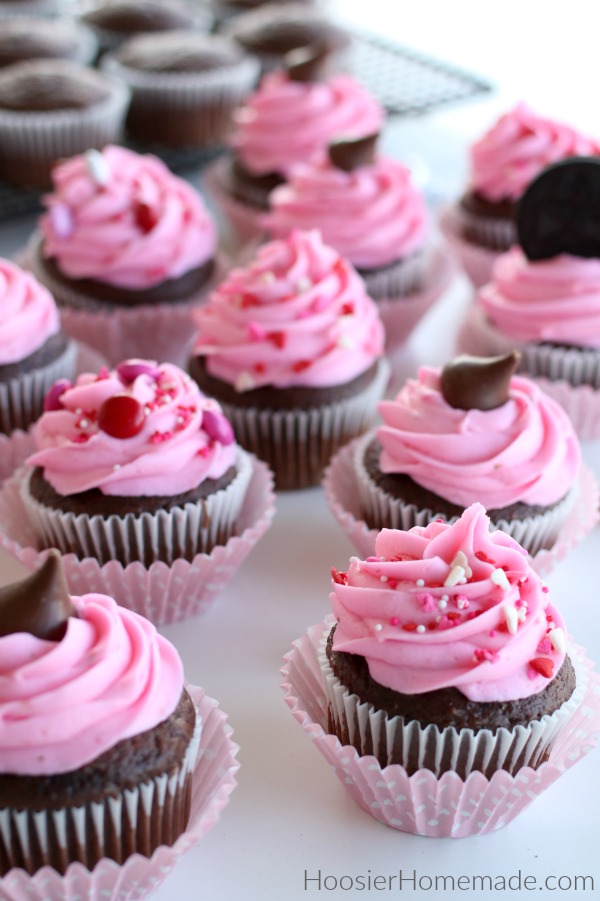 Chocolate Cupcakes with fresh Strawberry Frosting, these Valentine's Day Cupcakes are filled with flavor and easy to make. The kids can help decorate them with you too.
19. Red Velvet Cupcakes
Super easy to make and stays moist for days, with a classic red velvet flavor and cream cheese frosting that's perfect for Valentine's Day.
18. Strawberry Cupcake Recipe
This recipe for all-natural strawberry cupcakes is topped with strawberry white chocolate buttercream. These pretty pink cupcakes are perfect for special occasions or summer celebrations!
17. Raspberry & Chocolate Valentine's Cupcakes
These raspberry & chocolate Valentine's cupcakes are the perfect way to share your love. With moist raspberry cupcakes, a raspberry jam center, and topped with a luxurious chocolate buttercream frosting. Plus, they're easy to make!
16. Raspberry Chocolate Cupcakes
Enjoy your sweet summer berries in these Raspberry Chocolate Cupcakes topped with two layers of rich ganache and creamy raspberry cream cheese frosting.
15. XOXO Valentine Cupcakes
Cute cupcakes with chocolate hearts, X's, and O's are just perfect for Valentine's Day party!
14. Pink Funfetti Cupcakes with Raspberry Buttercream
If you are a raspberry lover, you have got to make these cupcakes.
13. Dark Chocolate Cupcakes with Raspberry Buttercream Frosting
Perfectly decadent and fudgy, deep dark chocolate cupcakes – what more could you ask for? Finish them off with this vibrant, brightly flavored raspberry frosting and everyone will be asking for the recipe!
12. Furry Monster Valentine Cupcakes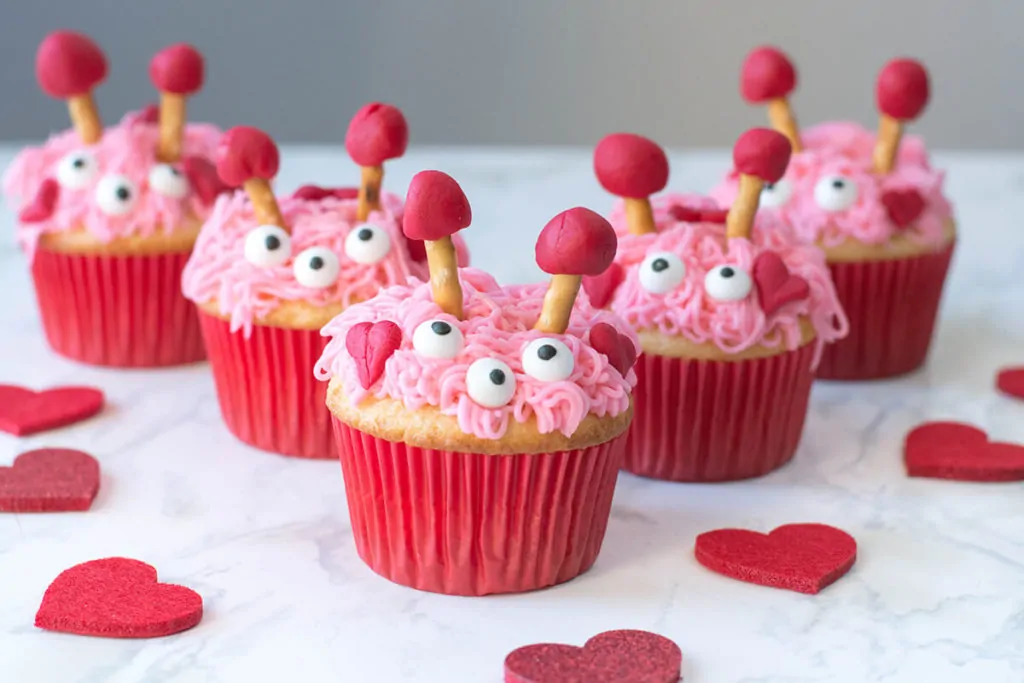 Looking for a fun Valentine's Day treat? Make these furry Monster Valentine Cupcakes. Sure, they look mean on the outside, but they're full of love (and sweetness!) on the inside.
11. Strawberry Cupcakes with Strawberry Buttercream Frosting
These homemade Strawberry Cupcakes are so fluffy, moist and made from scratch! Frost them with a swirl of sweet, homemade Strawberry Buttercream Frosting and a whole strawberry!
10. Cupcakes Topped with Chocolate Hearts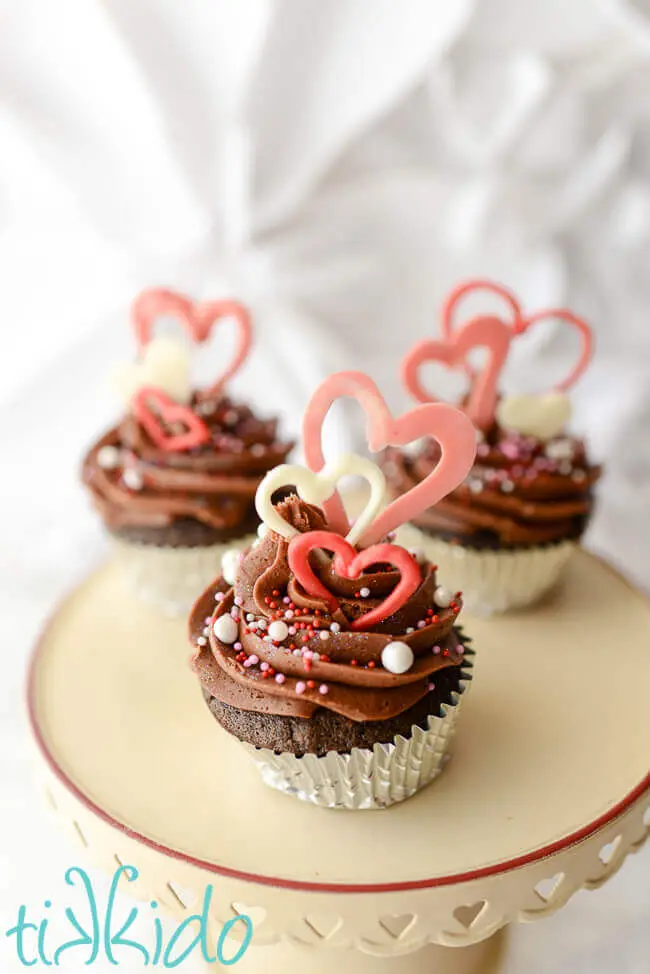 Make cupcakes for Valentine's day with these chocolate heart valentine cupcake toppers. The chocolate hearts are made out of melting chocolate discs, so they're no-fuss and easy to use to make delicious, beautiful Valentine's Day cupcakes.
09. His and Hers Valentine's Day Cupcakes
Sweeten your Valentine's Day celebration with these adorable Mr. and Mrs. Cupcakes.
08. Sweet Love Valentines Day Cupcakes
Make these sweet love cupcakes for your sweet love! Chocolate cupcakes are swirled with two-tone frosting, sprinkles, and the world love piped out in chocolate. They're fun to make and delicious to eat!
07. Chocolate Cupcakes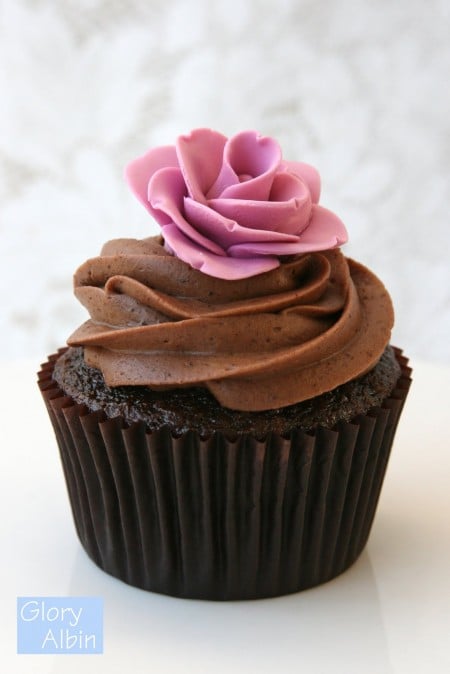 The cake has a nice light and fluffy texture and a rich chocolate flavor. And every time, it's delicious!
06. Pink Velvet Cupcakes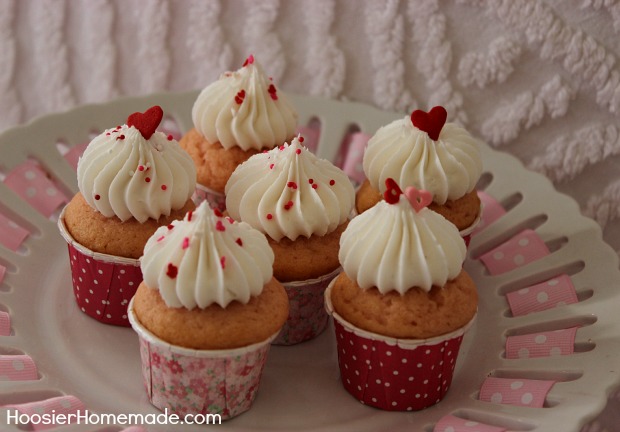 The ever-popular Red Velvet Cupcakes, which are chocolate flavored cupcakes colored red, have been transformed with white chocolate and pink coloring.
05. Valentine's Day Cupcakes Filled with Sprinkles
These Valentine's Day Cupcakes Filled with Sprinkles have a surprise in the middle. Sure, they look like ordinary adorable cupcakes, but when you cut into them you see they have been filled with colorful sprinkles. It's like a pinata in a cupcake!
04. Love Bug Cupcakes
This year make these adorable Love Bug Cupcakes for your annual Valentine's Day Lunch Party.
03. CUTE Conversation Heart Cupcake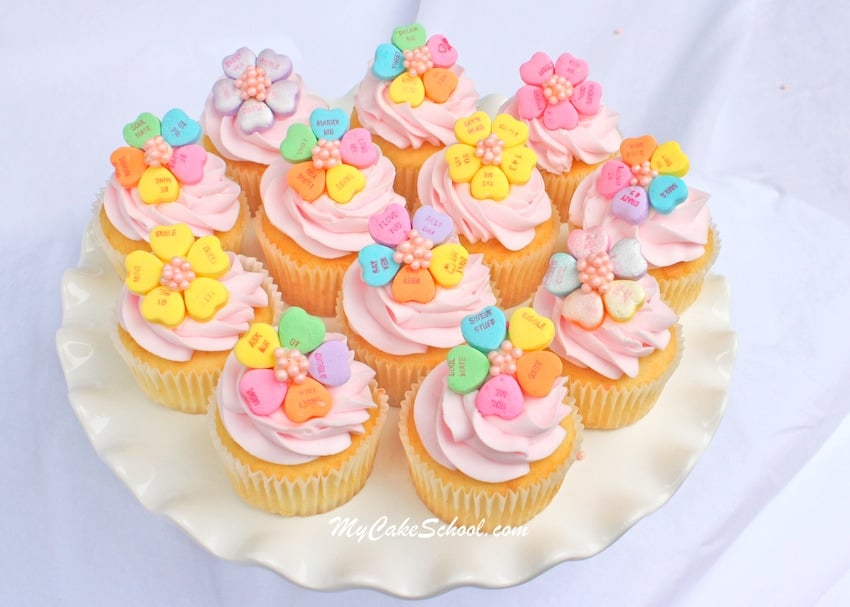 These cute and simple Valentine's Day Conversation Heart Cupcake Toppers are so much fun to make! They are the perfect decorative accent for your Valentine's Day cupcakes!
02. Pink Velvet Cupcakes
Decadent cream cheese frosting-filled pink velvet cupcakes for Valentine's Day.
01. Cupcakes with Raspberry Frosting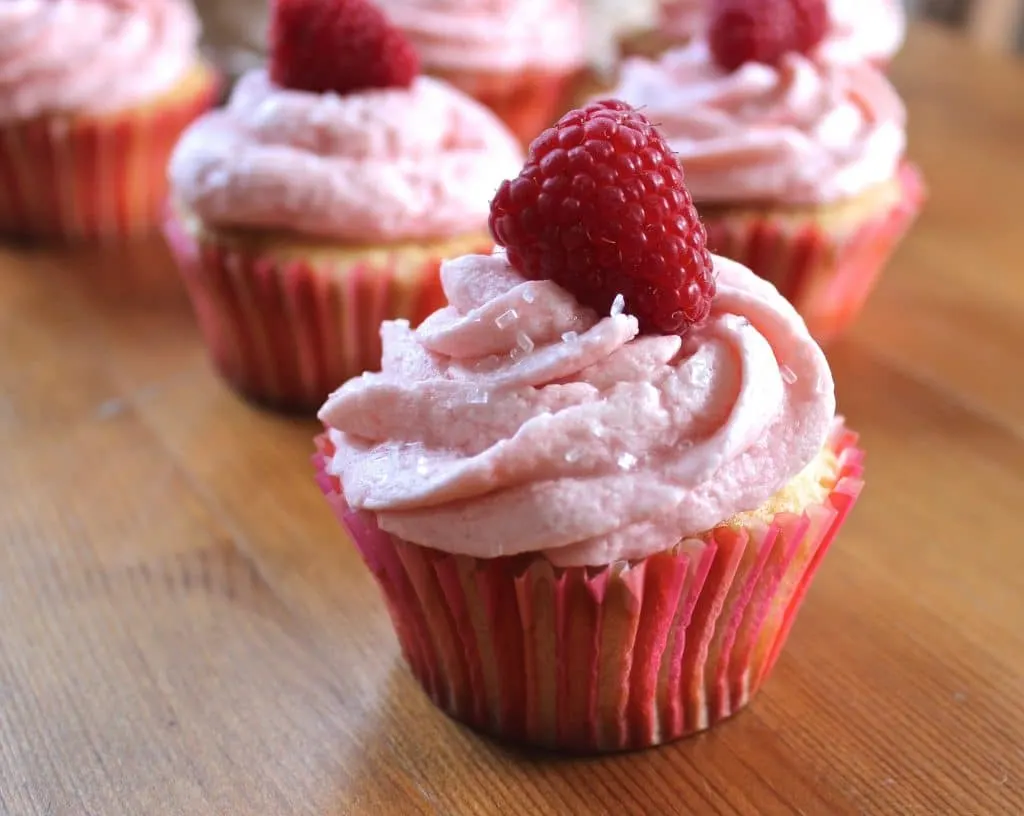 Gorgeous Champagne cupcakes with Raspberry Frosting. These delectable morsels are light and fluffy, bursting with flavor and sweetness. Special occasion? This cupcake recipe from scratch is perfect for Valentines Day