Get creative this Easter with our collection of easy and fun DIY Easter crafts for adults. From egg decorating ideas to bunny-themed projects for decoration and crafts, we have something for everyone.
Easter is a time to celebrate new beginnings and the arrival of spring.
What better way to do that than by creating beautiful and unique crafts to decorate your home?
Whether you're a seasoned crafter or a beginner, there's something for everyone in this list of DIY Easter crafts.
From elegant Easter egg decorating to cross-stitching and candle making, these crafts are easy to make and will add a festive touch to your home.
Impress your family and friends with your creativity and make this Easter one to remember with these fun and inspiring craft ideas.
Creative Egg Decorating Ideas
There are many different techniques you can use to create beautiful and unique designs on eggs. Some popular methods include:
Painting: This can be done using acrylic paints, tempera paints, or even food coloring. You can use paint brushes, sponges, or even toothpicks to create different patterns and designs.
Dyeing: This can be done using store-bought egg dyes or natural dyes made from ingredients like beet juice, turmeric, or red onion skins. You can create a variety of colors and patterns using different dyeing techniques, such as dip-dyeing, ombré, or batik.
Decoupage: This involves gluing pieces of paper or fabric onto the eggs. This can be done using a decoupage medium, such as Mod Podge, and can create a collage-like effect.
Embellishing: You can add extra details to your eggs by using materials like glitter, beads, or sequins. This can be done using glue or even a hot glue gun.
DIY Easter Bunny Crafts
There are many different types of bunny crafts that can be made at home, using materials like paper, fabric, yarn, or even recycled materials. Some popular bunny craft ideas include:
Bunny Finger Puppets
Paper Bunny Ears for kids
Bunny Mason Jar
Bunny Bean Bag
These crafts can be adapted for different ages and skill levels. For younger children, you can provide pre-cut shapes or use a simplified version of the instructions.
For older children or adults, you can use more advanced techniques or materials, such as embroidery or felting.
Easter Decorating Ideas: Handmade Crafts for the Home
Here are some ideas for how to create beautiful, festive Easter decorations using a variety of materials and techniques:
Easter Wreath
Easter Centerpiece
Easter Egg Tree
Easter Egg Garland
These are just a few examples of how to create Easter-themed decorations for your home.
With a little creativity and some basic crafting supplies, you can create beautiful, festive decorations that will last for years to come.
Easter Crafts for Adults: Beautiful and Unique Ideas
Easter is not just for kids; adults can also enjoy creating crafts to celebrate the holiday. Here are some ideas for unique and beautiful Easter crafts that adults can make:
Easter Egg Decorating
Easter Cross-Stitch
Easter Candle Making
Easter Pottery
These crafts are not only beautiful but also fun and relaxing to make, they can be a great way to spend some quality time with friends and family.
Each piece will be a unique and special way to celebrate the holiday.
I hope that these ideas for DIY Easter crafts have inspired you to get creative and try making something yourself.
Remember that crafting is a great way to express yourself and to spend quality time with loved ones.
The best part of crafting is that you can make it your own, and there is no right or wrong way to do it.
Whether you're a seasoned crafter or a beginner, these crafts are easy enough to make and can be adapted to your skill level.
So, gather your materials, set aside some time, and have fun creating beautiful, unique Easter decorations that you and your family can enjoy for years to come. Happy crafting!
DIY Easter Crafts: Fun Ideas to Celebrate the Season
23. Farmhouse Easter Bunnies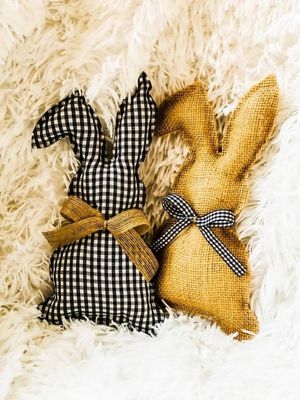 22. Knitted Bunny
21. Baker's Twine Easter Eggs
20. Easter egg wreath
19. Wine Glass Bunny Candle Holders
18. DIY Fluffy Easter Bunny Wreath
17. Bunny Butt Flower Pot Craft
16. Pom Pom Easter Bunnies
15. Paper Bag Easter Nest Craft
14. Pom Pom Gnome Bunny
13. Sock Bunnies
12. Easter Bunny Pots
11. Handmade DIY Felt Bunny Plushie
10. Coloring Page Decoupage Easter Eggs
09. DIY Easter Decor Carrots
08. Pom Pom Yarn Easter Eggs
07. Flowerpot Carrot Craft for Easter
06. Spray Painted Mason Jars
05. Easter Candy Jars
04. Paper Easter Wreath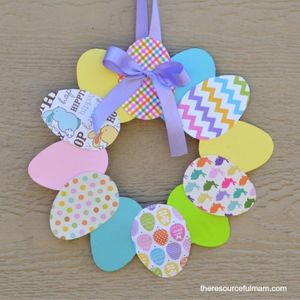 03. Bunny Box
02. DIY Easter Pom Pom Party Bunnies
01. Easter Bunny Wreath