Looking for fun and easy DIY Halloween crafts for adults? Here I've some of the best Halloween crafts ideas for home decor. From Halloween Wreaths, and Mason Jar to Halloween Centerpieces, these crafts are easy to make and perfect for Halloween party decorations.
Materials and Tools
When it comes to crafting for Halloween, having the right materials and tools at your fingertips is essential to bring your spooky visions to life.
Whether you're a beginner looking to dip your toes into the world of crafting or an experienced crafter seeking a new challenge, here's a comprehensive list to get you started:
Essential Materials:
Construction Paper and Cardstock: These are versatile materials for creating decorations, masks, and greeting cards. Go for Halloween-themed colors like orange, black, and eerie purples.
Glue and Adhesives: A trusty glue stick, craft glue, or hot glue gun is a must for assembling your crafts securely.
Scissors: Sharp, precision scissors are crucial for cutting out intricate shapes and designs.
Markers and Paints: Acrylic paints, watercolors, and markers in Halloween colors can help you add details and personalize your creations.
Fabric: For costume making or embellishments. Consider materials like felt, satin, or tulle.
Yarn and Thread: Perfect for creating spiderwebs, mummies' wraps, or adding a finishing touch to costumes.
Pipe Cleaners: Great for crafting spiders, skeletons, and other creepy creatures.
Beads and Jewelry Findings: Ideal for crafting unique Halloween jewelry pieces.
Candles and LED Lights: Essential for creating that eerie ambiance. Be sure to use LED lights for safety in decorations.
Craft Foam: Useful for creating 3D elements and adding dimension to your crafts.
Essential Tools:
Craft Knife: An X-Acto knife or craft knife is handy for precise cutting, especially for pumpkin carving.
Cutting Mat: Protect your work surface while using a craft knife.
Paintbrushes: Different sizes for various painting techniques.
Sewing Machine or Needle and Thread: Essential for sewing costumes or fabric crafts.
Punches: Craft punches with Halloween-themed shapes can add decorative edges to your projects.
Stencils: Stencils make it easy to create consistent shapes, especially when carving pumpkins.
Embossing Tools: Useful for adding texture to paper and cardstock.
Tips on Sourcing Materials:
Craft Stores: Local craft stores like Michaels, Jo-Ann Fabric, or Hobby Lobby carry a wide selection of Halloween craft supplies.
Online Retailers: Websites like Amazon, Etsy, and specialized craft stores offer a vast range of materials and tools for purchase.
Dollar Stores: For budget-friendly options, check your local dollar store for basic crafting supplies.
Recycling: Get creative by repurposing old fabrics, cardboard, and decorations from previous Halloweens. This eco-friendly approach can be both cost-effective and unique.
Now that you have your materials and tools ready, it's time to dive into the enchanting world of Halloween crafting.
Whether you're conjuring up spooky home decor, crafting costume accessories, or preparing for a haunting Halloween party, these essentials will be your trusty companions on your crafting journey. So, let's get started and bring your eerie visions to life!
Halloween Crafts
Halloween Crafts For Kids
Spooky Home Decoration
Halloween isn't just about costumes and candy; it's also about transforming your home into a haunted wonderland. Now, we'll explore some spine-chilling DIY ideas to create a truly spooky atmosphere within your own four walls.
Creating a Haunted House Atmosphere
Halloween-Themed Candleholders
Eerie Wall Art
Creepy Centerpieces
These DIY ideas are perfect for turning your home into a haunted haven, setting the stage for a spooktacular Halloween celebration.
With candleholders casting eerie glows, wall art creating shadows in the night, and creepy centerpieces as conversation starters, your guests will be thrilled by the transformation.
Get ready to welcome the spirits of Halloween into your abode!
Pumpkin Decorating Ideas
Pumpkin Carving
Pumpkin Painting
Embellished Pumpkins
Witch Hat Pumpkin
These decorating techniques offer a range of creative options for your Halloween pumpkins.
Whether you choose to carve intricate designs, paint a masterpiece, or embellish with whimsical decorations, your pumpkin creations will add a touch of magic to your Halloween decor.
Halloween Table Settings and Centerpieces
Hosting a Halloween party means going all out with the decorations, including your table settings and centerpieces.
In this section, we'll provide you with imaginative yet budget-friendly ideas for DIY table settings and centerpieces that will set the stage for a spooktacular Halloween gathering.
DIY Halloween Table Settings:
Bat Napkin Rings
Pumpkin Place Cards
Spiderweb Placemats
DIY Halloween Centerpieces
Glowing Ghosts
Witch's Cauldron Centerpiece
Candy Corn Vases
These DIY Halloween table settings and centerpieces will not only impress your guests but also keep your Halloween party budget-friendly.
The combination of crafty tableware and imaginative centerpieces will create a memorable and spooky atmosphere for your celebration. Enjoy your Halloween party in style!
DIY Halloween Crafts For Adults to Impress Your Guests
19. Wine Cork Pumpkin
18. Spider Web Vase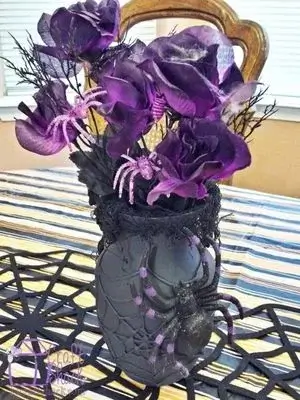 17. Halloween Candle Holders
16. DIY Gilded Insect Faux Taxidermy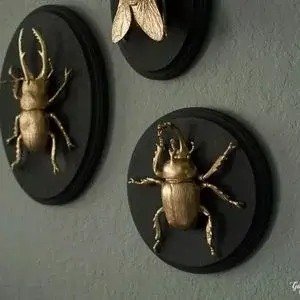 15. Pumpkin Dryer Vent Craft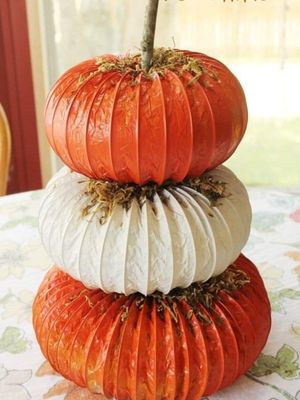 14. Fabric Pumpkins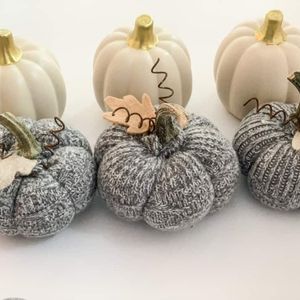 13. Halloween Book Crafts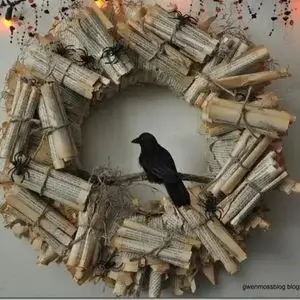 12. Crystal Visions
11. DIY Image Transfer Candles
10. DIY Jack-O-Lantern Jars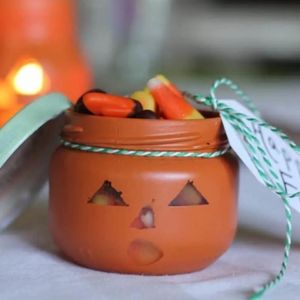 09. Pumpkin Painted Rocks
08. Skeleton Entryway Pots
07. Halloween Candy Jar
06. Black Ribbon Halloween Wreath
05. Spooky Spiderweb Embroidery Hoop Art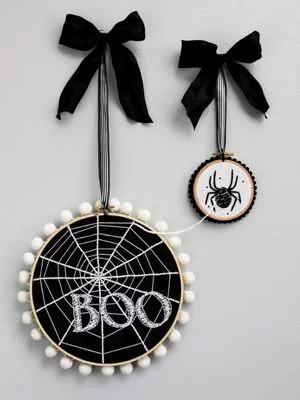 04. DIY Pumpkin Mason Jars
03. Halloween Village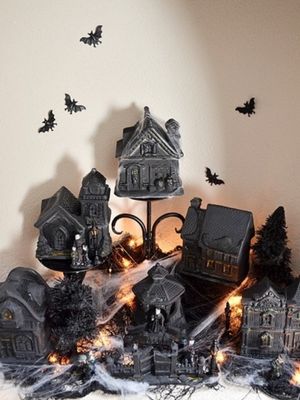 02. DIY Spooky Spider Halloween Wreath
01. Jack-o'-Lanterns
Safety Considerations
Halloween is a time for fun and creativity, but it's crucial to prioritize safety while crafting, decorating, and celebrating. In this section, we'll stress the importance of safety and provide essential tips to ensure a safe and enjoyable Halloween.
Safety While Crafting
Choose Age-Appropriate Projects: When crafting with children, select projects that are age-appropriate and involve safe materials. Keep small parts, sharp objects, and hot tools out of reach of young children.
Use Child-Friendly Tools: If children are involved in crafting, provide them with child-friendly scissors and other safe crafting tools. Supervise their activities closely.
Proper Ventilation: When working with paints, adhesives, or other chemicals, ensure good ventilation in your crafting area. Use these materials in well-ventilated spaces or consider wearing a mask when needed.
Safety Tips for Using Tools and Materials
Craft Knife Safety: When using craft knives or scissors, cut away from yourself and others. Keep your fingers clear of the cutting path and use a cutting mat to protect surfaces.
Glue Gun Precautions: If using a hot glue gun, be cautious of hot surfaces and dripping glue. Keep the gun on a heat-resistant surface and unplug it when not in use.
Paint Safety: When using paints, follow manufacturer guidelines for proper use and disposal. Avoid ingesting or inhaling paint, and wash your hands thoroughly after use.
Electrical Tools: If your crafting project involves electrical tools, make sure you're familiar with their proper usage and safety precautions. Always unplug tools when not in use.
Fire Safety During Halloween
Candle Safety: If using candles in your decorations, ensure they are placed in stable holders and never left unattended. Consider using battery-operated LED candles instead, which are safer and still provide a flickering effect.
Flammable Materials: Be cautious when decorating with flammable materials like dry leaves, straw, or paper. Keep them away from open flames or heat sources.
Costume Safety: Choose costumes made from flame-resistant materials. Avoid costumes with long, trailing fabrics that can easily catch fire.
Jack-o'-Lantern Safety: If carving pumpkins, use pumpkin carving kits with serrated blades designed for the task. Keep flammable materials away from lit candles inside pumpkins.
Outdoor Decorations: Ensure any outdoor decorations, especially those with electrical components, are weatherproof and safely connected. Use outdoor extension cords rated for the load they'll carry.
Remember, Halloween can be both safe and fun with the right precautions.
By following these safety tips and remaining vigilant, you can ensure that your Halloween celebrations are filled with creativity, joy, and peace of mind. Happy Halloween!
Conclusion
As you embark on your Halloween crafting adventure, remember that the real magic lies in the joy of creation and the delight your creations bring to others.
Get creative, have fun, and let your imagination run wild. Halloween is your time to shine as a DIY artist, so embrace the macabre and make this Halloween your most hauntingly crafty yet!