Looking for delicious and festive Halloween Desserts? Look no further than these spooktacular Halloween cupcakes! These Halloween treats are perfect for any Halloween party, and they're sure to please even the most discerning of sweet tooths. So get ready to get in the Halloween spirit with these delicious Halloween cupcakes!
Here are some of our favorite Halloween cupcake recipes, perfect for your Halloween party or get-together.
Whether you're looking for something cute or scary, we've got you covered. Our selection of Halloween cupcakes includes everything from classic pumpkin cupcakes to witch cupcakes.
And for those who want something a little different, we also have recipes for spider cupcakes and ghost cupcakes.
So what are you waiting for? Get baking! These Halloween cupcakes are sure to be a hit with everyone.
Halloween Desserts
Halloween Dinner Ideas
Halloween Treats For Kids
Halloween Brownies Ideas
23. Halloween Witch Cupcakes
These Halloween cupcakes will knock your guests' socks off but they're delicious too!
The hats hide candy inside and the pumpkin cupcakes themselves are moist, fluffy, and richly spiced.
22. Pumpkin Patch Cupcakes
Creating a garden of pumpkin cupcakes is easy and fun with a few simple piping techniques and your favorite chocolate cupcake recipe!
21. Candy Corn Cupcakes
Candy corn cupcakes are the perfect Halloween cupcake. Easy to make, festive, and delicious!
Halloween Snacks For Kids
Halloween Cookies Recipes
Halloween Snacks For Party
20. Halloween Cupcakes
If you've been looking for Halloween Cupcake ideas, here they are! This is a one-stop shop for these cute , fun, or spooky cupcakes for the holiday.
19. Pumpkin Swirl Cupcakes
if you're looking for a simple and cute dessert, these Pumpkin Swirl Cupcakes are it! Just dye your frosting and add on a candy "stem" and "vine."
18. Wicked Witch Cupcakes
Wicked Witch Cupcakes are a festive and friendly Halloween treat!
Cupcakes topped with wicked witch accessories make this a fun treat for the kids to make, share with their friends, or enjoy at a trick-or-treat party!
17. Ghost Cupcakes
Make these beautiful Ghost Cupcakes.
16. Blood Red Velvet Cupcakes
Traditional red velvet cupcakes with cream cheese frosting and a shocking addition of raspberry coulis. It's a spooky Halloween treat!
Halloween Party Food Ideas
Halloween Appetizers For Party
15. Bewitched Halloween Cupcakes
Chocolate cupcakes topped with beautiful multi-colored swirls of our super delicious homemade buttercream frosting in the spookiest colors we could imagine combining to make these Halloween Swirl Cupcakes the perfect cupcake choice for your Halloween celebration.
14. Pumpkin Cupcakes
These pumpkin cupcakes are filled with pumpkin puree and spices, then baked and topped with a generous amount of cream cheese frosting.
The ultimate fall treats are perfect for parties and even for Thanksgiving day.
13. Chocolate Cupcakes
Easy Halloween Chocolate Cupcakes with a Surprise Inside! Rich and creamy chocolate cake with chocolate buttercream frosting and a surprise candy filling.
12. Pumpkin Cupcakes
These pumpkin cupcakes with cinnamon cream cheese frosting are the only pumpkin cupcake recipe you need.
They're moist, extra soft, filled with pumpkin spice, and topped with the fluffiest, creamiest frosting around.
11. Cheesecake Stuffed Halloween Cupcakes
The decadently rich chocolate cupcakes are topped with chocolate ganache frosting and have a pumpkin-shaped cheesecake hiding inside.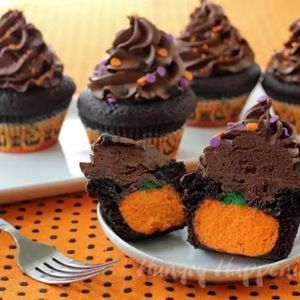 10. Pumpkin Cupcakes with Maple Pecan Frosting
These Pumpkin Cupcakes are made extra moist and flavorful thanks to the addition of browned butter!
Top them off with a sophisticated Maple Pecan Buttercream Frosting and you have autumn's new favorite cupcake.
They would be a perfect Thanksgiving dessert if your family is not into a pie!
09. Bloody Halloween Cupcakes
Whether you're looking to create a Halloween party treat or something fun in the kitchen with your family this Halloween season, these bloody cupcakes will surely be a spectacular choice.
08. Caramel Apple Cupcakes
These Caramel Apple Cupcakes are the perfect treats for Autumn and a twist on the beloved caramel apples.
The sticky homemade Dulce de Leche filling gives them an extra special touch.
07. Spider Cupcakes
Easy to make spider cupcakes with a pumpkin cupcake base and cream cheese frosting! With grain-free, gluten-free, whole grain, all-purpose flour options
06. Maple Pumpkin Cupcakes
Super soft and moist Maple Pumpkin Cupcakes with warm spices and hints of maple are topped with a sweet cinnamon cream cheese frosting!
All the best parts of Fall served up in cupcake form!
05. Halloween Bats Oreo Cupcakes
Festive Halloween Bats Oreo Cupcakes with Cookies and Cream Frosting is super fun to make, creamy, deliciously decadent, and a great treat for any Halloween gathering.
04. Halloween Spider Cupcakes
This Spider Halloween Cupcakes recipe is an easy, spooky cake decoration idea that your kids will love to help you make for Halloween!
All you need is baked chocolate cupcakes, black and white frosting, and some fun toy spider rings.
03. Mummy Cupcakes
These Mummy Cupcakes are a fun and spooky Halloween treat that kids will love. Perfect for serving at a Halloween party!
02. Eyeball Halloween Cupcakes
This homemade vanilla eyeball Halloween cupcakes are simple to make, adorable, and perfect for Halloween!
01. Halloween Sprinkle Cupcakes
It's not Halloween without a sweet treat. These Halloween Sprinkle Cupcakes are easy Halloween treats everyone will enjoy.