Happy Halloween. Halloween cookies take the party to the next level, and if you are thinking about adding them to your event, great idea! Here I've some of the best spooky, cute, and amazing Halloween cookies recipes for you to make this Halloween.
Halloween cookies are popular because they are tasty and super easy to decorate to fit the occasion. When it comes to choosing cookies you want to decorate this year for the holiday, it might be overwhelming.
After all, there are literally dozens of different flavors and varieties on the market, and even more options if you want to bake your own. However, some are more popular than others so they are bound to be sure-fire hits are any Halloween party.
So, check all recipes one by one and let me know in the comment box which one you liked the most and what you'll gonna make on these Halloween holidays for your kids and family.
Halloween Desserts
Halloween Cupcakes
Halloween Dinner Ideas
Halloween Treats For Kids
21. Spooky Cookies
The perfect cookie for Halloween! A yummy double chocolate chip cookie topped with candy eyeballs that looks like eyes peeking out at night at you!
20. Halloween Chocolate Sugar Cookies
Halloween Cookies are classic soft-cut-out chocolate sugar cookies made with cocoa powder and decorated with easy sugar icing!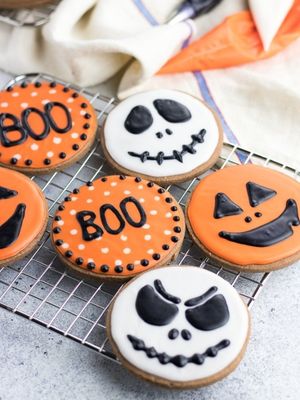 19. Pumpkin Chocolate Chip Cookies
Pumpkin Chocolate Chip Cookies will soon be a favorite in your house. This delicious homemade pumpkin cookie recipe is easy to make and is made from scratch. See why pumpkin and chocolate chips were made to be together.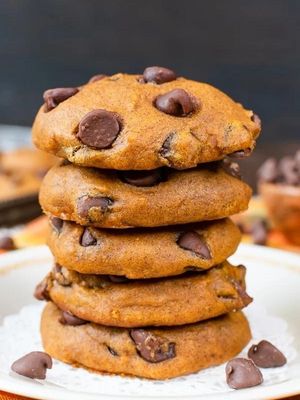 18. Cute Monster Eye Cookies
Make some cute monster cookies for Halloween this year! They are so easy to make, that your kids will love helping!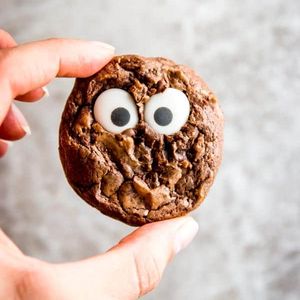 17. Halloween Sugar Cookies
Easy Halloween Sugar Cookies are a soft, pinwheel sugar cookie recipe, made with fun holiday colors like green, orange, purple and black! Perfect for your Halloween celebrations.
16. Hocus Pocus Halloween Cookies
These magical Hocus Pocus Cookies are filled with a delicious green "witches brew" frosting!
Halloween Brownies Ideas
Halloween Snacks For Kids
Halloween Snacks For Party
15. Coffin Sandwich Cookies
These coffin sandwich cookies almost look like the real thing.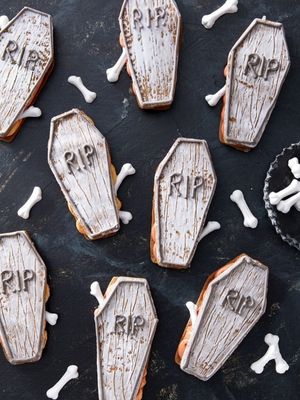 14. Chocolate Shortbread Cookies
Keeping Halloween sweet instead of scary with the most cheerful Halloween Chocolate Shortbread Cookies.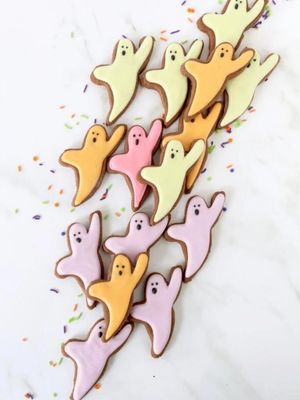 13. Dark Chocolate Halloween Chip Cookies
Dark Chocolate Halloween Chip Cookies have a super soft and black-as-night dark chocolate cookie base that is studded with sweet white chocolate chips and creamy peanut butter chips for a frighteningly delicious treat!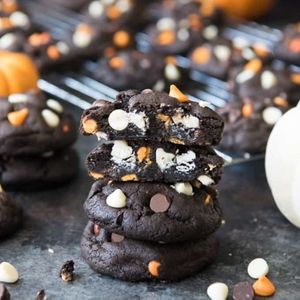 12. Halloween Thumbprint Cookies
These Halloween Thumbprint Cookies are a fun treat for any Halloween party – and, with just a little supervision, they are simple enough that your kids can help make them!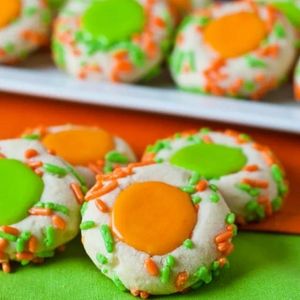 11. Cute Halloween Cookies
Let's get into the Halloween spirit with these easy Halloween Cookies.
Halloween Party Food Ideas
Halloween Appetizers For Party
10. Spider Truffle Cookies
More cute than creepy, these spider cookies are the perfect sweet and simple dessert to serve at your Halloween parties.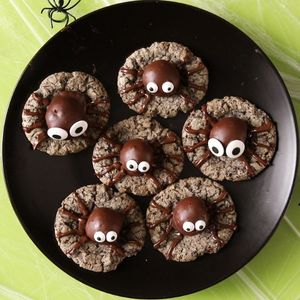 09. Halloween Monster Cookies
Googly eyes make these chocolate monster cookies come to life.
08. Gilded Insect Cookies
These gilded insect cookies are equal parts creepy and gothic chic. Delight all the boys and ghouls at your next Halloween party with these deliciously creepy cookies.
07. Pumpkin Blossom Cookies
These are the most adorable fall cookies – pumpkin blossom cookies! A spiced cookie with pumpkin spice Hershey's kisses turned into PUMPKINS!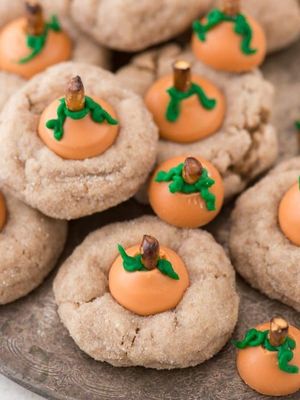 06. Chocolate Chip Cookies
This easy Halloween Cookie Recipe is fun and festive for the fall season. These Halloween chocolate chip cookies sandwiches are made from scratch and with simple decorating they make a fantastic Halloween dessert. Enjoy this delightfully stuffed Halloween cookie!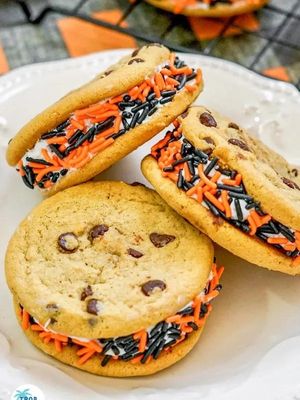 05. Spooky Bat Sugar Cookies
These cookies may look difficult to make, but they are really simple.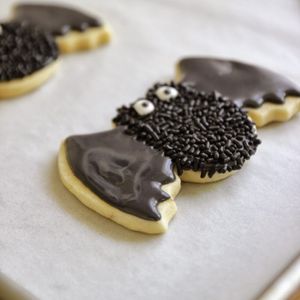 04. Chocolate Monster Cookies
Chocolate Monster Cookies are the best Halloween cookies because they're made with candy googly eyes, chewy chocolate chip cookies, and chocolate ganache.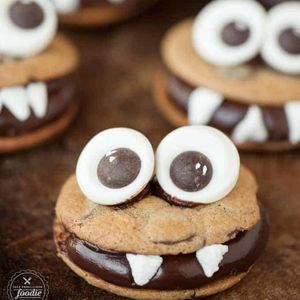 03. Double Chocolate Mummies
Dutch-processed cocoa powder makes these sweets extra dark (and spooky!) for Halloween.
02. Pumpkin Spice Cutouts
Each bite tastes just like pumpkin pie—delicious!
01. Creepy Dracula Dentures
They look kinda repulsive but they're not so disgusting that you actually can't eat them.
The teeth look crazy good, but they're clearly marshmallows. It's also pretty obvious that there are chocolate chip cookies involved. The bright red blood? Vanilla frosting, folks.