Here are our best and most delicious Halloween Brownies Ideas for your Halloween party or even for trick or trickers. These fun and easy brownies recipes are the perfect Halloween desserts treat for everyone at your Halloween party!
I love to make spooky and fun brownies for Halloween. The scarier the better in my eyes!
You can make a cute and beautiful brownie any day of the week, but it's not come every day. So, make some spooky, scary, and fun brownies this Halloween.
Enjoy Halloween with your kids and friends at home with all of the below treats and ideas.
Halloween Desserts
Halloween Cupcakes
Halloween Dinner Ideas
Halloween Treats For Kids
20. Spider brownies
Spider brownies are bite-size treats perfect for Halloween parties, after-school snacks, and more. These fun and easy treats will be a hit with kids.
19. Swirl Cream Cheese Brownies
Halloween Swirl Cream Cheese Brownies have a layer of rich, dark chocolate brownies topped with a layer of orange cheesecake then swirled together for a spooky treat.
These are sure to be a perfect dessert treat for everyone at your Halloween party!
18. Zombie Brain Brownie Bites
Zombie Brain Brownie Bites are bite-sized brownies, topped with a bright green zombie brain that oozes green chocolate "slime" when you bite into it!
17. Brownie Dirt Pudding
Brownie Dirt Pudding cups are a delicious Halloween dessert! Dress them up with graveyard decorations and serve them alongside a cold glass of chocolate milk for a spooky snack.
16. Pumpkin Patch Brownies
Adorable and rich in chocolate flavor, these Pumpkin Patch Brownies are the perfect Halloween treat.
They have a basic brownie bottom covered with a vanilla glaze topped with toasted coconut and mellow creme pumpkins. Everyone will love them!
Halloween Snacks For Kids
Halloween Cookies Recipes
Halloween Snacks For Party
15. Halloween Brownie Pizza
Busy parents love this super simple, candy-topped brownie. It's guaranteed to be a hit at any party for kids.
14. Witch Hat Brownie Pops
Witch hat brownie pops will be the hit of your Halloween party! Simple to make with a box brownie mix, fast frosting, and an easy piping method!
13. Spooky Brownie Bat Bites
Whether you are needing a last-minute Halloween dessert or just want a super simple recipe, these Spooky Brownie Bat Bites are just what you are looking for.
Made with ingredients that can be found right in your grocery store, they can be put together in no time.
Spooky Brownie Bat Bites are also a great project to make with your family. Everyone will love combining all of the ingredients to create these edible spooky treats.
12. Halloween Brownie Bites
Brownie bites from the grocery store are transformed into Halloween ghosts, mummies, spiders, and webs with canned frosting and edible eyeballs. Simple and fun!
11. Vampire Bite Brownies
These Vampire Bite Brownies are best enjoyed within a day of assembling them–the cherry jam starts to soften the frosting after about a day.
However, you can make the brownie cups several days in advance and just assemble them on the day of the party, if you'd like.
Halloween Party Food Ideas
Halloween Appetizers For Party
10. Halloween Brownie Cupcakes
A delicious cupcake with a brownie bottom. These are topped off with delicious buttercream frosting
09. Spider Web Brownie Bites
This semi-homemade spider web brownie doesn't take much time to make–just grab your brownies and some chocolate and you are good to go.
08. Melted Witch Brownies
Celebrate Halloween with melted witch brownies! They are so cute, simple to put together with a box of brownie mix, marshmallows, and candy melts!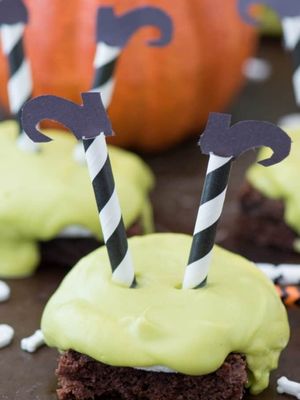 07. Graveyard Halloween Brownies
These easy Graveyard Halloween Brownies are the perfect fun and spooky treat for a party!
All you need is chocolate brownies, Milano cookies, candy pumpkins, and a little frosting.
06. Bubbling Witch's Cauldron Brownies
We love making these bubbling witch's cauldron brownies for our Halloween party each year!
This is an easy Halloween treat for kids to help with! Halloween brownies only call for a handful of ingredients!
05. Spider Web Brownies
Whether you are hosting a Halloween party or you just want to make a fun treat for your family, these spider web brownies will be a hit.
04. Spooky Eyed Halloween Brownies (dairy free)
With just a few sprinkles and some googly eyes, simple olive oil brownies are transformed into spooky, dairy-free Halloween brownies that every kid can enjoy!
03. Hocus Pocus Spell Book Brownie
Have a Hocus Pocus-themed Halloween party with these fun and delicious Hocus Pocus Spell Book Brownie Halloween Treats!
02. Spooky Boo Brownies
Trick or treating just got even more fun thanks to these Halloween ghost brownies.
Whether you're baking for a school party or just getting festive, our spooky brownies are as delightful as they are delicious.
01. Mummy Brownies
These Mummy Brownies are the perfect Halloween treat! They'll scare up a good time and they're so easy to make! The perfect kid-friendly treat!