Looking for some easy Halloween Desserts ideas for your next party? Check out these recipes that are perfect for kids and parties and are sure to be a hit with everyone. From cute cupcakes to spooky treats, there's something for everyone!
Here are some great ideas for Halloween desserts.
One easy and popular option is to make chocolate-dipped pretzels. Simply dip pretzel rods in melted chocolate, then decorate with Halloween sprinkles.
You can also dip marshmallows in chocolate and decorate them with sprinkles.
For a more cupcake-like treat, bake some cupcakes and then decorate them with Halloween cream cheese frosting and candy eyes.
You can also make ghost cupcakes by simply topping cupcakes with white marshmallow fluff and adding candy eyes.
If you want to get a little more creative, try making mummy cookies! To make these, simply bake sugar cookies and then decorate them with white icing and candy eyes.
Or, for a less messy option, you can make Vampire teeth cookies by pressing fangs into iced sugar cookies.
Whatever Halloween desserts you decide to make, be sure to have a spooktacular time!
Halloween Cupcakes
Halloween Dinner Ideas
Halloween Treats For Kids
Halloween Brownies Ideas
25. Spider Web Halloween Cupcakes
A spooky spiderweb cupcake that'll be the hit of your Halloween party!
24. Towering Haunted House Cake
It's creepy, yes, but also totally delicious.
23. Oreo Bat Cupcakes
Spooky and delicious! OREO Bat Cupcakes are perfect for Halloween and the kids will love helping you decorate them! Enjoy this kid friendly Halloween treat!
22. Monster Halloween Cake Balls
These monster Halloween cake balls are the perfect Halloween sweet treat – easy to make, ridiculously delicious and super fun to decorate.
They are gluten free, with a dairy free option, and are easily transformed into Halloween themed cake pops by simply throwing some cake pop sticks into the mix.
21. Chocolate Voodoo Cakes
These sweet, chocolatey treats come complete with marzipan bones that will scare the wits out of those who are brave enough to bite in!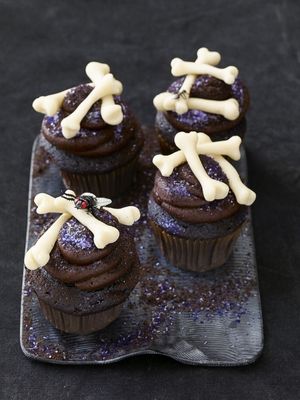 Halloween Snacks For Kids
Halloween Cookies Recipes
Halloween Snacks For Party
20. Poison Apples
These frightfully fun candy Poison Apples are a wicked way of treating friends and family this Halloween. The real trick is figuring out how to eat them!
19. Halloween Gingerbread House
A Halloween Gingerbread House is a fun, festive way to get in the spooky spirit!
Make it haunted or happy with your favorite candy decorations and black, orange, or white gingerbread house icing!
18. Graveyard Dirt Cake
This spooky chocolate Graveyard Dirt Cake is a classic Halloween dessert beloved by kids and adults alike!
But instead of using a pudding mix and Cool Whip, this version is made completely from scratch!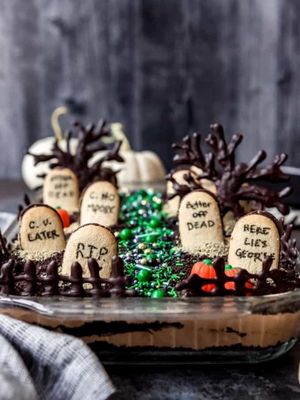 17. Spiderweb Cookie Cake
Spiderweb Cookie Cake is perfect for all things Halloween! My chocolate chip cookie loving family thought this GIANT cookie, AKA Spiderweb Cookie Cake, was a genius idea!
Your family will want this cookie cake recipe to become a holiday traditon at your house, too!!
16. Halloween Cookie Recipe Skeleton Gingerbread
They are so easy plus you you can freeze some of the dough and save yourself some time making cookies later!
Halloween Party Food Ideas
Halloween Appetizers For Party
15. Cauldron Cupcakes
Hosting a Halloween party this year or need a cute and easy treat idea? These Cauldron Cupcakes are perfect for parties and easy to make with kids.
14. Spider Oreo Pops
To make this recipes all you need is oreos, milk chocolate chips, candy eyevalls, string black licorice laces, lollipop sticks and parchment paper.
13. Halloween Brownies
These homemade Halloween brownies are not only the best brownies you'll ever eat, they feed a crowd and make decorating fun!
Three spooky, yet adorable, ways to dress up your brownies for Halloween straight-ahead!
12. Spooky Peanut Butter Spider Cookies
These spooky spider cookies are entertaining for little ones and adults to make together.
From pushing chocolate candies into warm cookies, to drawing spider legs with chocolate and making silly eyes, there's plenty of fun for everyone.
11. Dracula's Dentures
This Dracula Dentures recipe is made from chocolate chip cookies, marshmallows, almond slices, and a little red frosting.
These are a Halloween recipe that's not only fun to look at but good to eat.
10. Jello Brain Recipe
This Halloween Jello Brain Recipe for a brain mold makes a creepy gelatin brain that you can take to a Halloween party, or anywhere a jello brain would be appropriate.
09. Pumpkin Bundt Cake
This show-stopping pumpkin bundt cake might look just like a real pumpkin but don't forget, it tastes amazing too!
A moist pumpkin bundt cake loaded with all your favorite fall spices, filled with cream cheese frosting and enrobed in vanilla buttercream!
08. Pumpkin Chocolate Chip Bread
This Pumpkin Chocolate Chip Bread is soft, moist, and perfectly tender!
Each bite is accompanied by melty chocolate chips and the perfect fall flavors that keep you coming back for more!
07. Ghost Cupcake
They are such a sweet and spooky touch for a Halloween party or any fall get together.
06. Marshmallow Ghost Brownies
Homemade marshmallow hardens as it cools, so pipe your ghouls as soon as you transfer the mixture to the piping bag.
05. Deathly Chocolate Graveyard Cakes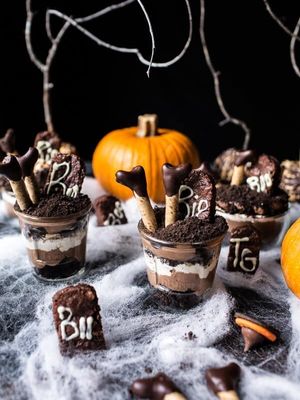 04. Bloody Red Velvet Cupcakes
Bloody Red Velvet Cupcakes: traditional red velvet cupcakes with cream cheese frosting and a shocking addition of raspberry coulis. It's my new favorite Halloween treat!
03. Pop Tart Ghosts
Who wants store-bought pop tarts when you can make your own right at home?
These flaky pop tarts are stuffed with a decadent Nutella filling, covered in sweet vanilla icing, and decked out to delight even the pickiest goblin or ghoul in your life.
02. Concession Stand Crackers
Whether you're looking for an easy way to use up some Halloween candy or you just need an inspired snack to serve for movie night, these Concession Stand Crackers are a great bet. Use whatever chopped candy your heart desires.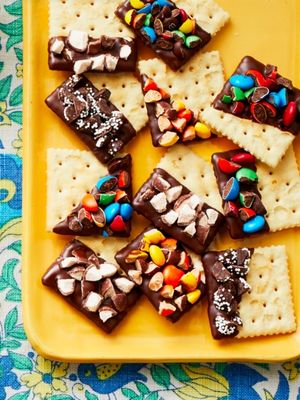 01. Halloween Layer Cake
Halloween layer cake that you wouldn't be too scared to take a bite of. By topping it with Ghost Peeps and Milano cookies with the letters "RIP", the presentation is spooky, but still, lures in everyone for a bite.