If you're looking for some Halloween treats that are sure to please the little ghosts and goblins in your life, look no further. We've rounded up a list of our favorite Halloween snacks for kids that are both easy to make & kids friendly. From Halloween treats to sweet Halloween desserts, these spooktacular Halloween snacks are perfect for Halloween kids party.
This easy snack is a fun recipe to make with your child. It works great for Halloween.
It's also a great activity to do with your child. Kids love to make things and this is a perfect venue for teaching your ever-curious child how to make properly, how to follow directions, and how to make and eat something that's delicious!
Have fun bonding with your child and make something good for your kids this Halloween.
Also, check out all recipes, and don't forget to comment below on which one will you gonna make.
Halloween Desserts
Halloween Cupcakes
Halloween Dinner Ideas
Halloween Treats For Kids
19. Pretzel Witch Fingers
Large pretzels covered in a white candy coating that just happen to look like witch fingers. They're very easy to make and perfect for any witchy party!
18. Coffin-Shaped Homemade Pop Tarts
These homemade pop tarts aren't just easy and tasty, they're adorable! A fun Halloween recipe for kids, too!
17. Marshmallow Spider Web Donuts
Serve up some creepy-crawly fun this Halloween with these purple candy-dipped donuts covered in marshmallow "webs."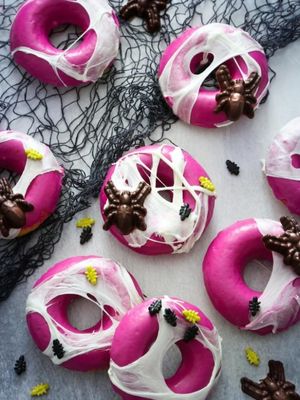 16. Mummy Dogs
These cute and simple Mummy Dogs have been one of the kids' favorites.
It's a fun Halloween spin on the classic pigs in a blanket turning regular hot dogs into mummy hot dogs by wrapping them in crescent roll dough.
Halloween Brownies Ideas
Halloween Cookies Recipes
Halloween Snacks For Party
15. Snack Mix
It's almost here and I have no idea what to do about Halloween costumes, but I do know that this 5 Minute Halloween Snack Mix is totally happening!
14. Halloween Popcorn
Halloween Popcorn is made with a sweet, buttery candy coating and then tossed with Halloween candy. It's the perfect festive treat!
13. Witch Finger Cookies
These healthier witch finger cookies use jam in place of food coloring!
They can be made with all-purpose flour or with white whole wheat flour for a 100% whole grain version.
12. Mini Pumpkin Muffins
These adorable mini pumpkin muffins are made with whole wheat flour, real pumpkin puree, mini chocolate chips, and lots of cozy pumpkin spice.
11. Pumpkin-Spiced Buns with Spiderweb Glaze
To make this recipe all you need, milk, dry yeast, brown sugar, flour, pumpkin pie spice, etc.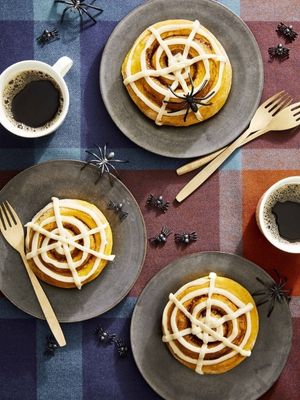 Halloween Party Food Ideas
Halloween Appetizers For Party
10. Cheesy Spiders
These cheesy spiders have breadcrumb fur and chow mein noodle legs, making them great finger food, or a melty-crunchy garnish on top of bubbling bowls of stew.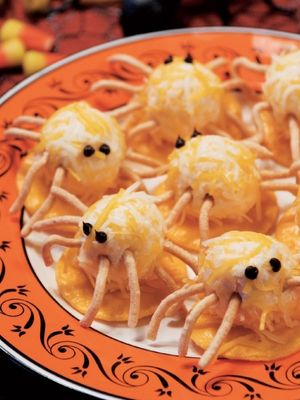 09. Spooky Forest Pudding Cups
Chocolate trees and candy pumpkins bring these sweet treats to life.
08. Witches Brooms
These cute Halloween snacks for kids take just 5 minutes to make and need only 2 ingredients.
Find out how to make these healthy witches' broomsticks, a must for Halloween parties.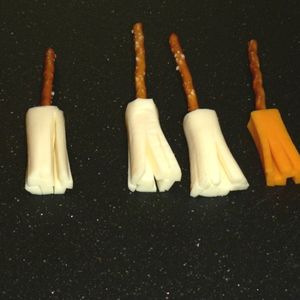 07. Spider Avocado Deviled Eggs
Celebrate Halloween with Spooky Spider Avocado Deviled Eggs! Your party guests will love these creepy-crawly olive spiders on top of ghoulishly green avocado-deviled eggs!
06. Halloween Marshmallow Pops
Halloween Marshmallow Pops couldn't be easier or more festive. Everyone's going to want one the minute they get to the Halloween party!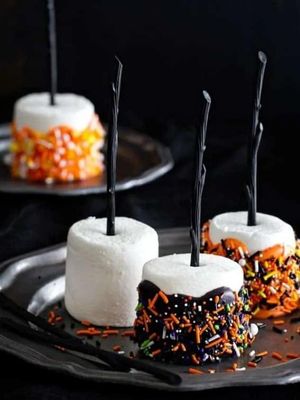 05. Spider Web Cupcakes
These easy Halloween Spider Web Cupcakes will help you create a wow-worthy holiday dessert in record time!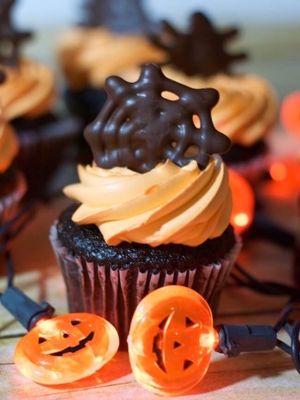 04. Halloween Pretzels
A pumpkin. A ghost. An owl. A mummy. These adorable Halloween Pretzels are easy, fast, and fun to make.
Halloween is tomorrow? No problem. These chocolate-dipped cuties can be created in no time and are guaranteed to spread smiles.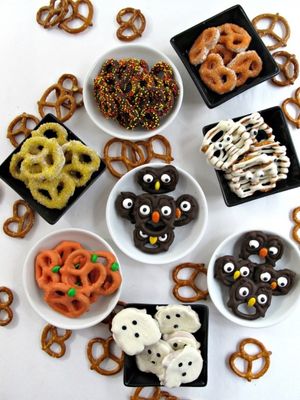 03. Butterscotch Haystacks Candy Treats
An easy-to-make treat made with chow mein noodles, butterscotch morsels, and peanut butter
02. Pumpkin Cheesecake Ghosts
Some of the cheesecake filling gets flavored with pumpkin puree, while some is saved to dollop on top and create (friendly!) ghosts.
01. Oreo Spiders
The cutest and easiest Oreo Spiders for Halloween! This treat tops my cookies and cream frosting to make Oreo Spider Cupcakes! Boo!