Halloween appetizers are a kind of starter dish prepared for parties. No party is complete without some great appetizers. Here I've shared some of my favorite Halloween appetizers for party. From Halloween Snacks to Halloween party dips and Halloween party foods, there's something for everyone at the Halloween party that they will love.
Halloween Desserts
Halloween Cupcakes
Halloween Dinner Ideas
Halloween Treats For Kids
21. Graveyard Taco Dip
Need a spooky and fun Halloween recipe? How about graveyard taco dip with gravestone tortilla chips!
20. Halloween Cheese Board
They are so fun to make and make the perfect addition to a party!
This Halloween Cheeseboard was so fun to make this year and the kids all LOVED it!!!
19. Spider Bread Dip Bowl
This Spider bread dip bowl is an adorable Halloween appetizer that's easier to make than you think!
18. Jalapeno Popper Mummies
Jalapeno popper mummies are cute, spooky, and loaded with tasty ingredients.
This recipe is incredibly easy to make and certainly impressive on the Halloween appetizer table.
17. Pepperoni Pizza Pockets
These homemade pepperoni pizza pockets are a great make-ahead meal or snack. Serve them with a side of marinara sauce for dipping!
16. Pumpkin Veggie Tray
This super easy and festive Pumpkin Veggie Tray is a healthy Halloween party platter that's fun to make with the kids!
Halloween Brownies Ideas
Halloween Snacks For Kids
Halloween Cookies Recipes
15. Pumpkin-Shape Meatball Biscuits
Give a delicious appetizer a holiday twist by turning a savory meatball into a festive pumpkin.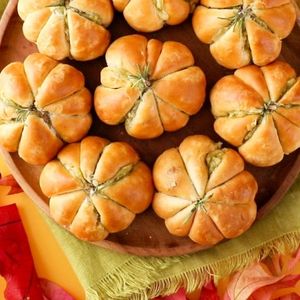 14. Mummy Dogs
These super cute Mummy Dogs are a kid favorite for Halloween. A super easy recipe made with only 2 ingredients. Perfect for parties or for a fun Halloween dinner.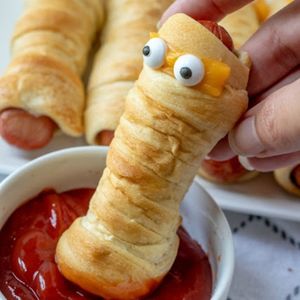 13. Adorable Halloween Deviled Eggs
Don't just add horns to your Halloween deviled eggs, add little red bell pepper wings to really give these precious appetizers some devilish character!
12. Jack Skellington Cheese Ball
This Jack Skellington Cheese Ball is the perfect appetizer for Halloween. It combines cream cheese, bacon, and few other simple ingredients to create a one-of-a-kind, no-bake Halloween dip. You can serve it up alongside our Homemade Pumpkin Tortilla Chips!
11. Halloween Veggie Pizza
A spooky themed graveyard pizza featuring a flavorful ranch cream cheese-covered crust, topped with colorful veggies and "tombstone" crackers.
Halloween Snacks For Party
Halloween Party Food Ideas
10. Spooky Deviled Egg Spiders
So perfect as a side dish for your Halloween party, these spooky deviled egg spiders will be a hit. To make things even better, they are delicious and pretty easy to make.
09. Witch Hat Calzones
These Halloween Witch Hat Calzones are a delicious appetizer or side dish for your Halloween menu. They are perfect to serve at Halloween parties or just for fun at home!
08. Jalapeno Popper Cheese Ball
Everyone loves a good cheese ball, and this is our favorite one yet! This Jalapeño Popper Cheese Ball has all the flavors you know and love in a deliciously dippable appetizer that's guaranteed to be the star of the show!
07. Halloween Platter
This festive Pumpkin Fruit Tray made with wedges of clementines, strawberries, green apple, grapes, and blueberries is a fun and cute Halloween platter you can make with the kids!
06. Mozzarella Eyeballs
Mozzarella Eyeballs made with marinara sauce, pesto, olives, and cheese are creepy deliciousness perfect for a Halloween appetizer!
05. Halloween Muddy Buddies
These Halloween muddy buddies are spooktacular! This 15-minute recipe can be assembled in 2 ways: Keep the puppy chow a classic white, or do a 50/50 tuxedo Halloween Chex mix with grated chocolate and Oreo cookies.
04. Shrunken potato heads with slime dip recipe
These easy Halloween snacks are gorgeously ghoulish – kids will love dunking crispy potato heads into a creepy slime dip. Simply bake the potatoes, mash together avocado, sour cream, and garlic, top with chives, and serve – Halloween party food doesn't get easier than this!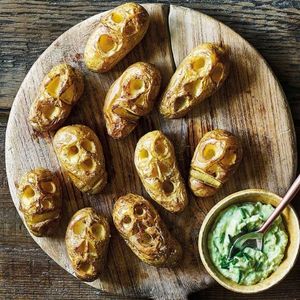 03. 7 Layer Taco Dip Recipe
Easy Spooky Halloween 7 Layer Taco Dip recipe is the perfect holiday appetizer. Add the spooky spider web for the holiday, or keep it smooth for year-round enjoyment!
02. Witches Brew Cream Cheese Halloween Dip
A Halloween dip that is sure to please your little witches! This Witches Brew Cream Cheese Halloween Dip can be made with any flavor of pudding too!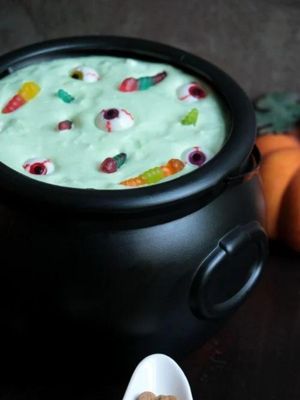 01. Lantern Chips and Dip
This is the perfect appetizer for your Halloween party!