This fall is a great time to rethink some of our favorite foods. And if you are looking for fall soup recipes? Here I've shared 15 of my favorite fall soup recipes.
There are so many great options out there, and it can be tough to choose the perfect one.
An easy and delicious soup to make, try this recipe. It's the perfect blend of fall flavors and it's sure to be a hit with your family and friends.
Pumpkin Recipes
Fall Salad Recipes
Fall Dinner Recipes
Fall Crockpot Recipes
15. Fall Vegetable Quinoa Soup
This healthy fall soup is perfect for a chilly day and it freezes well too!
14. Lasagna Soup
This Lasagna Soup is one of my all-time favorites! You get all the flavors of a delicious hearty lasagna in a comforting soup form!
It's loaded with beef, tomatoes and Italian herbs and the melty cheese just takes it over the top.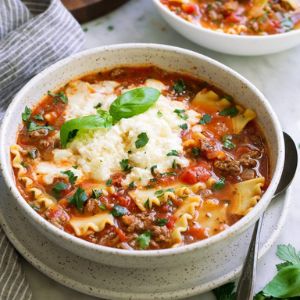 13. Pumpkin Soup
Vegan Pumpkin Soup is a fall lover's delight! Made with minimal ingredients, creamy without the cream, this healthy vegan soup is easy to make using one pot and ready in 30 minutes!
12. Creamy Potato Soup
An easy and delicious creamy potato soup recipe that can be made in just one pot!
11. Panera Autumn Squash Soup
Panera has a cult following around their soups and especially their autumn squash soup.
The copycat version has butternut squash, pumpkin, carrots, and shallots for a sweet and fully fall flavor.
Topped with spiced pepitas this soup is great as an appetizer or filling enough to be the main course.
Easy Fall Snacks
Best Fall Cupcakes
Best Fall Appetizers
Delicious Fall Desserts
10. Roasted Butternut Squash Soup with Apple
Roasted Butternut Squash Soup with Apple, ginger, and cream. Make this soup vegan by switching the cream in the recipe with coconut cream.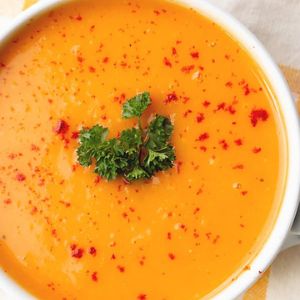 09. Zuppa Toscana Copycat
Zuppa Toscana is a rich and creamy, soul-satisfying soup made with Italian sausage, potatoes, and hearty kale.
It's a copycat recipe of the famous soup at Olive Garden. I could eat this stuff for days!
08. Creamy Parm Tomato Soup
This easy tomato soup is perfect for those chilly fall and winter evenings.
07. Chicken Noodle Soup
This Instant Pot Chicken Noodle Soup recipe is packed with flavor, super easy and so satisfying.
With tips on how to make it with chicken thighs, chicken breasts, a whole chicken, or leftover rotisserie chicken.
06. Cabbage Roll Soup
The Cabbage Roll Soup recipe is a delicious dinner recipe that will warm your belly on a cold and crisp fall day. This is the ultimate comfort food!
05. Cozy Autumn Wild Rice Soup
This Cozy Autumn Wild Rice Soup features fresh seasonal produce, hearty wild rice, and a zesty creamy broth.
The vegan version of the soup is listed here in this recipe, or see options below for the cream sauce version.
04. Spicy Sausage Potato Soup
This Spicy Sausage Potato Soup is super flavorful, made in one pot, and made with real food ingredients.
It's filled with potatoes, sausage, kale, and whole30-friendly, too!
03. Creamy Chicken and Corn Chowder
A delicious and easy Creamy Chicken and Corn Chowder topped with crispy bacon, green onions, and jalapenos.
This soup is great family-friendly comfort food that's so easy to prepare. You can't go wrong with this one!
02. Copycat Olive Garden Chicken Gnocchi Soup
Copycat Olive Garden Chicken Gnocchi Soup is an even better replica of the restaurant version with a rich, creamy base and soft pillowy gnocchi potato dumplings.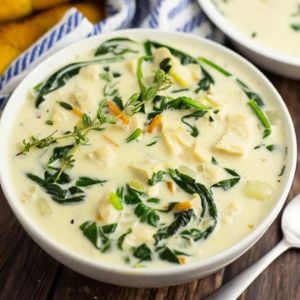 01. Homemade Creamy Tomato Soup
This Creamy Tomato Soup recipe is so quick and easy to make. Learn how to make the best homemade cream of tomato soup on the stovetop with this simple recipe!