Looking for some easy Fall Cupcake recipes? Look no further! Here are some of our delicious fall cupcakes idea that is perfect for the Fall season. From pumpkin spice cupcakes to apple cider cupcakes, we've got something for everyone.
One of my favorite things about fall is all the different flavors of cupcakes that you can make.
From pumpkin spice to caramel apple, there are so many delicious options to choose from.
And, of course, let's not forget about the classic chocolate and vanilla cupcakes that are always a hit.
No matter what your flavor preference is, I'm sure you'll find a fall cupcake recipe that you'll love on this list.
So, without further ado, here are 19 easy fall cupcake recipes that will be sure to please everyone!
Delicious Fall Cupcakes Recipes You'll Love
19. Vanilla Pumpkin Cupcakes
These Vanilla Pumpkin Cupcakes are ridiculously easy to throw together.
Packed with favorite fall flavors and topped with sweet cinnamon buttercream, it's hands down a favorite dessert for the season.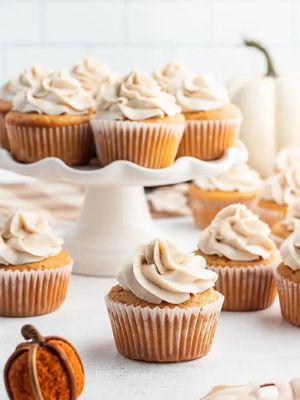 18. Apple Pie Cupcakes
All of your favorite apple pie flavors in a cupcake! Cupcakes topped with streusel, apple pie filling, and frosting.
17. Apple Cider Cupcakes
Apple Cider Cupcakes with an Apple Cider Buttercream Frosting and salted caramel drizzle.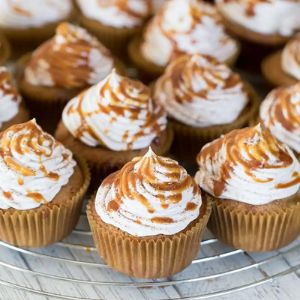 16. Candy Corn Cupcakes
Candy corn cupcakes are the perfect Fall cupcake. Easy to make, festive, and delicious!
Fall Snacks
Fall Desserts
Fall Appetizers
Pumpkin Recipes
15. Pumpkin Cupcakes
These pumpkin cupcakes with caramel cream cheese frosting make for the most delicious fall treat. The cupcakes have a warm pumpkin flavor.
Then the caramel cream cheese frosting is creamy, a little tangy, and filled with salted caramel sauce.
14. Pumpkin Spice Cupcakes
Pumpkin Spice Cupcakes are the quintessential fall dessert everyone needs! My recipe makes this a simple but delicious treat you will love.
13. Apple Crisp Cupcakes
Cupcakes filled with Apple Pie Filling topped with Cinnamon Cream Cheese Frosting and crumble topping.
12. Chocolate Fall Leaves on Cupcakes
You won't believe how easy this fall leaves cupcakes were to decorate. Yellow and Orange frosting with chocolate leaves are so stunning for your Autumn Party.
11. Maple Pumpkin Cupcakes
Super soft and moist Maple Pumpkin Cupcakes with warm spices and hints of maple are topped with a sweet cinnamon cream cheese frosting!
All the best parts of Fall served up in cupcake form!
Fall Soup Recipes
Fall Salad Recipes
Fall Dinner Recipes
Fall Crockpot Recipes
10. Pumpkin Chocolate Chip Cupcakes
These easy Pumpkin Chocolate Chip Cupcakes are made with a pumpkin spice cupcake that's full of chocolate chips and topped with a homemade cream cheese frosting!
It's the perfect dessert recipe to cure your pumpkin craving this fall!
09. Cannoli Cupcakes
Cannoli cupcakes are made with light cinnamon cake and creamy mascarpone frosting to create a treat that you won't be able to resist!
08. Pumpkin Cupcakes with Maple Pecan Frosting
These Pumpkin Cupcakes are made extra moist and flavorful thanks to the addition of browned butter!
07. Maple Cupcakes
These maple cupcakes are made with a maple vanilla cupcake topped with maple cream cheese frosting and crunchy pecans!
06. Chocolate Bourbon Pecan Pie Cupcakes
Chocolate Bourbon Pecan Pie Cupcakes with Butter Pecan Frosting.…pecan pie, but in cupcake form and so good.
05. Adorable Autumn Cupcakes
These adorable autumn cupcakes with jelly bean crows are the perfect way to celebrate fall!
04. Pumpkin Patch Cupcakes
Creating a garden of pumpkin cupcakes is easy and fun with a few simple piping techniques and your favorite chocolate cupcake recipe!
03. Chocolate Leaves Cupcake
Chocolate Leaves are fun & a delicious way to top your festive fall cakes & cupcakes this season.
02. Pumpkin Spice Latte Cupcakes
These Pumpkin Spice Latte Cupcakes are made to taste just like Starbucks Pumpkin Spice Latte.
Made with pumpkin, coffee, and milk, these buttercream frosted cupcakes pack plenty of real flavor for every pumpkin lover!
01. Caramel Apple Cupcakes
Caramel Apple Cupcakes made with a spiced apple cupcake topped with caramel buttercream.
They melt in your mouth and are such a delicious apple dessert idea!