Looking for some delicious Fall desserts? These Fall dessert recipes are sure to please everyone. From pumpkin cake to apple crisp, there's something for everyone to enjoy.
Pumpkin pie is a classic fall favorite. Why not try something a little different and make a pumpkin spice cake? You can also make pumpkin cookies or cupcakes.
Cinnamon apple pie is another great choice for a fall dessert. You can also make apple crisp or applesauce.
If you're in the mood for something chocolatey, how about Chocolate Mousse Cake?
Whatever fall dessert you choose, you're sure to enjoy it!
19. Pumpkin Trifle Dessert With Oreos
A delicious, creamy mixture of pumpkin mousse, Oreos, and whipped cream.
18. Caramel Apple Trifles
These Caramel Apple Trifles are the perfect apple dessert – no bake, super easy, and full of caramel, cinnamon, and apples! An easy recipe for Fall!
17. Mini Bundt Cake Pumpkins
Small cakes for busy moms.
16. Pumpkin Pie Crisp
This Pumpkin Crisp is an easy fall dessert made with a creamy pumpkin pie filling and a crunchy golden cinnamon streusel and then served warm with ice cream!
Fall Snacks
Fall Cupcakes
Fall Appetizers
Pumpkin Recipes
15. Pumpkin Cheesecake Bars
Pumpkin Cheesecake Bars are the perfect fall dessert! With layers of streusel, cheesecake filling, and a swirl of pumpkin, they're gorgeous and so delicious!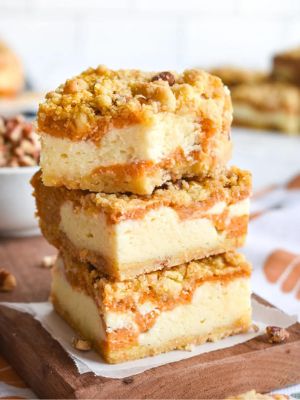 14. Apple Cider Doughnut Cake
Our Apple Cider Doughnut Cake is flavorful and moist with an apple cider glaze and cinnamon sugar to top it off.
13. Pumpkin Pie Twists
These easy pumpkin pie twists are so delicious and seriously simple to make!
12. Cinnamon Apple Crisp
This easy apple crisp is the perfect classic dessert to whip up with all those freshly picked apples.
With tender cinnamon apples and a buttery crumble topping, you'll love this perfect Fall dessert.
11. Pumpkin Spice Cupcakes
Pumpkin Spice Cupcakes are the quintessential fall dessert everyone needs!
Fall Soup Recipes
Fall Salad Recipes
Fall Dinner Recipes
Fall Crockpot Recipes
10. S'mores Cookie Bars
Graham cracker and brown sugar cookie dough sandwich a thick layer of marshmallow creme and plenty of chocolate chips in these undeniably delicious s'mores cookie bars.
09. Caramel Apple Cheesecake Trifle
This Caramel Apple Cheesecake Trifle has layers of pound cake, fried apples, cheesecake filling, caramel, and pecans. This is a gorgeous layered dessert for fall parties.
08. Cinnamon Apple Cobbler
An easy and delicious homemade dessert with cinnamon and fresh apples. A scrumptious comfort food sweet treat for fall.
07. No-Bake Pumpkin Lush
Pumpkin lush is a layered pumpkin spice dessert. This no-bake pumpkin dessert lasagna is layers of sweetness!
Graham cracker, cheesecake, pumpkin spice, topped with whipped cream, nuts, and caramel.
06. Pumpkin Chocolate Mousse Cake
This Pumpkin Chocolate Mousse Cake is a stunning 4-layer dessert with chocolate cake, cinnamon mousse, pumpkin-butterscotch mousse, and salted caramel mousse!
05. Caramel Apple Cake
Apple and cinnamon spiced cake is layered with salted caramel frosting, spiced apple filling, and a caramel drizzle.
04. Maple Bacon Cake
This Maple Bacon Cake recipe is the perfect fall dessert. Moist spice cake with a homemade maple buttercream frosting and topped with candied bacon!
03. Pumpkin Bars with Cream Cheese Frosting
Pumpkin Bars with cream cheese frosting are an easy and delicious fall dessert recipe with a light and airy pumpkin spice sheet cake topped with decadent homemade frosting!
02. Acorn Treats Brownies
Acorn treats made with Nilla wafers and brownie bites are too cute to pass up, and just as much fun to eat for Fall and Thanksgiving class parties.
01. Chocolate and Caramel Apple Slices on a Stick
A fall dessert that shouldn't be missed! See just how easy this Chocolate & Caramel Apple Slices Recipe is. Put them on a stick for even more fun!