As the weather gets colder, salads might not be the first thing that comes to mind. But there are plenty of delicious fall salads out there that are perfect for the season. Here are a few of our favorite fall salad recipes.
Fall Snacks
Fall Desserts
Fall Cupcakes
Fall Appetizers
21. Fall Harvest Salad with Butternut Squash and Apple
Fall harvest salad with roasted butternut squash and apple is the only salad recipe you need this fall or winter. It's healthy, wholesome, and nourishing.
20. Autumn Apple and Pear Salad
Sweet pears and apples paired with salty feta and bacon are the perfect combinations in this autumn apple and pear salad!
19. Feel-Good Fall Salad
This Feel-Good Fall Salad recipe is made with the most delicious collection of vibrant, seasonal, simple ingredients.
It's great as a main dish or side salad and is so cozy and delicious.
18. Autumn Salad with Apple Cider Vinaigrette
Crisp greens are topped with tart apples, sweet dried cranberries, feta cheese, toasted pecans, and crispy bacon.
Finish off with our delicious Apple Cider dressing.
17. Roasted Beets and Butternut Squash Salad
Spicy arugula, roasted beets and butternut squash mixed with crunchy walnuts, and creamy goat cheese.
All drizzled with an incredible Orange Vinaigrette dressing! Simple lunch recipe, dinner salad or quick pick me up for those cold winter days.
16. Vegan Roasted Veggie Orzo Salad
Vegan Roasted Veggie Orzo Salad is a healthy, budget-friendly dish, packed with plant-based protein and heart-healthy fats.
Crispy roasted chickpeas and toasted walnuts add a delicious crunch to this warm and comforting salad.
Pumpkin Recipes
Fall Soup Recipes
15. Honeycrisp Apple and Feta Salad
This colorful Autumn Harvest Honeycrisp Apple and Feta Salad combine all the best products that fall have to offer into the season's best salad.
14. Roasted Delicata Squash Salad
This roasted delicata squash salad is full of warm, fall flavors and is made with fresh arugula, pomegranate, pistachios, and feta cheese.
13. Apple Walnut Quinoa Salad
Apple Walnut Quinoa Salad with spinach, dried cranberries, goat cheese, and a simple maple mustard dressing is the perfect salad for fall. It goes great with any meal.
12. Roasted Chickpea Fall Salad
This delicious Roasted Chickpea Fall Salad is crisp and hearty! Made with chopped kale, crunchy pepitas, walnuts, pomegranate arils, dried cranberries, and chickpeas roasted with oil, turmeric, cumin, and cinnamon, this salad is one of the BEST for fall.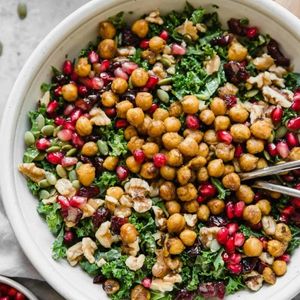 11. Peach, Tomato & Corn Arugula Pasta Salad
Delicious peach, tomato & corn arugula pasta salad made with juicy ripe peaches, cherry tomatoes, feta, and sweet corn.
Fall Dinner Recipes
Fall Crockpot Recipes
10. Autumn Pearl Couscous Salad
This is the perfect Fall salad to go with your meals! Think cranberries, squash, and pecans with pearl couscous. It is absolutely delicious.
09. Chickpea Shawarma Salad
This vegan chickpea shawarma salad is jam-packed with flavor and nutrition. Enjoy this as a hearty plant-based meal the whole family will love.
This recipe is gluten-free, sugar-free, and easily customizable.
08. Autumn Kale Salad
This Autumn Kale Salad features fall flavors from kale, apples, and roasted squash paired with an easy maple balsamic dressing.
Serve it as a side dish or meal prep it for lunches!
07. Apple & Brussels Sprouts Slaw
The ultimate fall salad! This Apple & Brussels Sprouts Slaw is a breeze to make and is packed with nutty, sweet, and savory flavors.
06. Fall Salad with Pumpkin Maple Vinaigrette
This vibrant fall salad is the perfect way to embrace autumn. It's with loaded healthy, seasonal ingredients and a fabulous pumpkin dressing.
05. Cobb Salad
Easy Chicken Cobb Salad with the Best Homemade Cobb Salad Dressing!
This protein-packed salad is a meal in itself loaded with crisp lettuce, juicy tomatoes, chicken, bacon, boiled eggs, creamy avocado, and crumbled blue cheese.
04. Brussels Sprout Salad
This Brussels sprout salad is made with shredded Brussels sprouts, apples, pomegranate, bacon, pecan, and feta cheese, all tossed in a sweet and savory dressing.
The ultimate fall and winter salad that's full of flavor and texture.
03. Fall Quinoa Spinach Salad
Loaded with fall favorites like butternut squash, chopped apples, and dried cranberries, this fall harvest spinach salad is packed with nutrition and flavor.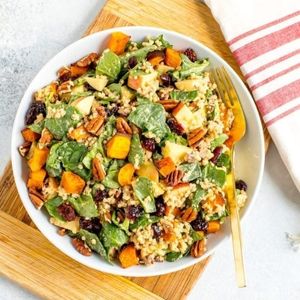 02. Apple Walnut Cranberry Salad
This Apple Walnut Cranberry Salad includes a Mixed Green Spinach Salad with Green Apples, Dried Cranberries, Walnuts, and Gorgonzola Cheese. This salad explodes with flavor.
01. Autumn Napa Cabbage Salad
Get lost in the luscious colors of this autumn-inspired salad made with crunchy napa cabbage, sweet roasted carrots and sweet potatoes, and toasted pecans.