Appetizers are a must-have at any Christmas party. And if you're looking for Christmas appetizers for party. Look no further, here we've shared some of the best Christmas appetizer recipes. From make-ahead Christmas appetizers to finger food appetizers including cheese boards, cucumber bites, cheeseball recipes, and Christmas dip. These Christmas recipes are perfect for Christmas party food ideas.
There are tons of different recipes out there for Christmas appetizers, so it can be tough to choose the right ones.
But don't worry – we've got you covered. In this article, we'll share some of our favorite Christmas appetizers that are sure to please your guests.
From savory to sweet, we've got something for everyone. So, get ready to celebrate – your Christmas appetizers are about to be delicious!
So, what are you waiting for? Get cooking and wow your guests with these delicious Christmas appetizers!
19. Christmas Tree Cheese Board
This Christmas tree cheese board is easy to put together and looks great on your holiday table.
18. Cheesy Christmas Tree Bread
The Absolute best Cheesy Christmas Tree Bread! Easy recipe from refrigerator pizza dough.
Loaded with cheese, garlic butter and fresh herbs. It's the ultimate side dish or appetizer.
17. Make-Ahead Christmas Appetizers
Quick & easy make ahead party appetizers for the holidays that everyone will love
16. Christmas Wreath Charcuterie Board
This easy and festive charcuterie board is perfect for the holidays!
15. Merry Little Christmas Deviled Eggs
These merry little Christmas deviled eggs are so cute, so festive and incredibly tasty!
All you need are a few pink peppercorns and a few parsley leaves to make these jolly appetizers.
14. Antipasto Salad Christmas Wreath
Need a show stopping appetizer for this holiday season? Look no further, this Antipasto Salad Christmas Wreath is as festive as it is delicious!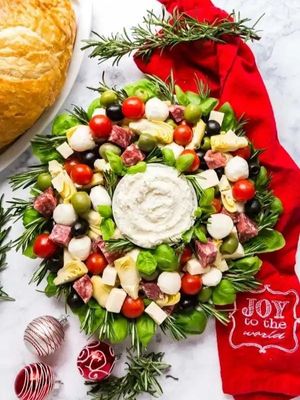 13. Christmas Tree Mini Pizza
This is the perfect Holiday Small Bite Party Appetizer. Ready in 30 minutes these mini pizzas are definitely crowd-pleasers!
12. Cucumber Bites
If you do any entertaining over the holidays, you'll want to make this fun Christmas tree shaped appetizer.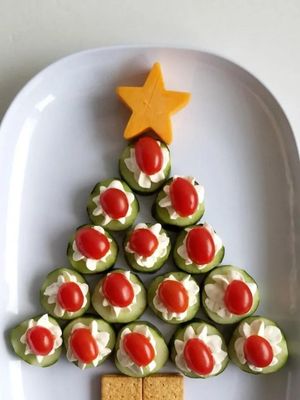 11. Rudolph Cheese Ball Recipe
This Rudolph Cheese Ball Recipe is as adorable as it is tasty! Cheese balls are so easy to make and fun to personalize. The perfect appetizer for making ahead!
10. Cheesy Sausage Stuffing Balls
This Rudolph Cheese Ball Recipe is as adorable as it is tasty! Cheese balls are so easy to make and fun to personalize. The perfect appetizer for making ahead!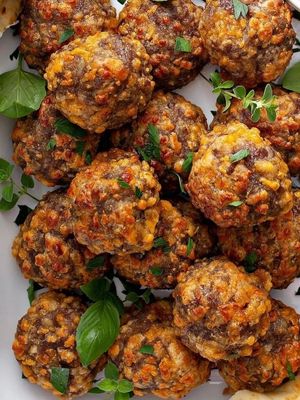 09. Bruschetta
An easy garden-fresh bruschetta recipe combining sun ripened tomatoes, sweet basil, and garlic all served on toasted baguette slices with a drizzle of balsamic glaze.
08. Bacon Jalapeño Popper Cheese Balls
These super festive bacon jalapeño popper cheese balls make for a real crowd-pleasing appetizer!
07. Taco Bites Appetizers
These Taco Bites Appetizers are fun, festive and adorable party food that will be gobbled up instantly at any party, get together or just for an after-school boost. They've got some big fans in the little ones!
06. Christmas Dip
Christmas Dip is a fun and festive way to enjoy the holiday season!
05. Bacon Cheddar Ranch Pinwheels
Bacon Cheddar Ranch Pinwheels are the ultimate party appetizers that you can put together in less than 20 minutes.
Loaded with bacon, cream cheese, cheddar cheese, and ranch, these crack chicken pinwheels are packed with flavors.
04. Cranberry Brie Bites
These cranberry brie bites taste so good, and they only have 3 ingredients!
This is such an easy appetizer recipe for Christmas, Thanksgiving, or any time!
03. Bagel Mini Pigs in a Blanket Recipe
A classic appetizer for parties, this everything bagel mini pigs in a blanket recipe brings an extra punch of flavor and crunch by adding a favorite seasoning.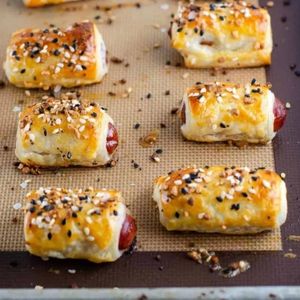 02. Spinach Dip Bites
Spinach Dip Bites are crunchy, bite-size treats are cheesy and buttery, making them a great appetizer. They are a hit every time!
01. Toasted Ravioli
A super easy appetizer made with cheese ravioli fried until golden brown and topped with Parmesan cheese and fresh parsley. Serve with marinara sauce for dipping!