Here are some of the quick and easy family meal ideas that are delicious and easy to make recipes that will be sure to please your family. From simple weeknight meals to main dishes that are perfect for a special occasion, you are sure to find a recipe that suits your needs. So gather your family around the table and enjoy a meal together.
One of my favorite things to do is cook a big meal for my family. I love getting everyone together in the kitchen and cooking up something delicious.
Family meals are an important part of a healthy, engaged family. They help children understand the importance of food and eating together as a family unit.
It is also an opportunity to spend quality time with your children while sharing information about what they have been doing at school or in their extra-curricular activities.
But sometimes it can be tough to come up with new ideas.
One of the best ways to show your loved ones that you care about them is to cook for them.
Not only is it a way to show your culinary skills, but it's also a way to connect with your family and spend time together.
There are a lot of different ways to prepare family meals.
You can go with a theme, such as Italian night or Mexican night. Or you can just cook your favorite dishes.
No matter what you choose, be sure to make enough food so that everyone can have seconds.
Easy Dinner Ideas
Dinner Recipes For Family
Sunday Dinner Ideas For Families
Simple Dinner Ideas For Your Family
Products are recommend
" Affiliate links are provided for your convenience, please read my disclosure for more information."
21. Chicken Fried Chicken
Easy and delicious this Chicken Fried Chicken is a quick and flavorful dinnertime recipe that brings the whole family to the table, with minimal ingredients it's a simple and comforting meal.
20. Mexican Chicken With Cheese Sauce
Mexican spiced chicken topped with a creamy cheese sauce makes this, dinner delicious any night of the week.
19. Easy Sheet Pan Shrimp Fajita Recipe
This shrimp fajita recipe is seriously so easy and delicious! All you have to do is scoop the juicy shrimp, tender bell pepper, and onions into a soft warm tortilla for a super fast and easy weeknight dinner!
18. Teriyaki Chicken Skewers
The most delicious marinated teriyaki chicken is grilled to perfection and finished with a delicious teriyaki sauce.
17. Creamy Garlic Shrimp Pasta
Creamy garlic butter shrimp pasta is an elegant pasta dish with big flavors! It's so quick and easy, and perfect for a weeknight dinner as it's ready in just 15 minutes.
16. Creamy Oven Baked Chicken Taquitos
Creamy chicken taquitos are easy to make and incredibly moist and flavorful! Plus they're oven baked – no frying necessary!
15. Skillet Chicken and Mushroom Wine Sauce
This Chicken and Mushroom dish is easy enough for a weeknight but good enough for an elegant dinner party with your best company!
14. Ham And Cheddar Crescent Roll-Ups
Ham and Cheddar Crescents Roll-ups are an easy family favorite weeknight dinner that is ready in just 20 minutes.
13. Spinach and Ricotta Stuffed Shells
Spinach and Ricotta Stuffed Shells. Jumbo pasta shells stuffed with mozzarella, ricotta, and parmesan cheese. Topped with marinara and baked until tender and gooey.
12. Cowboy Stew
Cowboy Stew recipe combines three types of tender meat with beans & veggies in a one-pot wonder delicious enough for everyone!
11. Stuffed Pepperoni Pizza Sticks
Stuffed Pepperoni Pizza Sticks are loaded with pepperoni, and cheese and wrapped in tender dough. All the flavor of pizza without all the work.
10. Epic Baja Fish Tacos with Avocado Crema
These Baja Fish Tacos are loaded with cilantro lime slaw, zesty Avocado Crema, and fresh Pico de Gallo!
These fish tacos are pan-seared with blackening spice, no frying or batter is required! The perfect healthy dinner recipe everyone in your family will love!
09. Easy Cajun Chicken Pasta
This Cajun Chicken Pasta is a dinner winner with its creamy cajun sauce and bites of tender pasta and chicken.
It's one of the easiest dinners, ready in less than 30 minutes.
08. Southwest Chicken Wrap
This Crispy Southwest Chicken Wrap is an easy family dinner or easy lunch recipe that will be ready to serve in just 25 minutes!
07. Baked Caesar Chicken Recipe
Caesar Chicken is the ideal melt-in-your-mouth recipe! It is creamy, easy, and full of flavor.
This simple chicken recipe just includes 4 Ingredients and requires less than half an hour.
06. Creamy Baked Mac and Cheese
This baked mac and cheese is a family favorite recipe, loved by children and adults.
05. Baked Bacon Wrapped Chicken Tenders Recipe
This easy-baked bacon-wrapped chicken tenders recipe needs just 3 common ingredients – chicken, bacon, and cheese! Ready in under 30 minutes.
04. Healthy Ground Turkey Teriyaki Rice Bowl
The delicious, sweet teriyaki sauce and the hidden veggies in this Teriyaki Turkey Rice Bowl make this a healthy ground turkey recipe that your whole family will love!
03. Chicken Noodle Casserole
This Chicken Noodle Casserole is easy to make with canned soup or with my homemade cream of mushroom!
It's got a delicious cheese sauce with sour cream, broccoli, and juicy chicken.
02. BBQ Chicken Bowls with Sweet Potatoes and Coleslaw
A healthy and filling bowl of BBQ chicken, sweet potatoes, coleslaw, and homemade dill pickles.
Surprisingly simple and quick to make but packed full of flavor. Whole30 and paleo.
01. Pineapple Chicken and Rice
Pineapple Chicken and Rice Dinner Recipe. Tender chicken cooked in a sweet pineapple honey Dijon sauce and served over rice.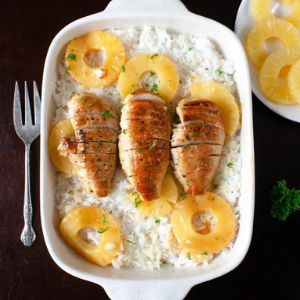 ---
Healthy Dinner Recipes
Sheet Pan Dinners Recipe
Easy Crockpot Dinner Ideas
Easy Chicken Recipes For Dinner
---