Valentines Day cookies are a popular way to show your loved ones how much you care. Whether you are looking for some decorated Valentines Day cookies or some simple Valentines Day sugar cookies, we have got you covered with our collection of Valentines Day Cookie recipes.
So, what are you waiting for? Get your baking tools ready and show your loved ones how much you care with some delicious Valentines Day cookies!
Prepare these at home and pleasantly surprise your sweetheart on the 'Lover's Day.
From heart-shaped cookies to yummy chocolate cookies, Valentine's day cookies are just what you want to make your sweetheart fall in love with you all over again.
Valentines day cake Ideas
Valentines Day Dessert Ideas
Valentines Day Treats For Kids
Valentines Day Cupcakes Ideas
Chocolate Covered Valentines Treats
Delicious Valentines Day Cookies For Your Loved Ones
25. Red Velvet Sugar Cookies
When it comes to sugar cookie recipes, this one will make you see red, in a good way! Red velvet sugar cookies are perfect any time of year and take only 20 minutes to make.
24. Sugar Cookies
Valentine's Day Sugar Cookies are classic, cut-out sugar cookies shaped like hearts and decorated with royal icing in ten fantastic designs.
23. Heart Cookies
Easy heart cookies recipe, homemade with simple ingredients. Starts off with red velvet cake mix. These cut-out sugar cookies hold their shape with no spreading.
22. Nutella Linzer Heart Cookies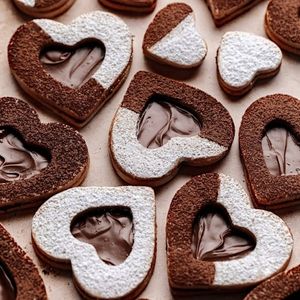 These Heart shaped Linzer cookies filled with Nutella are the perfect Valentine's Day treat. Dust with powdered sugar and share with someone you love!
21. Buttercream Valentines Day Cookies
This buttercream alternative is EXTRA pretty and so fun to do!
20. Jam Cookies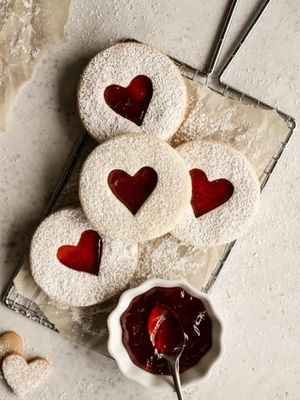 These strawberry jam cookies use a tasty shortbread dough, where the delicious strawberry jam is sandwiched between two cookies.
They store really well – so you can make them in advance and serve them when the time is right! Also, how cute is the heart cutout?
19. Strawberry Truffle Kiss Cookies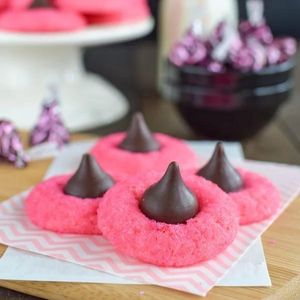 These pretty Strawberry Truffle Kiss Cookies are pink, sparkly, and taste amazing. These easy cake mix cookies are the perfect treat to fill your cookie jar with this month.
18. Strawberry Chocolate Chip Cookies
Easy, quick, and foolproof strawberry cookies loaded with chocolate chips.
17. valentine's day cookie cake
This easy recipe for a Valentine's Day Cookie Cake, stuffed with white chocolate chips and an abundance of sprinkles, is sure to be a crowdpleaser!
16. Heart Cookies
These heart cookies are the ultimate treat for Valentine's Day! Heart shaped sugar cookies are dipped in dark chocolate and coated in festive sprinkles for a fun snack that's perfect for classroom parties or that special someone in your life.
15. Red Velvet Sandwich Cookies
Fluffy marshmallow frosting between soft and chewy red velvet cookies to make Red Velvet Sandwich Cookies – perfect for Valentines Day!
14. Cookie Dough Hearts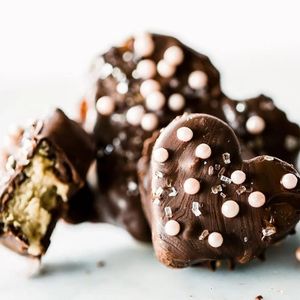 These adorable no-bake chocolate covered Cookie Dough Hearts are the perfect homemade chocolate treat for Valentine's Day, no chocolate tempering or candy melts required!
13. Red Velvet Sugar Cookies
Sugar cookies are always a popular choice, and are great for any occasion. These red velvet sugar cookies are fun and colourful.
12. Mini Valentines Cookie Cups
No fancy or messy cookie decorating needed to make these quick & easy Mini Valentines Cookie Cups!
Using Reeses peanut butter cups & adorable heart sprinkles, these cookies are perfect for office Valentines treats, school parties, or just as a fun baking activity to make with the kids!
11. Pink Ombre Cookies
Valentine's Day just got a whole lot more… pink-ish. These aren't your standard sugar cookies either – they are packed with white chocolate chips and made from a classic chocolate chip cookie recipe, making them super soft and chewy.
10. Strawberry-frosted chocolate sugar cookies
Chocolate sugar cookies topped with the most lovely strawberry frosting make a lovely treat for Valentine's Day or any sweet occasion!
09. Heart-Shaped Red Velvet Crinkle Cookies
Valentine's Day just got a little sweeter with this easy recipe for Heart-Shaped Red Velvet Crinkle Cookies using box cake mix.
08. Strawberry Champagne Cookies
Strawberry champagne cookies are such a pretty Valentine's Day cookie recipe. Coated in pink sugar with a champagne flavor, these cookies are so good.
07. Pink Kiss Cookies
Make some cute little pink kisses for Valentine's Day or a girly party! The kids will love them!
06. Mini Sweetheart Cookies
These little Valentine's Day sugar cookies are a sweet treat you'll love to eat! Decorated with the red, white,, and pink cookie icing and topped with sprinkles and nonpareils, these mini heart-shaped cookies are a fun Valentine's Day treat for kids and adults.
05. Sugar Cookies
With crisp edges, thick centers, and room for lots of decorating icing, I know you'll love these soft-cut out sugar cookies.
04. Heart Meringue Cookies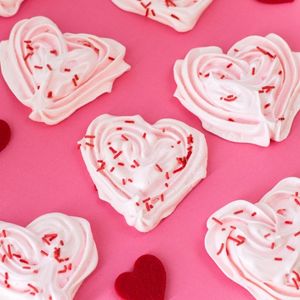 Make these gorgeous meringue heart cookies for Valentine's Day treat or to give as little gifts!
03. Brown Butter Heart Cookies
These Brown Butter Heart Cookies are a gourmet twist on sugar cookies!
They have a deep, rich, caramelized taste, and are decorated with beautifully painted fondant designs that are also super easy to make!
02. Stained Glass Cookies
Valentine's Day Stained Glass Cookies are beautiful sugar cookies made with colored candies. Cut them into heart shapes for a cute Valentine's Day cookie idea!
01. Chocolate Chip Cookies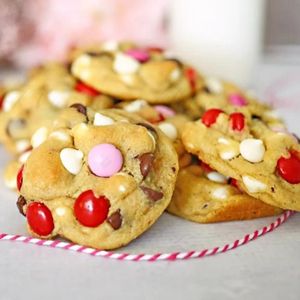 Valentine Chocolate Chip Cookies are soft, chewy, deliciously buttery cookie recipes loaded with M&M's. Great for giving to your sweetie this Valentine's Day