Do you want to make some fun and festive DIY snowman crafts for this winter? If so, you've come to the right place! Here are some different snowman crafts for adults they are perfect for Christmas crafts and winter crafts. From snowman wreaths to Christmas ornaments, there's something for everyone on this list. So, get your crafting supplies ready and let's get started!
With Christmas just around the corner, it's time to start thinking about what kinds of festive crafts you want to make this year.
Why not build a snowman? Snowman crafts are a great way to get the family together and create something fun and festive.
Plus, one of the best things about these crafts is that they can be done with items you probably already have around the house.
Building a snowman is easy – all you need is some empty toilet paper rolls, some old socks, and some buttons, and get ready to have some fun!
But why stop there? With a little creativity, you can turn your snowman into a work of art. Check out these DIY snowman crafts for some inspiration.
So, grab your supplies and get ready to get crafty! These DIY snowman crafts are sure to put a smile on your face this holiday season.
Christmas Crafts
Christmas crafts for kids
Snowman Crafts for Kids
DIY Christmas Ornaments
Dollar Store Christmas Crafts
19. Wooden Snowman
18. Cute Snowman Craft
17. Snowman Wreath Craft
16. DIY Yarn Snowman Door Hanger
15. Dollar Tree Splatter Screen Snowman
14. No-Sew Sock Snowman Craft
13. DIY Snowman Wreath
12. Clay Pot Snowman Gnome
11. Embroidery Hoop Snowman
10. Snowman Baseball Ornament
09. Sock Snowmen
08. Wood Slice Snowman
07. DIY Snowman with Glitter and Lights
06. Jolly Snowman from Plates
05. Sock Snowman
04. DIY Wooden Snowman
03. Yarn Snowman Craft
02. Dollar Tree Fishbowl Snowman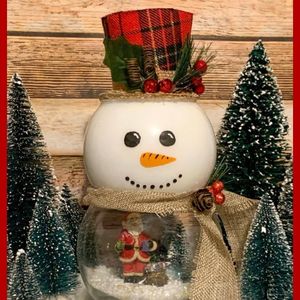 01. Embroidery Hoop Snowman Craft with Lace Doilies