Easter is a great opportunity for you to try a new appetizer recipe. And, if you're hosting Easter dinner this year, consider making these awesome Easter appetizer ideas that your guests will love.
Easter is a great time to get together with family and friends, eat some delicious food, and enjoy each other's company.
While Easter dinner is the main event, appetizers are a great way to start the meal and get everyone excited for the feast ahead.
These scrumptious Easter appetizers will put everyone in the spirit of spring with their colorful presentation and flavors.
You can go with traditional recipes like deviled eggs, egg rolls, or baked brie. They're all delicious options that are sure to be welcomed at any Easter party.
One of the most popular options for Easter appetizers is deviled eggs. These bite-sized treats are easy to make and can be customized with a variety of different toppings and fillings.
Some popular options include bacon, chives, and paprika, but you can also get creative with ingredients like avocado, smoked salmon, or even truffle oil.
Another classic Easter appetizer is a vegetable platter. This can be a great option for guests who are looking for lighter fare or for those who have dietary restrictions.
You can include a variety of colorful veggies like carrots, cucumbers, peppers, and cherry tomatoes, and serve them with a flavorful dip like hummus or ranch.
For something a little more indulgent, consider making a cheese platter. Cheese pairs well with a variety of different fruits and nuts and can be a great way to incorporate some Easter colors into your appetizers.
Some popular cheese options include brie, cheddar, and gouda, but feel free to get creative and experiment with different flavors.
Another popular option is the cheese ball. This can be made with different types of cheese, and it's easy to customize.
If you're looking for a more substantial appetizer, consider making a quiche or frittata.
These egg-based dishes can be filled with a variety of different ingredients, like spinach, mushrooms, and cheese, and can be served hot or cold depending on your preference.
Finally, don't forget about sweet appetizers! Mini cupcakes, fruit tarts, and chocolate-covered strawberries can all be great options for those with a sweet tooth.
Toppings and Ideas
A delicious appetizer can really set the tone for a great meal.
There are endless possibilities when it comes to toppings and ingredients for appetizers. Here are some of our favorites:
-Sautéed mushrooms
-Roasted red peppers
-Chopped green onions
-Crumbled blue cheese
-Shredded Parmesan cheese
-Thinly sliced Prosciutto
-Grilled or roasted shrimp
-Crabmeat
-Lemon wedges
No matter what your Easter plans entail, there are plenty of appetizer ideas to choose from.
So why not get creative and start planning your menu today? Your guests are sure to be impressed!
---
Easter Treats For Kids
Healthy Easter Recipe Ideas
Easter Desserts Ideas Recipes
Delicious Side Dishes For Easter
---
01. Easter Bunny Spinach Dip
This Easter, add some fun to your appetizer table with a festive Easter Bunny Spinach Dip.
Creamy and delicious, shaped into a cute bunny, it's a perfect addition to your celebrations.
02. Brie and Blackberry Tarts
These 4-ingredient Blackberry Brie Bites are the easiest, tastiest low-carb appetizer!
Perfect for any party or occasion and under 3 net carbs each, these brie bites will become a quick favorite!
03. Easter Egg Cheese Ball
This Easter Egg Cheese Ball is an adorable Easter appetizer that is easy to make and super delicious.
Start with a classic cheeseball and decorate for a unique Easter themed appetizer to serve at your Easter dinner party!
04. Caprese Appetizers
Caprese Salad Appetizers are a fun way to serve up everyone's favorite (tomatoes and mozzarella) in individual bite sized deliciousness.
So easy to make and done in minutes, you can dip your Caprese salad bites in mini containers of balsamic and create the most adorable food tray.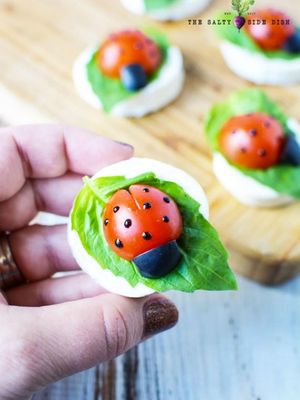 05. Prosciutto Asparagus Puff Pastry Bundles
These Prosciutto Asparagus Puff Pastry Bundles are an easy and elegant appetizer or brunch idea! Perfect for Easter, Mother's Day or any other spring brunch!
06. Shrimp Cocktail Appetizers
A shrimp cocktail appetizer that is easy and quick to put together. This makes a delightful appetizer that will 'wow' your guests.
07. Twice Baked Potato Bites
A super easy and tasty recipe for your next party or just for snackity snacks!
08. Cranberry Brie Bites
These cranberry brie bites are an easy, fun, and gorgeous cocktail party appetizer, and your guests will love them!
Brie and cranberries are natural companions, and these cute little bites are a seriously tasty combination of sweet, tart, and salty.
If you prepare the jam and crostini in advance (which takes less than 30 minutes), these two-bite appetizer toasts take just 10 minutes to assemble.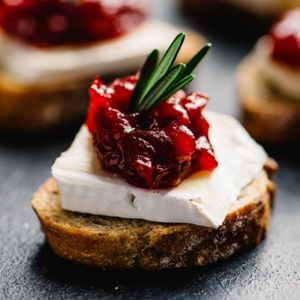 09. Caprese Stuffed Mushrooms Recipe
This Caprese Stuffed Mushrooms recipe is cheesy, garlicky, savory, and delicious!
Portobello mushrooms stuffed with melty mozzarella cheese, sweet cherry tomatoes, and fresh basil!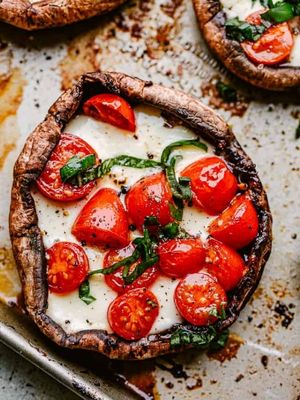 10. Spinach and Artichoke Dip Zucchini Bites
These three-ingredient spinach and artichoke dip zucchini bites are the perfect way to enjoy spinach and artichoke dip without the carbs!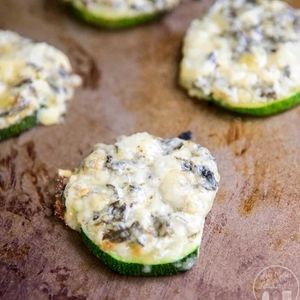 11. Dill Dip
This delicious easy six ingredient mouthwatering dill dip is made in less than five minutes and is always a huge hit at potlucks, family gatherings, and shindigs.
12. Spanakopita Pie
This recipe for spanakopita (Greek spinach pie) is a lot easier than you think and it's made with 7 ingredients only! Plus, it can be made vegan.
13. Ham and Cheese Pinwheel
These hot ham and cheese pinwheels are rolls loaded with plenty of meat and swiss, then topped with a butter poppy seed sauce and baked to golden brown perfection.
14. Radish Toasts with Chive Butter
These Radish Toasts with Chive Butter is an Easy and Elegant Spring Recipe!
Radishes and butter are a classic French combination, and the addition of fresh chives makes it taste even better.
15. Roasted Strawberry, Basil, and Goat Cheese Crostini
Gorgeous roasted strawberry goat cheese crostini with fresh basil. An incredible summer appetizer that's perfect for entertaining!
16. Fava Bean Crostini with Pecorino
This Fava Bean Crostini with Pecorino + Mint is an easy and elegant spring appetizer or snack!
Fresh Fava beans are usually only in season for a short time during late spring, and they can be a bit fussy to work with, but the labor of love is absolutely worth it.
Creamy, lemony fava bean puree tops crispy toasted bread and finished with sharp, salty Pecorino cheese, and fresh mint. It's simple, seasonal and so delicious.
17. Bacon Jams
Bacon jams are a delicious and versatile condiment that can add a savory, smoky flavor to any dish.
Made with crispy bacon, caramelized onions, and a variety of spices, these jams can be used as a spread on sandwiches, a topping for burgers and hot dogs, or even as a glaze for grilled meats.
18. Crab Cake Deviled Eggs
Crab cakes and deviled eggs combine to form an egg-cellent appetizer perfect for Easter.
These deviled eggs are silky smooth with generous chunks of rich lump crab and a hint of crunch from the panko topping. If you like crab cakes, you are going to love these deviled eggs!
19. Hoisin Asian Meatballs
These juicy, tender meatballs are smothered with a sweet Hoisin glaze!
20. Mini Quiches
These Ham & Cheese Mini Quiches are easy to make and so delicious!
Cheesy bites wrapped in flaky phyllo dough. They're perfect for Sunday Brunch or as holiday appetizers!
21. Bacon Avocado Bruschetta
An easy, no-fuss recipe, this delicious bacon avocado bruschetta is a perfect appetizer that guests will love!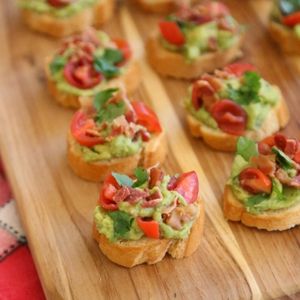 22. Caprese Salad Skewers Appetizer
These Caprese Salad Skewers are going to be your new favorite appetizer to bring to every party!
Cherry tomatoes are paired with marinated mozzarella and fresh basil. Drizzle with Balsamic Reduction!
Everyone loves these, and they are a welcome change from carb-heavy party food.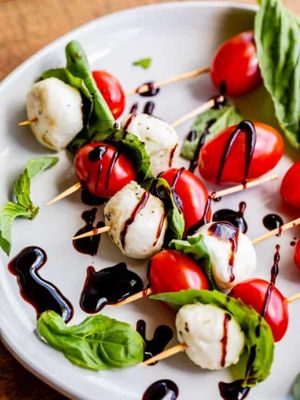 23. Easter Charcuterie Platter
This Charcuterie Platter is as fun to make as it is to eat! The best part about putting together a charcuterie board is anything goes!
With all the spring colors and festive flavors, this appetizer a favorite way to entertain!
24. Antipasto Skewers
Antipasto skewers with tortellini are a quick, easy, and delicious appetizer with the best parts of a traditional antipasto platter but easier to eat.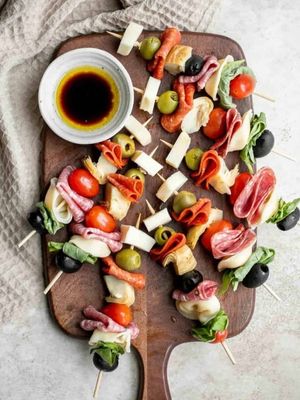 25. Crab Stuffed Mushrooms
These crab stuffed mushrooms are completely addictive! They're jam packed full of flavor but are really quick and easy to make, too.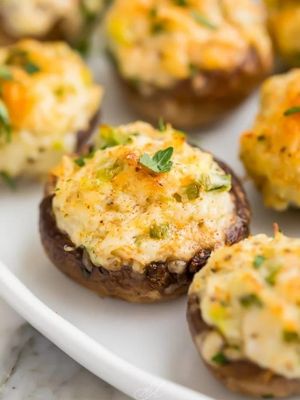 26. Colorful Easter Crostini
These pretty Easter crostini will make everyone smile! They're spring pea with mint and goat cheese, mushroom pâté with carrot roses and white balsamic honey peach and ricotta!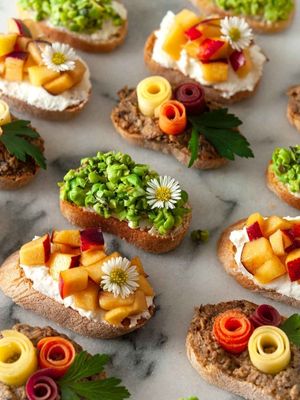 27. Easter Egg Fruit Tarts
A healthy Easter dessert or you use as an appetizer, your kids will love to eat and help you make!
Decorate these No-Bake Easter Egg Fruit Tarts with your kids this holiday season.