If you're planning Thanksgiving recipes, you're in luck. We've rounded up some of the best Thanksgiving appetizers to make your planning a little easier. From Thanksgiving dips to Thanksgiving finger foods, there's something for everyone. These Thanksgiving appetizer recipes are all easy to make, so you can spend more time with your family and friends, and less time in the kitchen.
Thanksgiving appetizers are usually served during this festive season. Usually, people are around their family and friends catching up and giving thanks.
There are many different types of appetizers you can serve, from simple to complex.
If you're not sure where to start, here are a few ideas to get you started.
Vegetable platters with dips
Fruit platters with cheese
For more Thanksgiving appetizers you can check out our collection.
Thanksgiving Recipes
Thanksgiving Food Ideas
Thanksgiving Side Dishes
Thanksgiving Dinner Ideas
17. Cheese Ball Bites
These easy make-ahead cheese ball bites are the perfect elegant appetizer for any gathering!
This ultra-creamy cheese ball bites practically melt in your mouth, they're such a fun and unique snack for a special event.
16. White Cheddar Cheese Balls
White Cheddar Cranberry Cheese Ball is a mouthful to say but you won't have a chance to say it because your mouth will be full.
This cheeseball brings you the delicious and festive flavors of winter in a unique twist on a traditional appetizer that will no doubt begin gracing your table during the holidays.
15. Cranberry Brie Bites
These easy cranberry brie bites make the perfect appetizer that tastes and looks fancy!
Gooey melty cheese with tart cranberry sauce wrapped in a golden, buttery, and flaky puff pastry, to make these bite-sized snacks or appetizers for your next holiday gathering!
14. Crunchy Bacon Cheddar Jalapeno Poppers Recipe
This Baked Jalapeño Poppers recipe is the crowd's Favorite Thanksgiving Appetizer that you can make ahead.
13. Pumpkin-Shaped Dinner Rolls
This very Instagram-friendly roll is the perfect thing to bring to that holiday gathering and can be made using your favorite dinner roll recipe.
Sure, these take longer to make than your already perfectly fine dinner rolls, but that's nothing when you consider all the compliments that will be coming your way.
12. Tomato Bruschetta with Balsamic Glaze
Tomato bruschetta with balsamic glaze is an easy appetizer that you can whip up on short notice.
Crunchy, toasted slices of garlicky Italian bread are topped with the perfect blend of tomatoes, onions, garlic, and basil, all immersed in olive oil to bring out their intense flavors, and drizzled with a reduced balsamic glaze.
11. Warm Cheese-and-Spicy Pecan Dip Recipe
We love this gooey dip with toasted baguette slices, but you can also serve it with your favorite crackers.
10. Brown Sugar-Spiced Nut Mix
09. Honey Pistachio Goat Cheese Log
Honey Pistachio Goat Cheese Log is an easy appetizer ready in 5 minutes! Soft goat cheese with pistachio, raisin, and honey crust is perfect for any occasion!
08. Spinach Puffs
If you're looking for an easy appetizer to get made ahead of time for the holidays, look no further.
It's hard to go wrong with these Spinach Puffs, which are very kid-friendly and much easier to make than traditional spanakopita, which uses filo dough.
These are simple, fresh-tasting, and surrounded by puff pastry, which always makes everything better.
07. Taco Pinwheels
These taco pinwheels are made with chicken, taco seasoning, cream cheese, and peppers, all rolled up inside tortillas. An easy make-ahead party appetizer!
06. Bacon Almond Cheddar Bruschetta
Bacon almond cheddar bruschetta is a rich and cheesy appetizer that is the perfect option for your game-day eats.
05. Warm & Cheesy Crack Dip
If you are looking for a great dip to make for your next get-together, you need to try this warm & cheesy crack dip! It's super easy to make & so delicious.
04. Spinach Dip Bites
This Favorite Appetizer Is Filled With Spinach, Artichokes, And Three Different kinds of cheese, All Baked Into A Crescent Dough Cup.
Spinach Dip Bites Are A Hit Every Time They're Served At A Party Or Get Together!
03. Stuffing Sausage Balls
Stuffing Sausage Balls are an easy appetizer with all of the flavors of the holidays. Cheese, sausage, bacon, and stuffing are rolled together for one perfect bite!
02. Jalapeno Popper Cheese Ball
Party worthy cheese ball filled with all of your favorite jalapeno popper flavors like crispy smoked bacon, zesty minced jalapenos, sharp cheddar, smooth cream cheese, and sweet green onions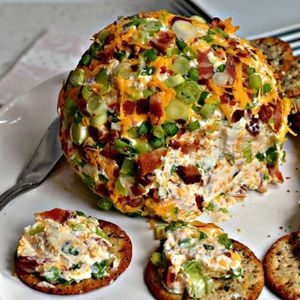 01. Cranberry Cream Cheese Dip
The perfect party appetizer for the holidays is this easy Cranberry Cream Cheese Dip! It has a layer of cream cheese and then cranberries.
The topping is chopped green onion and cilantro. It's quick and easy plus the tart cranberries and the sweet cream cheese is the perfect combination.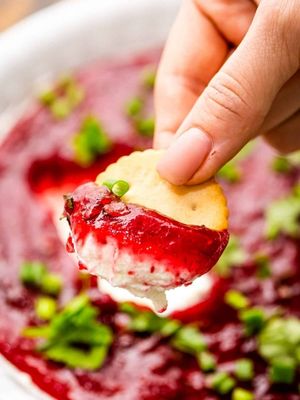 Thanksgiving Desserts Recipes
Non-Alcoholic Thanksgiving Drinks
Make-Ahead Thanksgiving Recipes
Thanksgiving Charcuterie Board Ideas