If you're looking for some delicious Thanksgiving desserts to add to your feast, then you'll need to check this list out. From Thanksgiving cupcakes to Thanksgiving cookies and a variety of Thanksgiving treats that are simple enough for anyone to make.
There are a number of other delicious Thanksgiving dessert options out there. These include:
Cranberry Crumble Pie: This classic dessert is made with oatmeal cookies, brown sugar, and cream cheese filling topped with a crunchy topping of cinnamon streusel.
Chocolate Pudding Cake: A rich chocolate cake filled with chopped pecans and chocolate pudding goes great with some whipped cream or vanilla ice cream!
Pumpkin Pie Bars: These bars are so easy to make and taste just like pumpkin pie!
They're topped off with an easy homemade whipped cream frosting that's perfect for any occasion!
Cookies: cookies have been around forever and they're one of my favorite things to bake during this time of year! They're also really easy to make so you'll have plenty left over after baking
Here I've shared some of my favorite Thanksgiving desserts with you. They'll make you feel like you're in heaven and want to eat them all yourself!
Thanksgiving Drinks
Thanksgiving Appetizers
Thanksgiving Food Ideas
Thanksgiving Side Dishes
30. Skillet Peach Cobbler
This is the most delicious and easy-to-make skillet peach cobbler, ever!
Incredibly tasty and flavorful peaches get lightly sautéed with spices, and then topped with extra tender and fluffy buttermilk cornmeal biscuits!
29. Apple Cranberry Pie
Cranberries, apples, cinnamon spice, and a buttery homemade pie crust make this apple cranberry pie one of my favorite fall recipes.
28. Pumpkin Pie Turkeys
Here's the cutest Thanksgiving dessert! Pumpkin Pie Turkeys! Easy to make and easy to eat! Kids and grown-ups love this pumpkin pie treat during the holiday feast.
27. Turkey Cupcakes
These festive turkey cupcakes will charm your guests at first sight, but the best part is their moist, rich and delicious chocolate cake on the inside.
26. Pumpkin Bundt Cake
This pumpkin bundt cake looks just like a giant pumpkin and it just might be the ultimate holiday centerpiece!
Thanksgiving Dinner Ideas
Thanksgiving Casserole Recipes
Make-Ahead Thanksgiving Recipes
Thanksgiving Charcuterie Board Ideas
25. Creamy Cranberry Salad
This Creamy Cranberry Salad, otherwise known as Cranberry Fluff, is a delicious combination of fresh cranberries, red grapes, pineapple, marshmallows, and pecans all tossed together in a creamy whipped topping.
24. Chocolate Turtle Apple Slices
Thick apple slices with a popsicle stick, dipped in chocolate then drizzled with caramel and topped with pecans.
23. Strawberry Pie with Strawberry Crust
It might look tricky to accomplish, but it's deceptively simple to make.
22. Vegan & Gluten-Free Dark Chocolate Ginger Tart
Vegan and gluten-free is sometimes a little too healthy-tasting if you get our drift. But not this dessert.
With a fudge-like consistency and an irresistible combination of rich dark chocolate and zingy ginger, it's a crowd-pleaser that's fantastic for any special occasion.
21. Salted Chocolate Tart with Kettle Chip Crust
Salted Chocolate Tart with a very special secret crust. Get ready for your new everything.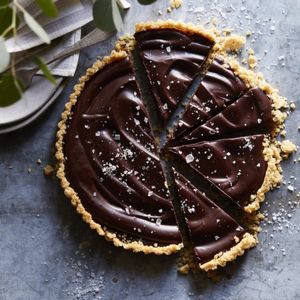 20. Puff Pastry Apple Galette
Puff Pastry Apple Galette! I mean, if this isn't the most gorgeous apple dessert you've ever seen, I don't know what else is!
19. Chocolate Covered Pretzels in a Turkey Jar
Chocolate Covered Pretzels in a Turkey Jar! Bright colored sprinkles and chocolate-covered pretzels make the perfect tail feathers for this fun no bake Thanksgiving treat.
18. Chocolate Acorns
Chocolate Acorns are the cutest Fall or Thanksgiving treat, and with just a couple of pantry ingredients, they could not be easier to make!
17. Mini Pumpkin Cheesecakes with Oreo Crust
The best pumpkin cheesecakes that only take 30 minutes to prep and bake in a muffin pan!
This easy thanksgiving cheesecake can be made with an oreo crust or a graham cracker crust.
Top these pumpkin cheesecake cupcakes with our homemade pumpkin whipped cream.
16. Pecan Pie Cookies
Pecan Pie Cookies have a thin flaky crust with a layer of the amazing nutty caramel pecan pie filling we love so much!
These are the perfect cookies for any occasion!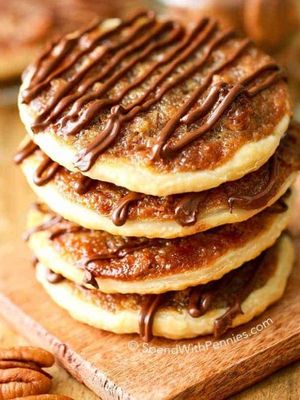 15. Apple Pie Bread Pudding
Comforting bread pudding made with apple pie filling. Serve it hot and with some vanilla ice cream on top for the ultimate taste experience.
14. No Bake Reese's Peanut Butter Bars
Easy, simple, and quick no-bake dessert recipe with peanut butter and chocolate, is a perfect idea for Thanksgiving treat!
13. Vegan & Grain-Free Pumpkin Pie Cups
These easy healthy Vegan & Grain-Free Pumpkin Pie Cups are just like your favorite fall or Thanksgiving dessert but in a smaller, 6-ingredient form!
12. Caramel Apple Rose Tart Bites
These adorable little mini apple pies are made with puff pastry, cinnamon, brown sugar, butter, and sweet apples, then rolled into the shape of a rose and baked to golden brown perfection before being drizzled with caramel sauce.
11. Harvest M&M'S Cookie Bars
These Harvest M&M'S Cookie Bars are perfect for fall. Loaded with chocolate chips and Harvest Mix M&M'S, these cookie bars are great for feeding a crowd.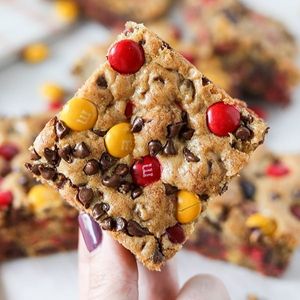 10. Apple Pie Bites
Delicious, quick, and easy mini apple pies made with Pillsbury crescent rolls in less than 30 minutes!
09. Pumpkin Crisp
Pumpkin Crisp will be your new favorite holiday or anytime dessert!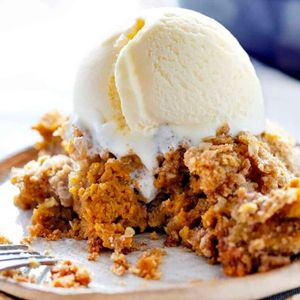 08. Salted Caramel Apple Pie Bars
Apple pie is my favorite dessert, but baking this classic dessert as bar is so much easier!
07. Beth's S'more Pie Recipe
If you are looking for a memorable Thanksgiving Pie Recipe, look no further than this recipe. It's elegant and delicious and so easy to make too!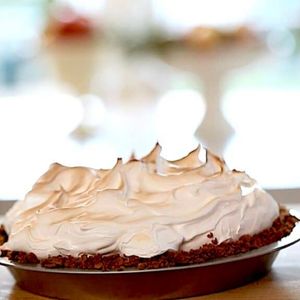 06. Turtle Pumpkin Cheesecake
Turtle Pumpkin Cheesecake is a decadent and fun recipe for a pumpkin spiced cheesecake, topped with caramel, chocolate, and pecans!
05. Pumpkin Cheesecake Trifle
This gorgeous dessert takes less than 20 minutes to prepare! An easy, stunning dessert that will wow your guests!
04. Caramel Apple Cheesecake Bars
Caramel Apple Cheesecake Bars start with a shortbread crust, and a thick cheesecake layer, and are topped with diced cinnamon apples and a sweet streusel topping. These are tried and true cheesecake bar dessert recipes.
03. Fireball Whiskey Pumpkin Pie
This Fireball Whiskey Pumpkin Pie adds a bit of a kick to this classic Thanksgiving dessert. The flavor combo is wonderful!
02. Pumpkin Roll
You will be shocked at just how easy it is to make this pumpkin roll recipe! Everyone loves digging into a pumpkin roll with cream cheese filling. It will be perfect for your holiday celebrations or just because!
01. Pecan Pie Brownies
Pecan Pie Brownies are a rich, chocolate and pecan pie Thanksgiving dessert recipe that you're going to want all year long!
The ingredients all you need are sugar, corn syrup, eggs, butter, vanilla extract, and pecans.