Summer appetizers are the way to go. Something about the outdoors, friends, and fun in the summer brings out a lighter side in us all. And who doesn't love an easy appetizer recipe? Today we've got a list of beastly (in a good way!) make ahead summer appetizers for a crowd and a bbq party.
---
Grilled Recipes
Summer Dinner Recipes
Summer Party Food Ideas
Summer Crockpot Recipes
Summer Instant Pot Recipes
---
Summer Appetizers Ideas That Will Keep Your Guests Happy
15. Pan-Fried Halloumi Cheese with Olives & Hazelnuts from The Original Dish
Pan-fried halloumi cheese with a sweet & tangy mixture of olives, hazelnuts, shallots, and dried apricots
14. Smoked Salmon Cucumber Appetizer from Simply Homecooked
These are the best-smoked salmon cucumber appetizer you've ever tried. They're so simple yet so elegant looking.
13. Jalapeño Cheddar Corn Fritters With Chipotle Aioli from Half Baked Harvest
The best, slightly addicting, summer appetizer that will be equally great for upcoming fall game days.
12. Whipped Feta with Roasted Tomatoes from The Original Dish
The very best, simplest, most satisfying summer appetizer – whipped feta with roasted tomatoes.
Full of garlic and fresh garden herbs. This is summer in a bowl.
This is an easy Veggie Ranch Dip Recipe! It's a cream cheese ranch dip loaded with veggies right inside the dip!
Serve it with crackers, chips, or celery sticks and red pepper sticks.
10. Peach & Burrata Caprese from Delish
This heavenly lemon whip fruit dip is fluffy, creamy, and beautiful. You'll love that it's quick and easy to make with very simple ingredients.
So get your taste buds ready for this delicious lemon whip fruit dip!
08. Strawberry Pineapple Salsa Recipe from Erhardts Eat
This Strawberry Pineapple Salsa recipe is perfect for the warm summer months.
This vegan recipe is bursting with a fresh flavor and is a perfect appetizer or side. Enjoy it on its own with chips or on top of tacos, grilled chicken, or nachos.
07. Melon Prosciutto Skewers from Delish
The classic sweet and salty combination of cantaloupe and prosciutto will never go out of style.
The addition of fresh basil and creamy mozzarella makes a good thing even better.
06. Burrata with Balsamic Cherries and Basil from Fox And Briar
This Burrata with Balsamic Cherries and Basil is the ultimate summer appetizer!
Creamy, fresh burrata paired with juicy cherries and fragrant basil uses summer produce at its best, and no cooking is required!
Make these bites in less than 20 minutes and impress your guests all night long!
04. Strawberry Salsa with Balsamic and Herbs from Striped Spatula
This Strawberry Salsa is a sweet, tangy, and refreshing summer fruit salsa. Perfect for utilizing your farmer's market haul of berries and herbs!
03. Blackberry Goat Cheese Crostini from Life As A Strawberry
These easy blackberry goat cheese crostini are perfect for summer entertaining!
Simple whipped goat cheese and fresh summer blackberries make for a decadent bite that's sure to be a hit.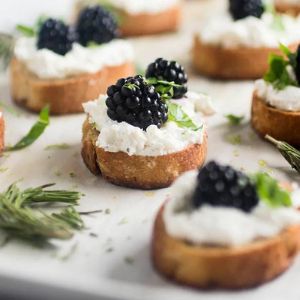 02. Asian Salad Wonton Cup Appetizers from Good Life Eats
These Asian Salad Wonton Cup Appetizers make a great recipe for a light snack as well as a fun party appetizer!
Homemade Italian Bruschetta Al Pomodoro or Tomato Bruschetta is a simple recipe that everyone loves!