It's almost Easter, and perhaps you are looking for some Easter Snacks to make for your family. I have decided to share some of my favorite recipes that are not only super easy to make but very delicious as well.
Easter is a time when many families get together to celebrate. It's also a time when there are many delicious food options.
One of the best things about Easter is that there are so many different food options available. You can prepare anything from sweet treats to savory snacks.
This Easter, why not try something a little different with your snacks? Instead of the usual chocolate eggs and bunnies, why not go for something a bit more creative?
We will provide you with a variety of different recipes so that you can choose the ones that best suit your needs.
If you are looking for some Easter snack ideas for your next Easter party or get-togethers on your calendar, make sure to have plenty of snacks for everyone to enjoy.
Here are some ideas for Easter-themed treats you can make! These snacks will be perfect for your family get-together and potluck parties!
---
Easter Treats For Kids
Side Dishes For Easter
Easter Appetizer Ideas
Healthy Easter Recipe Ideas
Easter Desserts Ideas Recipes
---
Sweet Easter Snacks
Sweet Easter Snacks are a fun and delicious way to celebrate the holiday. These snacks are typically made with sweet ingredients and often feature Easter-themed decorations or shapes. Some popular examples of sweet Easter snacks include:
Easter Egg Nests – These are made with chow mein noodles and melted chocolate to create a "nest" shape, and then decorated with mini candy eggs.
Hot Cross Bun Pudding – A twist on the traditional Easter dessert, this is made with hot cross buns, custard, and raisins, and then baked until golden and delicious.
Bunny Butt Pretzels – These are a fun and whimsical snack that involve dipping pretzels into melted white chocolate and then adding bunny feet and a tail made from candy melts.
Peeps S'mores Dip – This is a sweet and gooey dip made with Peeps marshmallows, chocolate chips, and graham crackers, and is perfect for sharing with friends and family.
Cadbury Egg Brownies – These are made with chocolate brownie batter and then topped with mini-Cadbury eggs for a sweet and indulgent Easter treat.
Sweet Easter snacks are perfect for satisfying a sweet tooth or for bringing to Easter parties and gatherings.
They are easy to make and can be customized with various flavors and decorations to suit your preferences.
Savory Easter Snacks
Savory Easter Snacks are another great way to celebrate the holiday, and are often served alongside sweet treats to create a well-rounded snack selection.
These snacks are typically made with savory ingredients and may feature Easter-themed decorations or shapes. Some popular examples of savory Easter snacks include:
Carrot-Shaped Cheese Ball – This snack is made with cream cheese, cheddar cheese, and various herbs and spices, and is shaped into a carrot using orange food coloring and a green onion stem.
Easter Bunny Trail Mix – This snack is a fun and healthy option that includes a variety of nuts, seeds, and dried fruits, as well as bunny-shaped crackers and candy-coated chocolate eggs.
Deviled Egg Chicks – This snack is a creative twist on the classic deviled egg, and involves adding sliced olives and carrot strips to make the eggs look like cute little chicks.
Savory Easter snacks are a great way to balance out the sweetness of traditional Easter treats and are perfect for snacking on throughout the day or for bringing to Easter brunches or picnics.
They are also often healthier options that can help keep you feeling full and satisfied.
Whether you are hosting an Easter party or simply looking for some fun and creative ways to celebrate the holiday, these Easter snacks are sure to be a hit with everyone.
They are easy to make, customizable, and perfect for sharing with loved ones.
So why not give these Easter snacks a try and add some extra sweetness and creativity to your holiday festivities?
We hope that these snack ideas inspire you to get in the kitchen and start creating!
Easter Snacks To Make This Holiday Season
21. Easter Chocolate Chip Cookies
Truly the best Bakery Style Chocolate Chip Cookies ever all dressed up for Easter!
Soft and chewy, extra thick and just loaded with sweet chocolate!
20. Coconut Cream Eggs
Looking for an easy, last minute treat to add to your Easter baskets?
These Coconut Cream Eggs are the perfect solution. They are homemade, no bake, and dipped in chocolate.
19. Easter Crack White Chocolate Toffee
This delicious Easter Crack is delicious and easy to make. You'll love this amazing recipe, it's perfect for Easter and it's pretty too, the perfect dessert to bring to any Easter lunch.
18. Healthy Easter Toddler
A health Easter themed snack board perfect for kids!
17. Rice Krispie Nests
If you look for easy dessert recipes to make for holidays and this one is great for Easter!
Instead of making a square pan of rice Krispie treats, you use a muffin tin to make individual little bird nests!
16. Graham Cracker Dippers
These make a great last-minute treat! Even the younger kids can help!
15. Easter Candy Popcorn
Easter Candy Popcorn is a gorgeous and yummy Easter dessert – the perfect combination of sweet, salty and crunchy in a single bowl of marshmallow popcorn.
14. Easter Chocolate Covered Strawberries
These Chocolate Covered Strawberries are dipped and drizzled in orange candy melts to look like adorable little carrots for Easter!
Pair them with crushed Oreos and chocolate pudding for a cute dirt cup Easter dessert.
13. Easter Carrot Cheese Ball
Easy cheese ball that's shaped into a carrot and served with crackers – perfect for Easter get togethers!
12. Easter Muddy Buddies
These Easter Muddy Buddies are perfect for an Easter snack or Easter dessert – this recipe will quickly become one of your favorite puppy chow recipes!
11. Easter Cucumber Sandwiches
These cute little Easter Cucumber Sandwiches are super easy and come together quite fast.
10. Adorable Bunny Dirt Cups Recipe
This bunny dirt cups recipe is the perfect Easter treat. They're a cute home project to do with the kids if you're feeling crafty, and the bunny theme is just right for any spring party or Easter gathering.
09. Pastel Rainbow Gelatin Cups
Looking for an easy spring dessert? These Pastel Rainbow Gelatin Cups are simple, kid-friendly, and so beautiful!
Serve them plain or top them with whipped cream and sprinkles!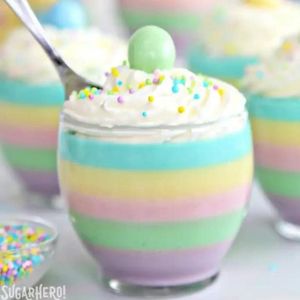 08. Easter Bark
Easter Bark is a simple, festive, spring treat featuring two kinds of chocolate swirled together and topped with mini chocolate eggs, pretzels, and pastel sprinkles!
07. Easy Mini Eggs White Chocolate Fudge Recipe
This quick and easy Mini Eggs White Chocolate Fudge recipe has just 4 easy to find ingredients and couldn't be easier to make.
06. Strawberry Cheesecake Bites
Topped with an easy cheesecake mixture made with strawberry jam, Strawberry Cheesecake Strawberry Bites make a fabulous little-bite dessert or treat perfect for Easter, a tea party, or every-day snacking!
05. Easter Peanut Butter Balls
Ridiculously delicious and embarrassingly easy to make Peanut Butter Balls now in a new, special Easter Edition.
04. Baby Bird Eggs in Hash Brown Nests
This Baby Bird Eggs in Hash Brown Nests idea for a brunch.
These are SO easy to make, and your kids will love this for breakfast!
03. Confetti Bars
Spring Confetti Bars start with a white chocolate cookie base and are topped with gooey marshmallows, spring-colored M&M's, pastel sprinkles, and more white chocolate! These easy dessert bars are sure to please a crowd!
02. NO Bake Butterscotch Haystacks Recipe
These easy butterscotch haystacks desserts are perfect Easter nests and so yummy too.
A crunchy and creamy peanut butter treat with chocolate eggs in the shape of a bird nest they are a no bake dessert kids can help!
01. Lucky Charms Munch
Lucky Charms marshmallows are tossed together with salty pretzels, M&M candies, rainbow sprinkles, all coated with sweet white chocolate. Talk about magically delicious!